Brandlive's Sitebuilder is your go-to tool for creating beautiful, branded event sites with ease.
Featuring drag and drop design elements, customizable templates, and diverse content blocks, Sitebuilder empowers teams to create event sites that radiate your brand and captivate attendees.
Deliver a seamless audience experience that converts leads and reduces churn with powerful communication tools, robust registration options, and an array of engagement features.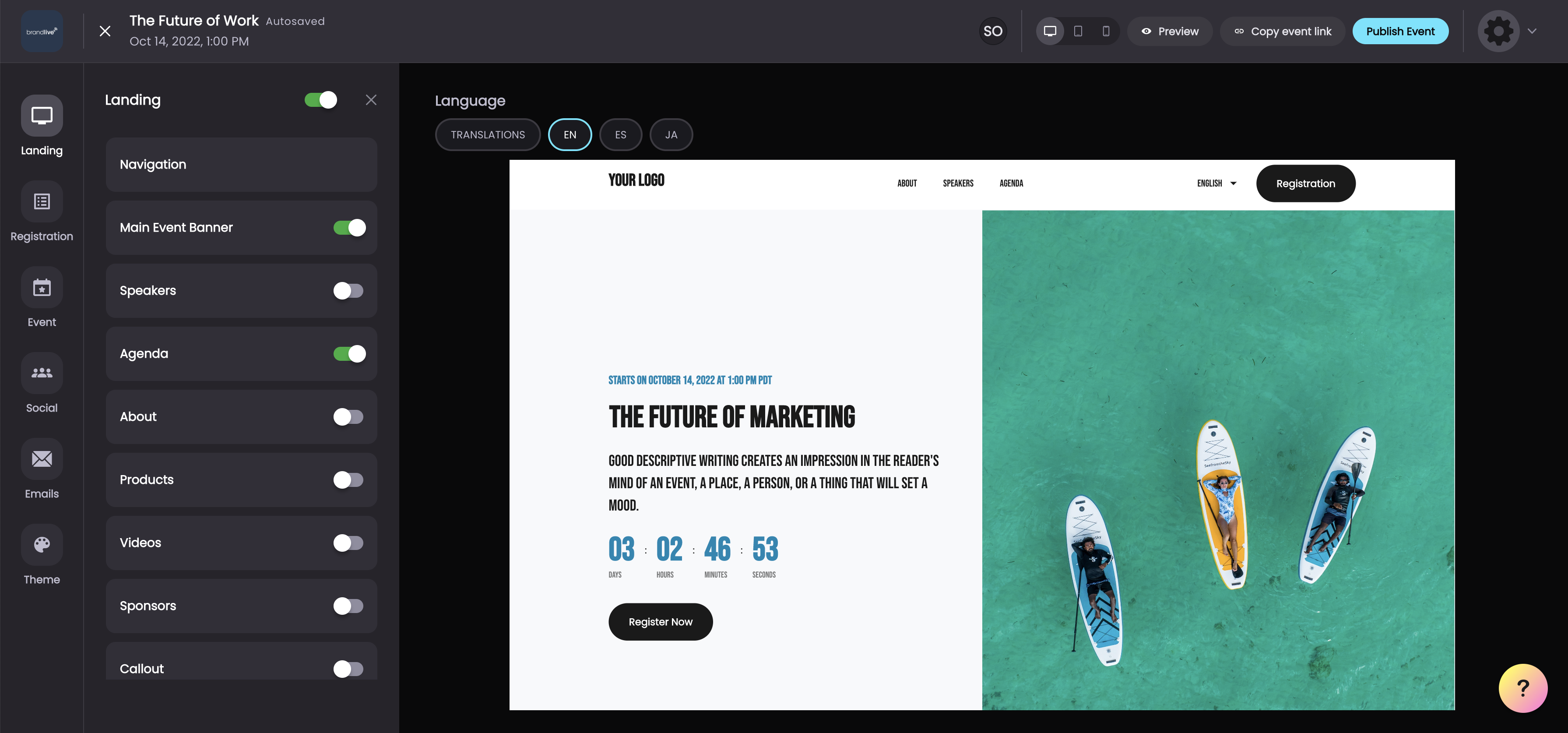 Elements of a Site
Creating an event site is simple - select a template, choose a name and date for your event, and start editing! Each site contains several elements:
Landing Page: The initial, public page attendees will see prior to registering for the event. Landing pages contain several content modules that you can easily toggle on or off.
Content Modules: The content containers on each page that help organize information, feature key speakers and learnings, and tell your brand's story.
Registration Page: After viewing the Landing page, attendees will fill out the Registration page. The Registration page allows you to create fully customizable fields, so you can gather all of the information you need to engage with attendees long after your event ends.
Additional options for registration configuration include gating and security selections, SSO, confirmation emails, in-person attendance toggles, and more.
Home Page: Once an attendee has registered, they will land on the Home page. This page contains the same content modules options as the Landing page, but offers an opportunity to share new or expanded content for attendees.
Agenda Page: Toggle on the Agenda page so attendees can easily navigate to your sessions, curate their own agenda, or view on-demand sessions.
Session Page: Where your attendees will go to view your live or on-demand content. Each session page has several content modules to support attendee engagement and share supporting materials.
Key features include chat, Q&A, surveys & polls, reactions, and more. You can also share documents files, link related sessions, and highlight speakers and products.
Custom Pages: Create additional content pages that do not contain a video player. Each custom page has a button on the navigation bar as well as passcode gating options for exclusive content.
Customization & Design
Your event site should look and feel like your brand. Tailor every element to your use case from templates and layouts to colors, fonts, and shape styling. Scale, position, and crop images or upload your own CSS for truly endless customization.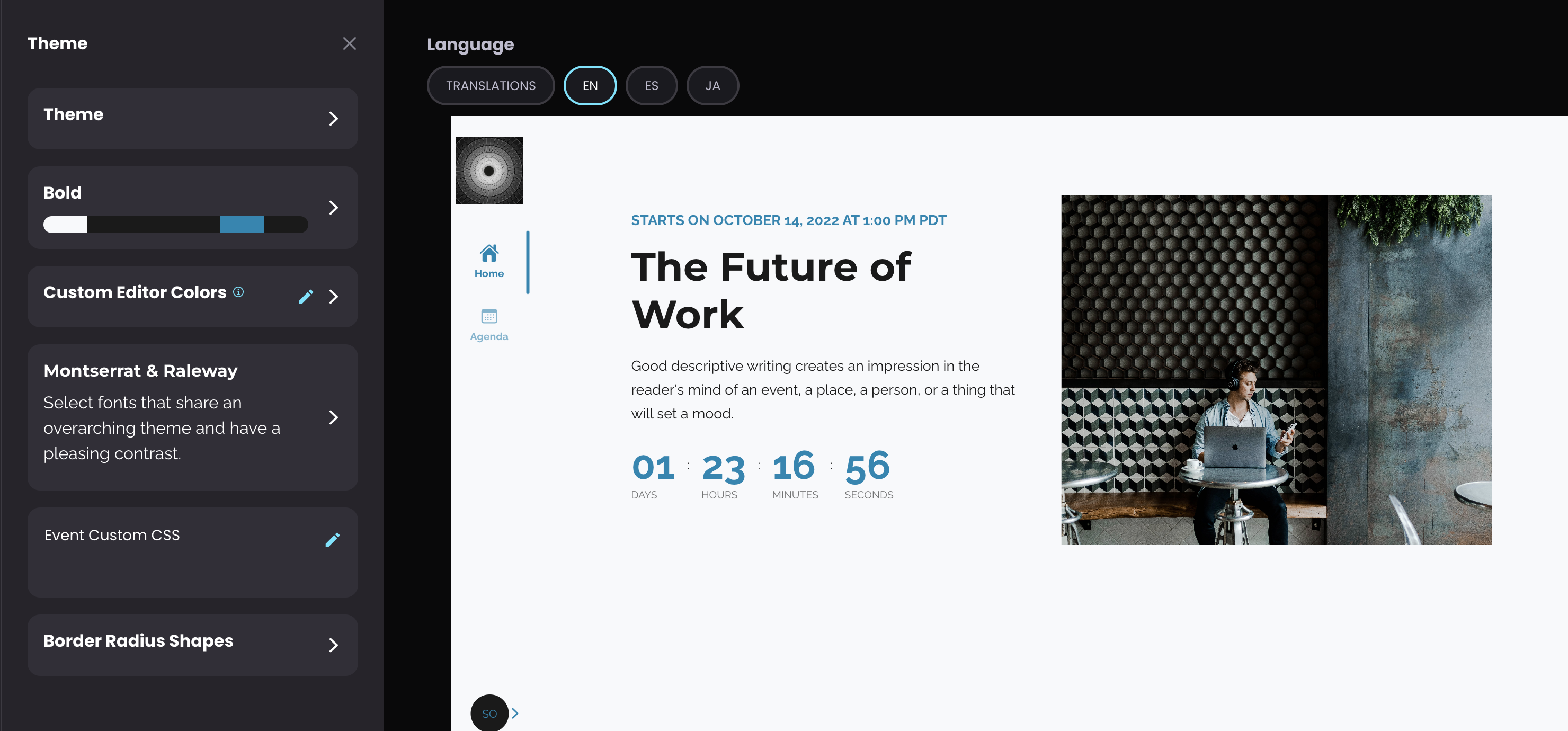 Opt for a public event or choose from several registration configurations, select from multiple layouts for each content module, toggle on social features, add an agenda page, or host a fireside session. This is just the start of your site options.
Audience Engagement
Engage with your attendees before, during, and after your event through in-platform communications, live session interactions, breakout rooms and more to captivate, inform, entertain, and deepen your audience relationship.
Audience Communications
Streamline your event comms workflow with in-platform emails, guide attendees through the event experience with live announcements, and keep the conversation going with robust moderation features.
In-Session Engagement
Deepen engagement with your content through the attendee chat, create a direct line to presenters with live Q&A, react in real time with custom emoji reactions, or publish a live survey to compliment your content.
Attendees can also view speaker information, related products, or documents and files.
Breakouts & Firesides
Galvanize your audience relationship with a fireside session where attendees can join speakers on screen for a more personal touch or host breakout sessions for small and large group discussions that bring attendees together.
Social & Networking Features
Connect attendees outside of the session page through the event Directory and Messaging features. The Directory allows attendees to learn about each other by viewing other attendees' profiles or reach out through the Messaging feature to send direct messages or participate in group discussions by topic.
Video and Streaming
Session pages offer several different types of both live and on-demand content streaming options to give you maximum flexibility and keep your audience engaged.
Types of Broadcast
Greenroom

: Broadcast utilizing our Greenroom platform

RTMP:

Broadcast from your own encoder or through a third party production company

On-demand

: Upload or select a video from the content manager for attendees to view at any time

Breakout

: Meeting rooms for up to 15 attendees to network and collaborate

Fireside

: A hosted breakout that allows admins to bring attendees on screen live

Embed:

Utilize a third party video player directly on the page
Related Articles