Whether you're hosting two sessions or 200 sessions, your attendees will be able to easily navigate your content through tracks, tags, calendar view, and more.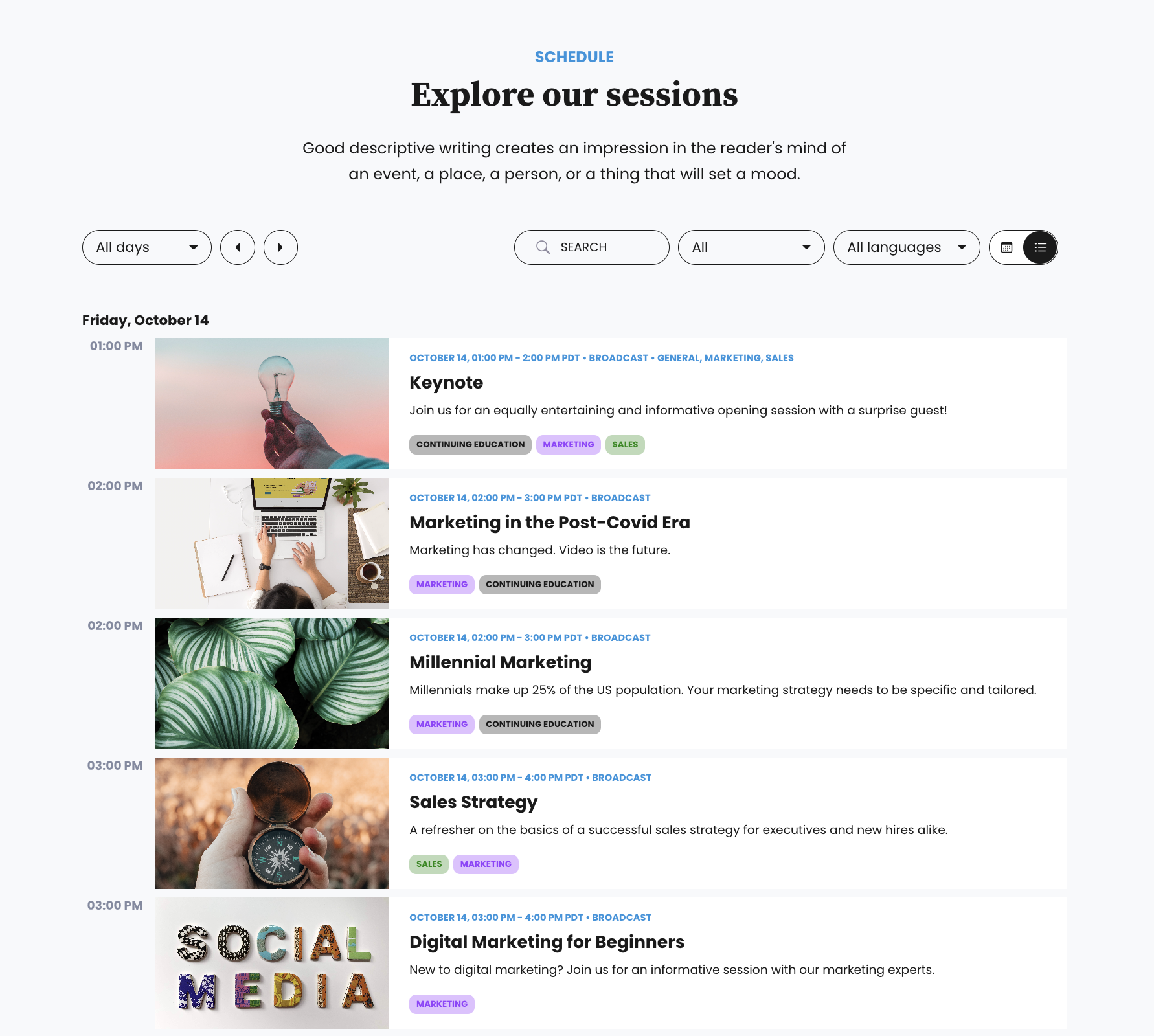 Agenda Page vs. Agenda Module
Your event agenda can exist in two different ways on your event site.
The first is through the agenda module on your landing or home pages. The agenda module is optional and admins can opt to turn it on for attendees to view in either location.
The second is through the agenda page. The agenda page will be available for attendees to view in the site navigation bar after they have registered (if registration is on). Admins can choose to turn the agenda page on or off via a toggle in your event settings.
Single Session Agendas
The default agenda page option is only available for events with two or more sessions; agenda modules are always available.
However, admins who wish to create an agenda page for a single session event can do so with a custom page. Check out our article about custom pages to learn more.
Filters: Tracks, Tags, and Languages
Filters allow attendees to sort the agenda page by track, tag, and language to find the content most relevant to them.
Note: When an admin selects multiple filters, the page will populate results for all sessions meeting any of the requirements. This means that if a user selects "Sales" as a tag and "Marketing" as a track, all sessions labeled with sales or marketing will appear.
Tracks
Tracks can be assigned to sessions to help keep them organized in a meaningful way, such as creating a "continuing education" track. Attendees can then sort the agenda to view all sessions in the continuing education track.
Tracks also allow admins to gate content by assigning attendees to specific tracks. Attendees will only see tracks they are assigned to once they have entered the event.
Tags
Tags are assigned to sessions to help sort content for attendees. Attendees can sort by tag to view specific types of content such as content related to sales, marketing, or continuing education. Admins can create as many tags as they would like to allow attendees to find relevant content easily.
Note: Tags are currently only available in the default agenda layout.
Languages
Agendas can be sorted by language (for events with multiple language options) to allow attendees to view sessions in their preferred language. Admins can set the agenda to default display sessions in attendees' individual preferred language in the event settings. The preferred language for each attendee is based on the selection made in their profile.
How-to Articles
Attendee Experience
Attendees can access the agenda from the landing page module before they register, the home page module after they register, or the agenda page itself (also after registering).
Attendees can view all sessions, search, or sort by:
Date
Session Type
Tags
Tracks
Languages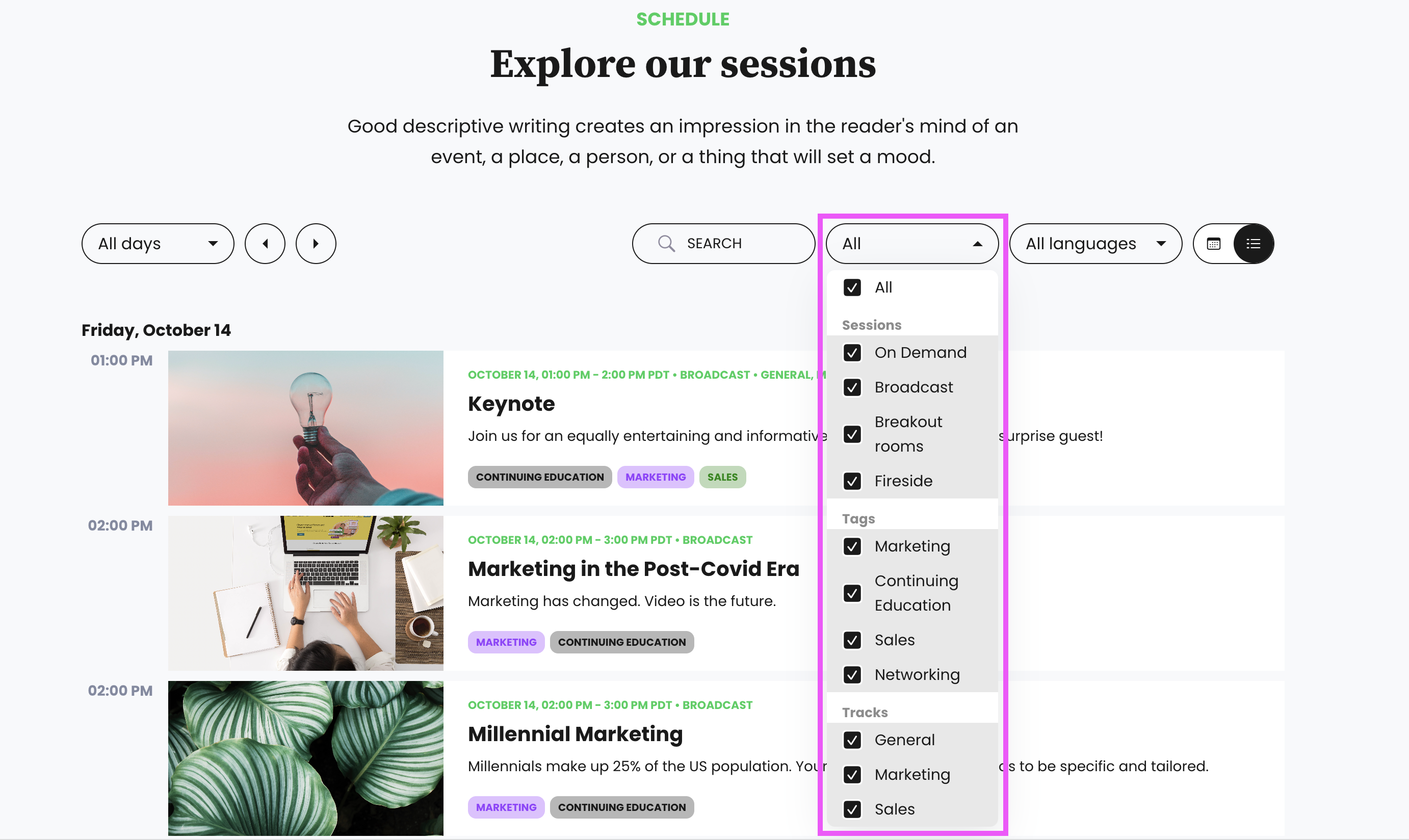 Attendees can also toggle to a calendar view of sessions. Please note the calendar view is only available in the default layout at this time.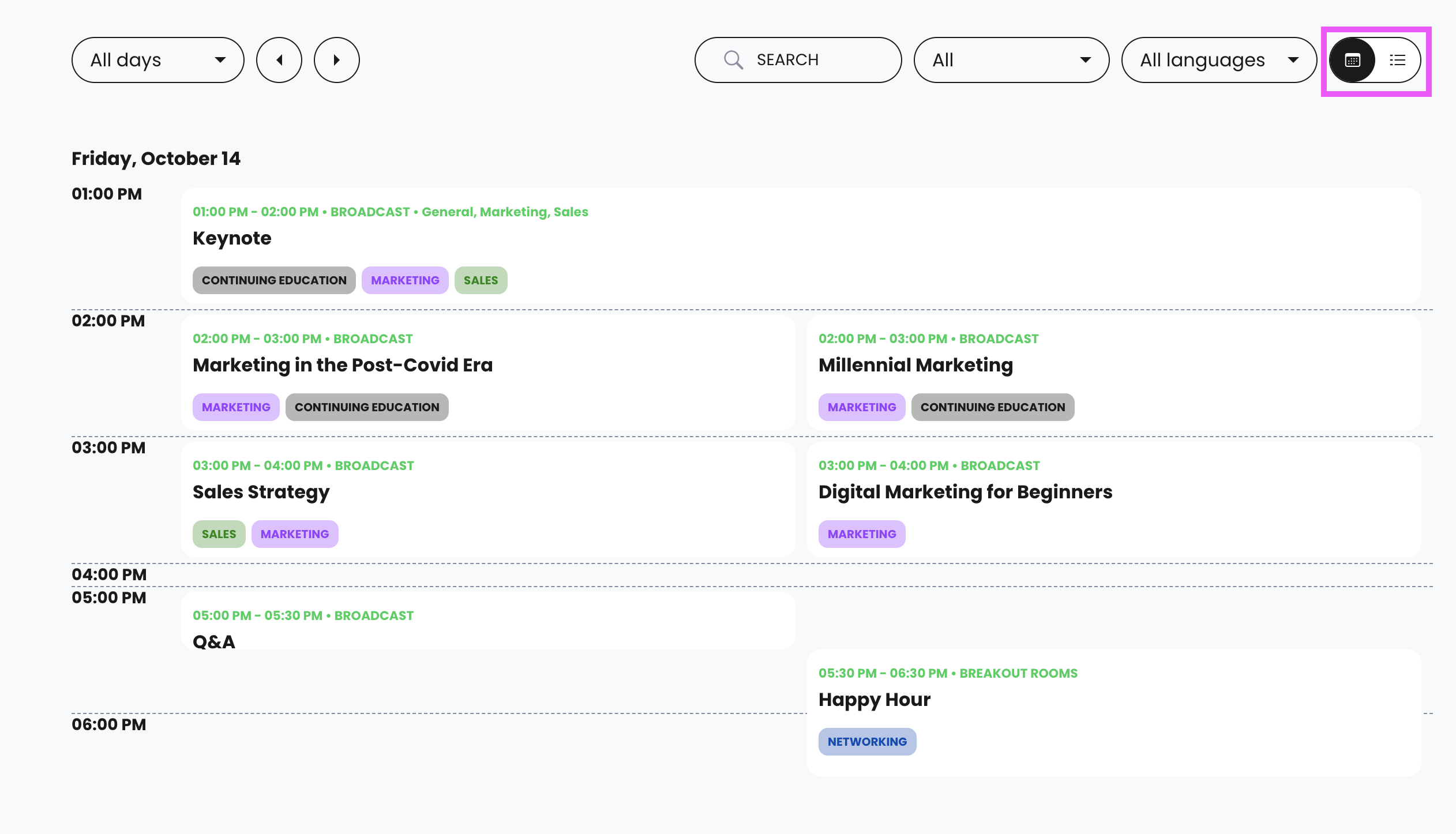 Lastly, Admins can optionally toggle on the Personalized Attendee Agenda to allow attendees to select sessions from the agenda that will appear as a tab on the agenda page titled "My List":