Engage audiences around the world in over 100 languages.
Generate AI translated sites in just moments and then select from two easy ways to edit them. Admins and Site builders can simply toggle between languages and then click in to text fields to edit content or download all translations to edit in an offline workflow.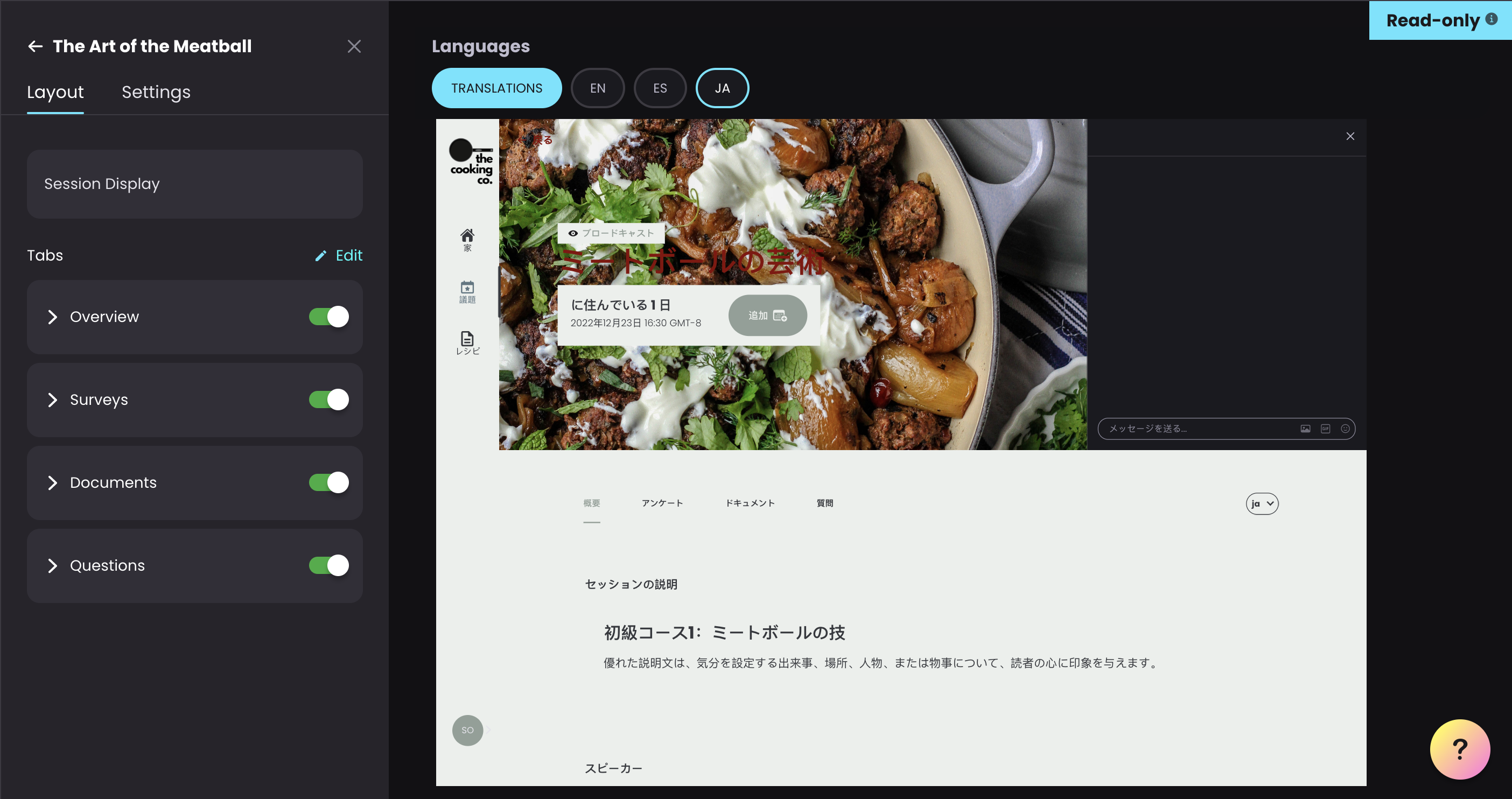 Adding Languages to a Session
To add a language to a session, open your session in Brandlive's Sitebuilder and navigate to the 'Settings' tab at the top of the page navigation menu.
Then, select the pencil icon next to 'Basic Info':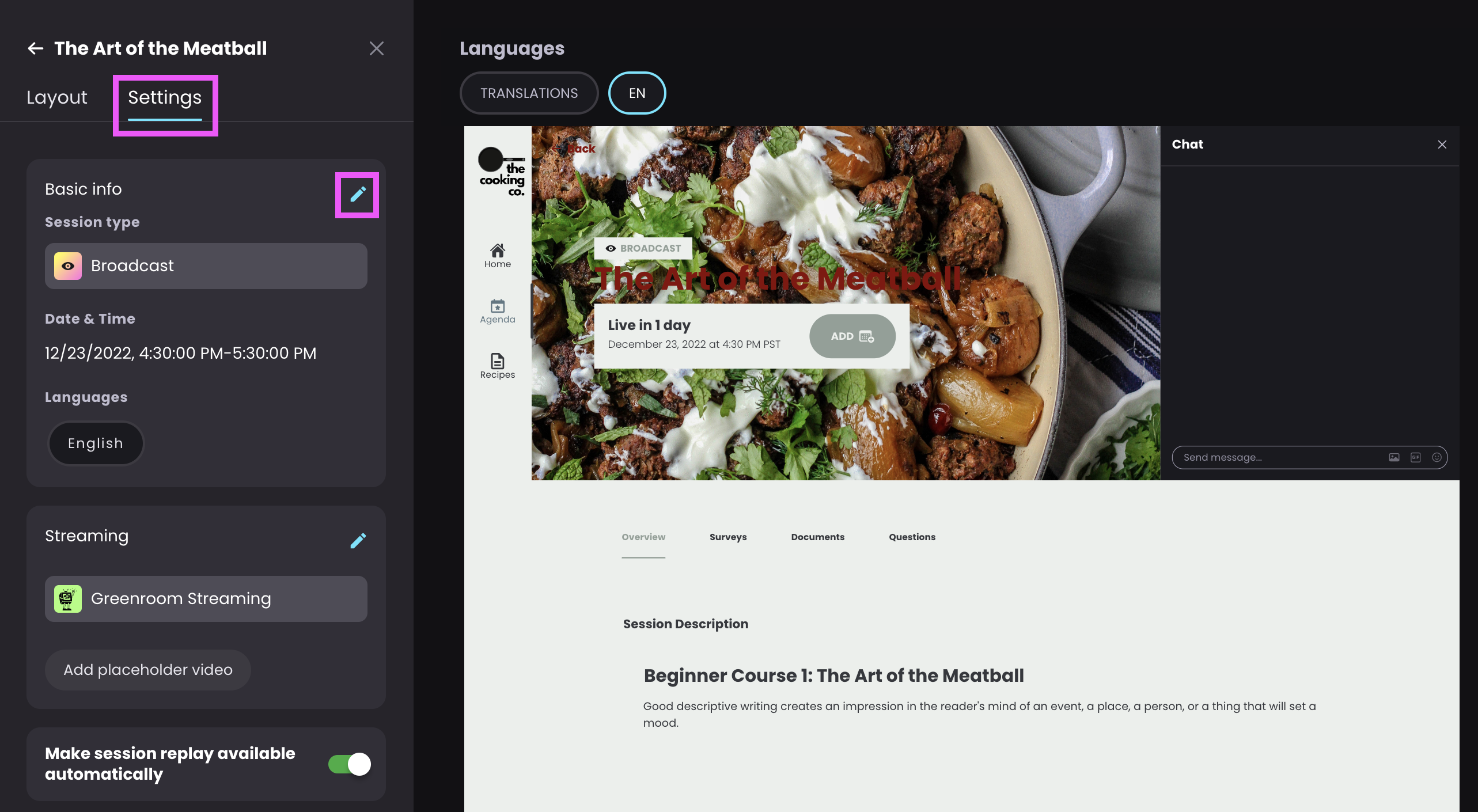 A modal will appear to edit your session details.
In the 'Languages' field, begin typing to find your desired language and select the checkbox to add it as a page option: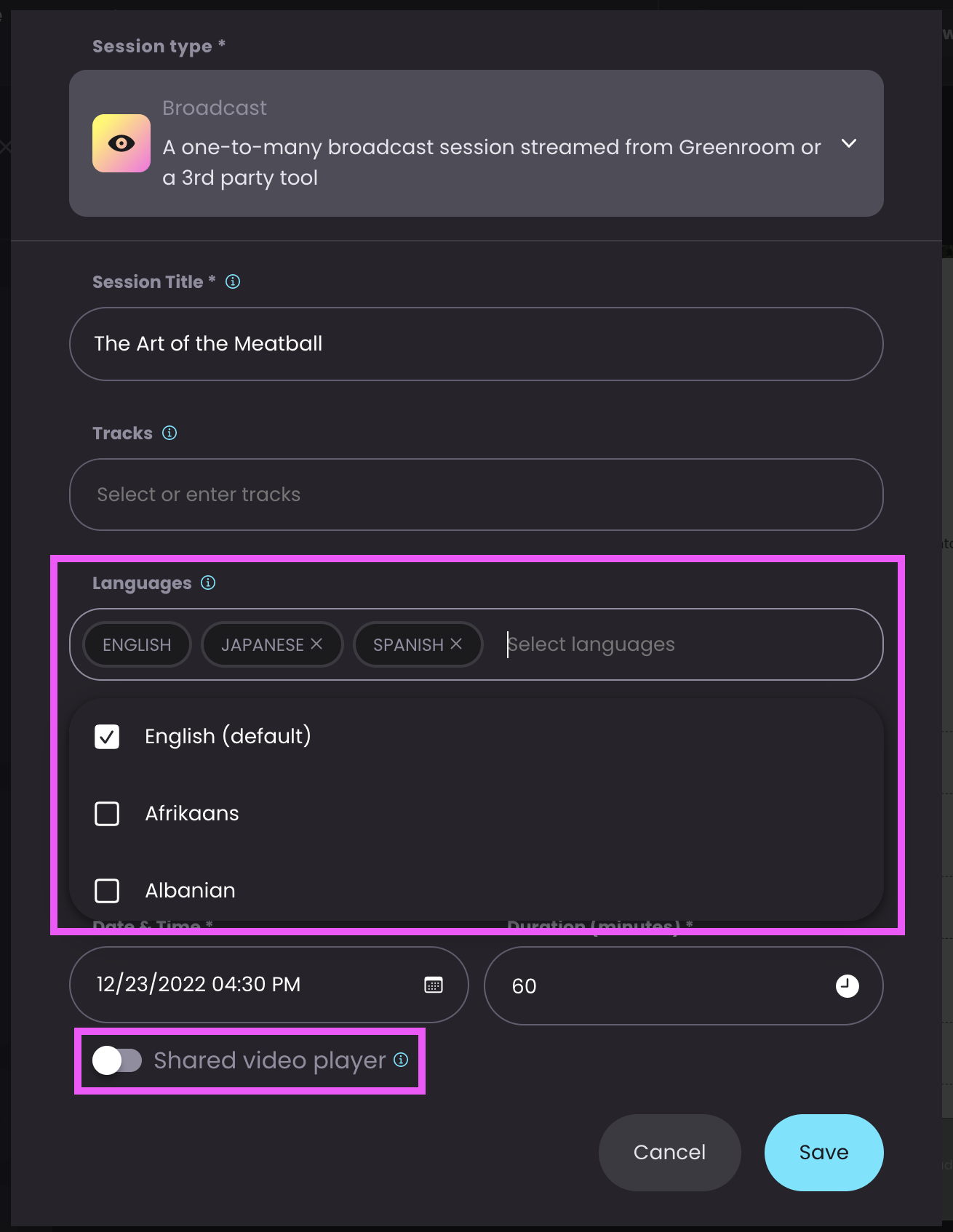 Then, decide if you would like to toggle on 'Shared video player' for all sessions.
When toggled on, your steam will hit the session page in all languages.
When toggled off, each page will require its own Greenroom or RTMP stream.
When complete, click 'Save'.
Editing Translations in Platform
To edit translations in platform, use the 'Languages' menu at the top of each page to toggle between them: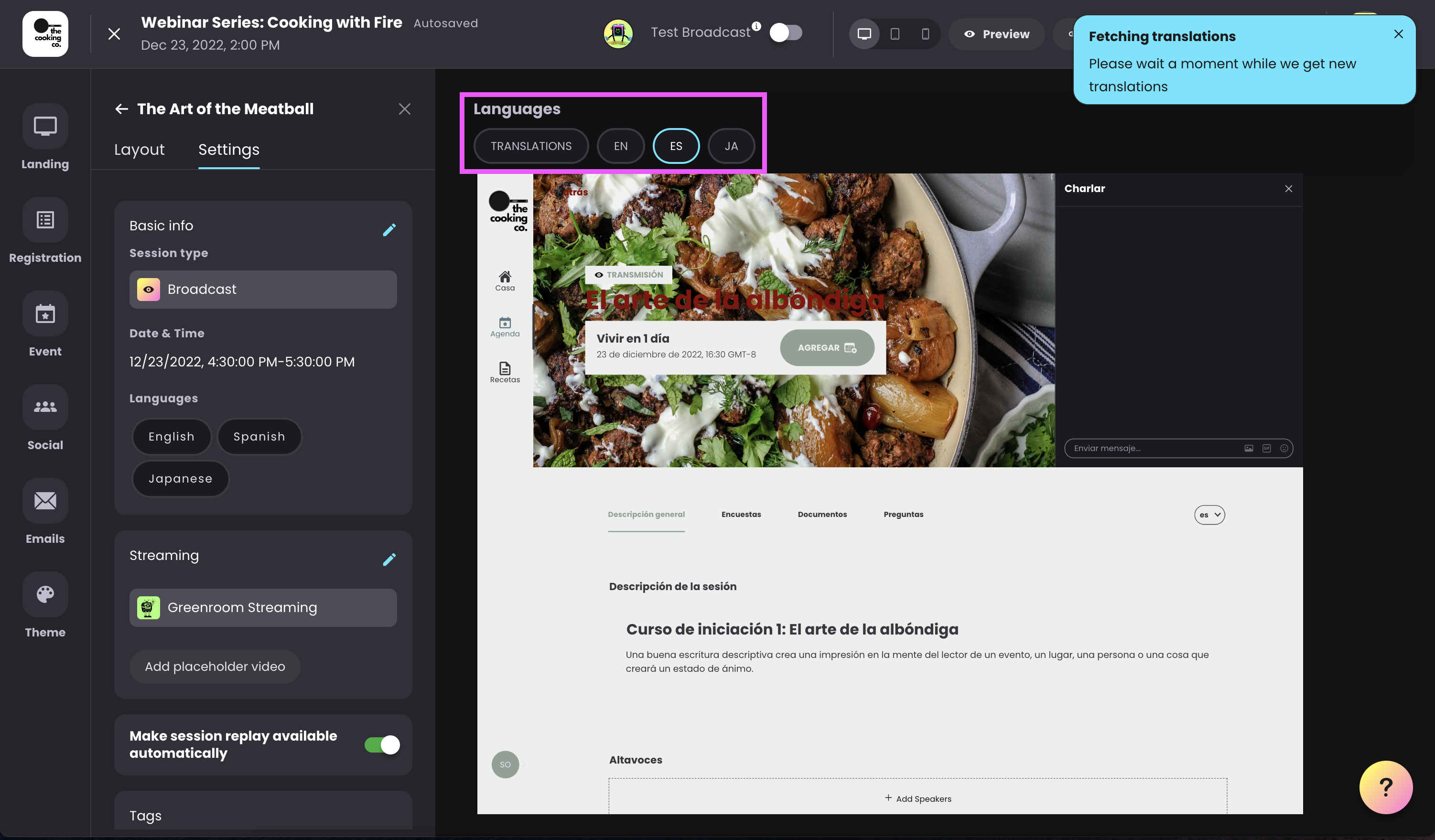 Once you select a new language, a notification will appear as they are loading. Once the notification disappears, you can click into any available text field to edit it: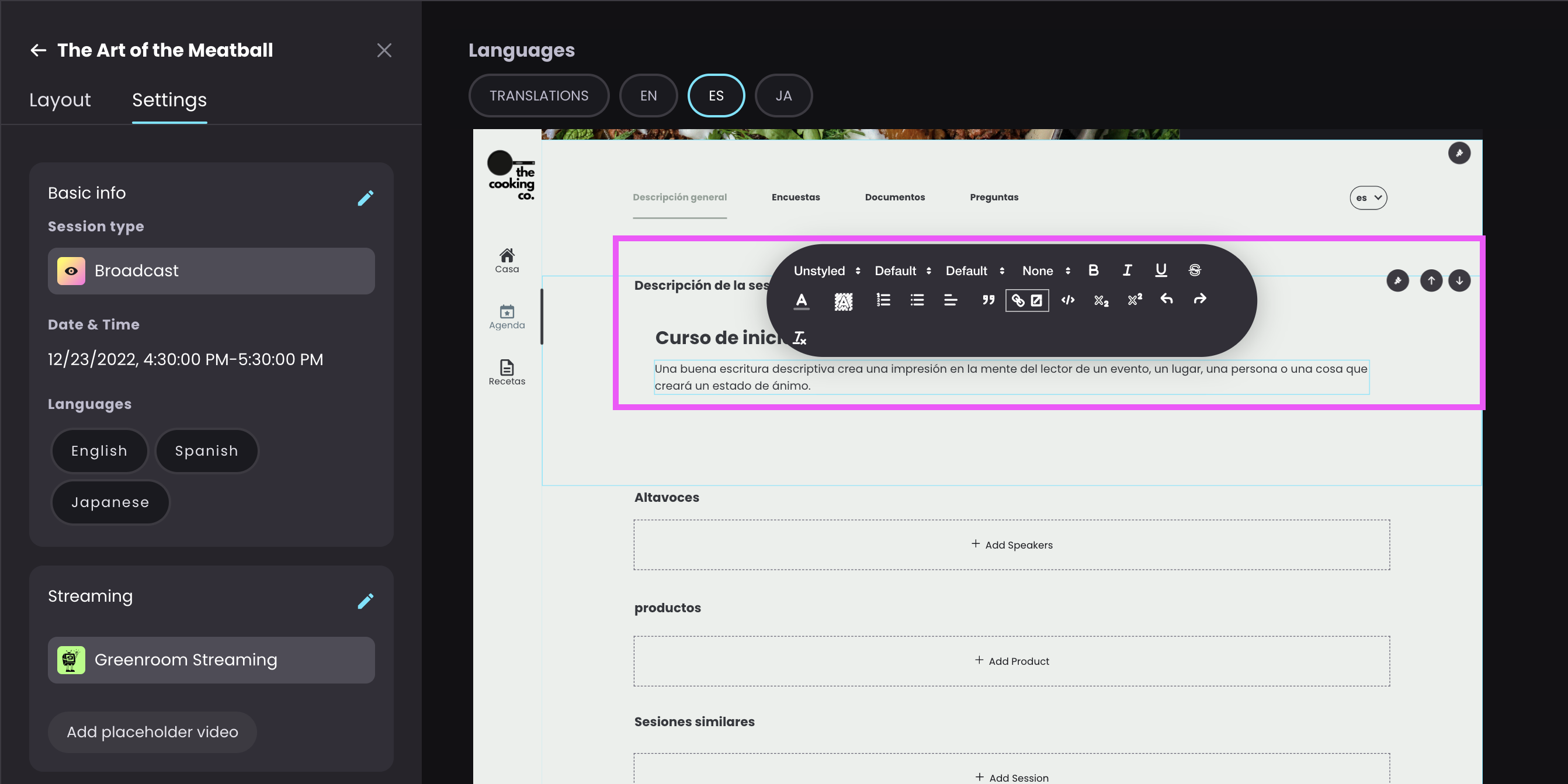 In some languages, the translations for native features such as 'Chat' may not translate perfectly. If this is the case, we recommend:
For sites with native features with a translation error totaling less than 3, please reach out to your Brandlive contact to submit a custom development request. Please note, we are only able to accomodate a small number of changes to features of the site with this method.
For sites with more than 3 native feature translation errors, please use the Offline Translation editing method detailed below.
Editing Translations Offline
Offline translations allow teams to download translations for their entire site at once into an Excel spreadsheet to edit in bulk and re-upload. This method is best for teams working asynchronously or if a large number of translation changes are needed to native features.
Note: This method should be used after all content has been added to the site as you will not longer be able to make changes by clicking into text fields. However, you can upload a new version of translations.
Check out our overview video below before getting started:
Step by Step
1. First, open your event in Brandlive's Sitebuilder. Then, select the 'Translations' button under the 'Languages' menu at the top of the page: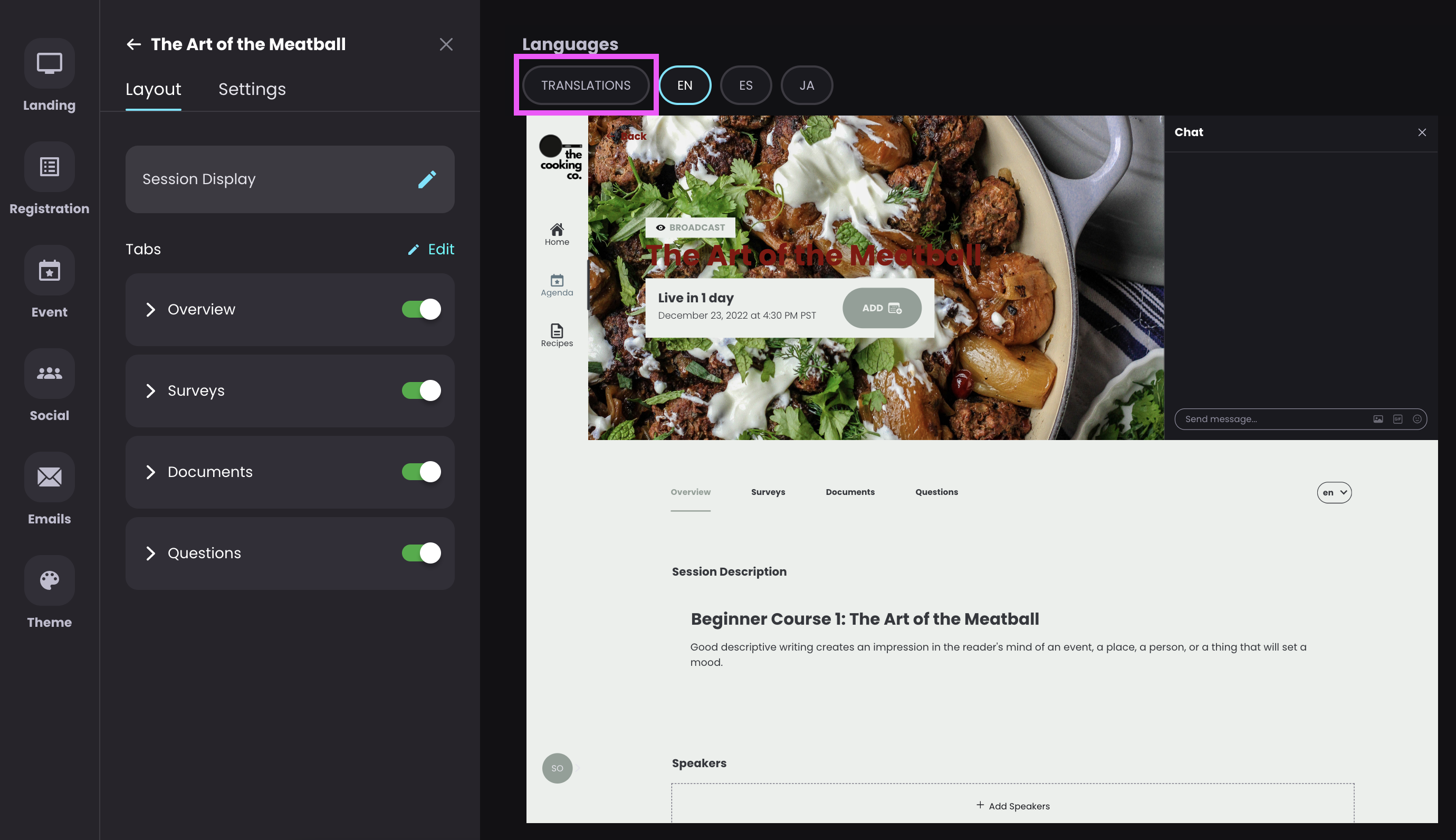 2. A new modal will appear. Toggle 'Enable .xls Translations' on: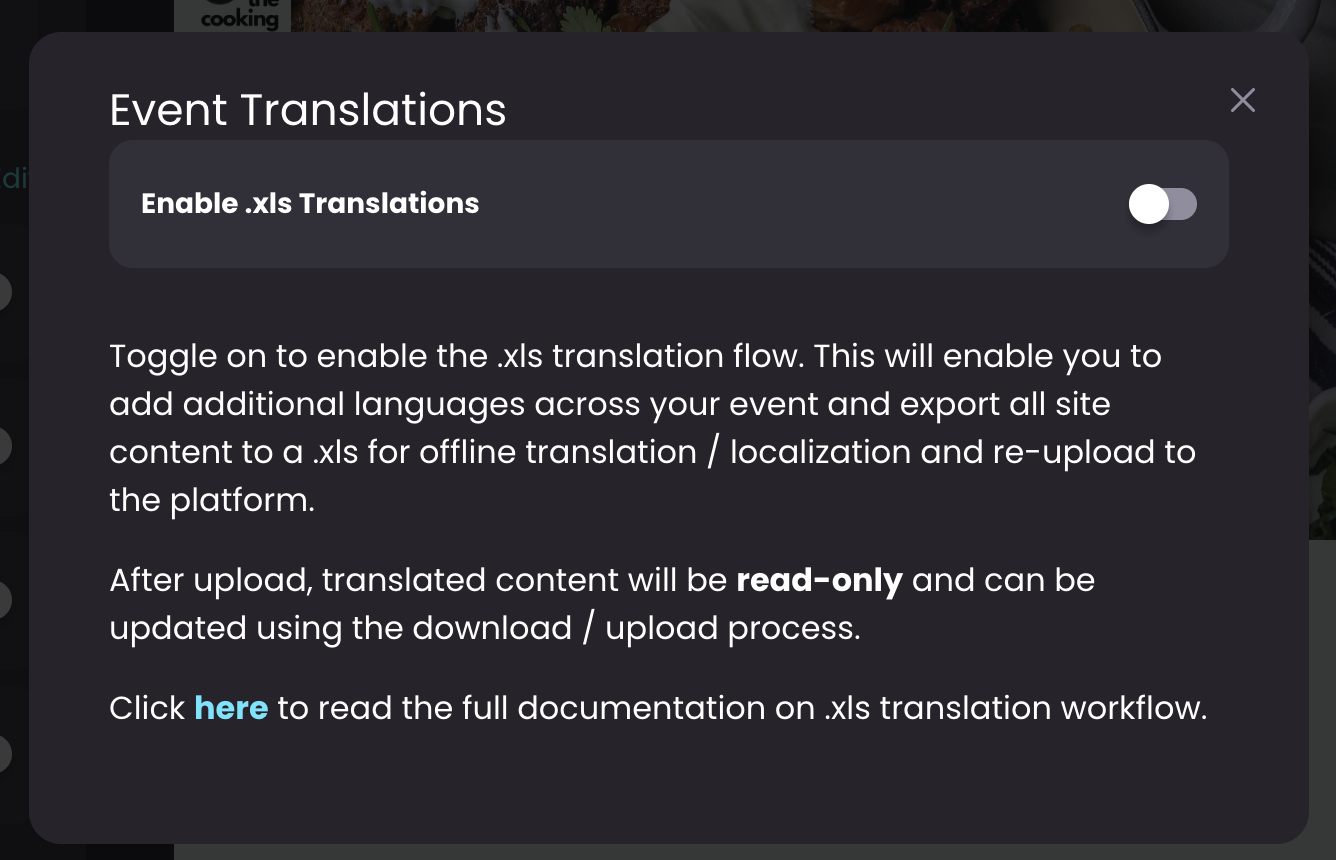 3. Click 'Download Translations' to download a .zip folder containing an Excel file for each language: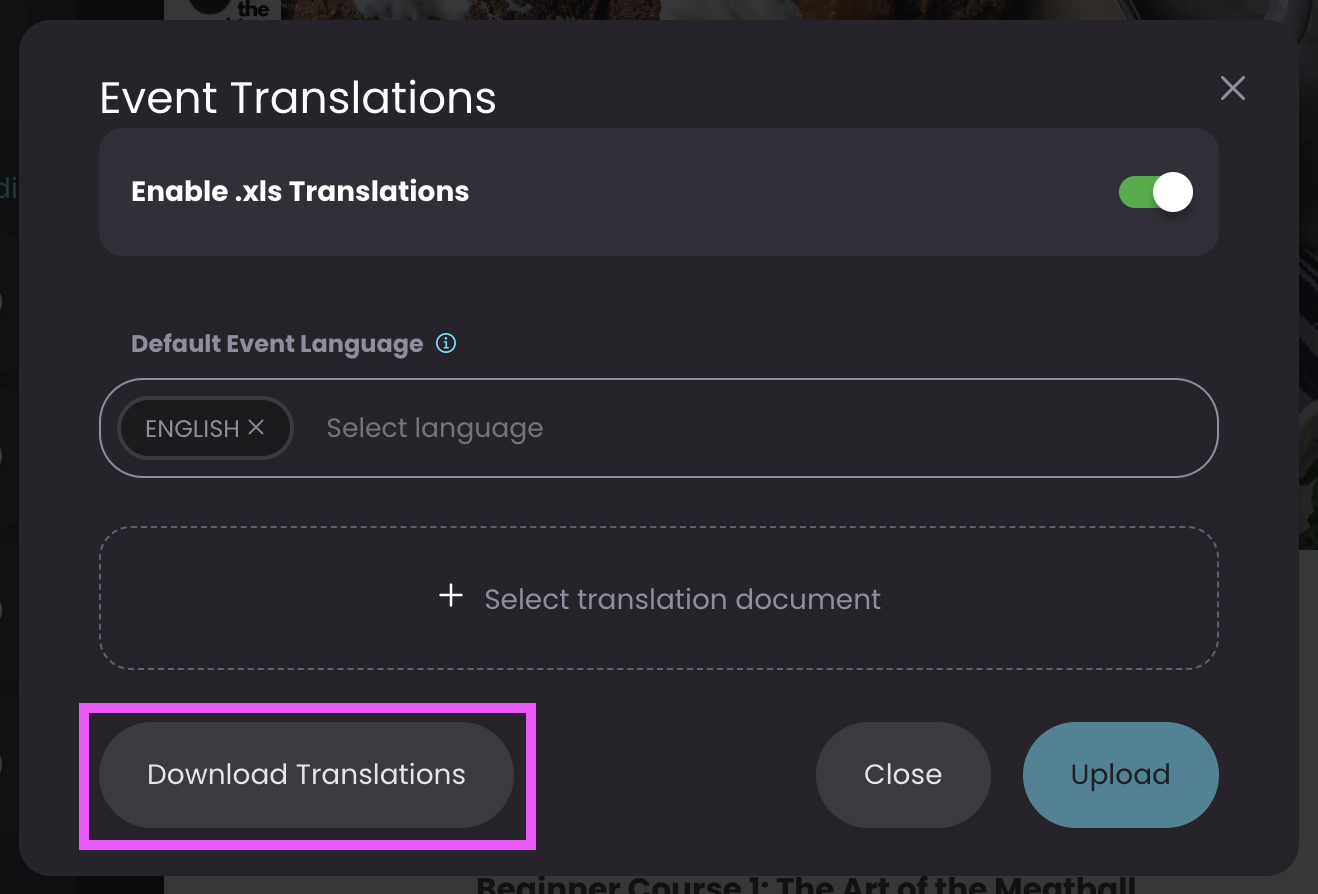 4. Select the language file you wish to edit and open it in Excel or in Google Sheets. Your document will have three columns and several tabs: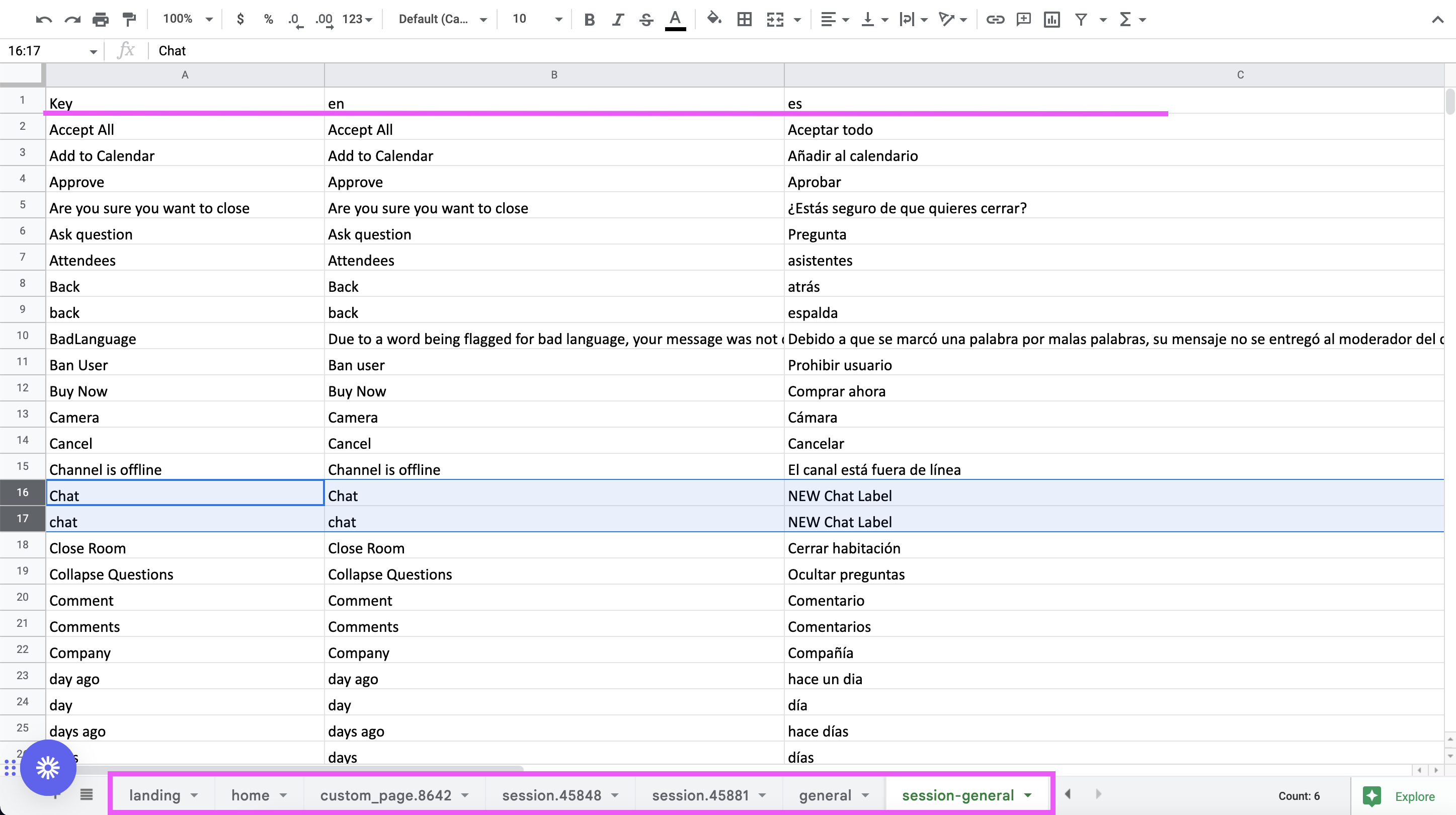 Each column has a specific purpose:
Column 1 - Key : The unique identifier for each element in our platform. Do not modify content in the unique key identifier column as the platform will not be able to apply your translations without it.
Column 2 - Base Language: This column contains the base language for your site that is being translated (typically English).
Column 3 - Translated Language: This column contains the translated language you have selected.
Across the bottom of the sheet, you will see tabs for each page of your site such including Landing, Registration, Home, Custom, and Session pages. There will also be General and Session General tabs for elements that apply to multiple pages such as chat.
5. Edit your translations by typing into Column 3 of each tab in the sheet. Text added to Column 3 is what will appear in your event site for the selected language.
In this example, the 'Chat' text will now appear on the page as 'NEW Chat Label':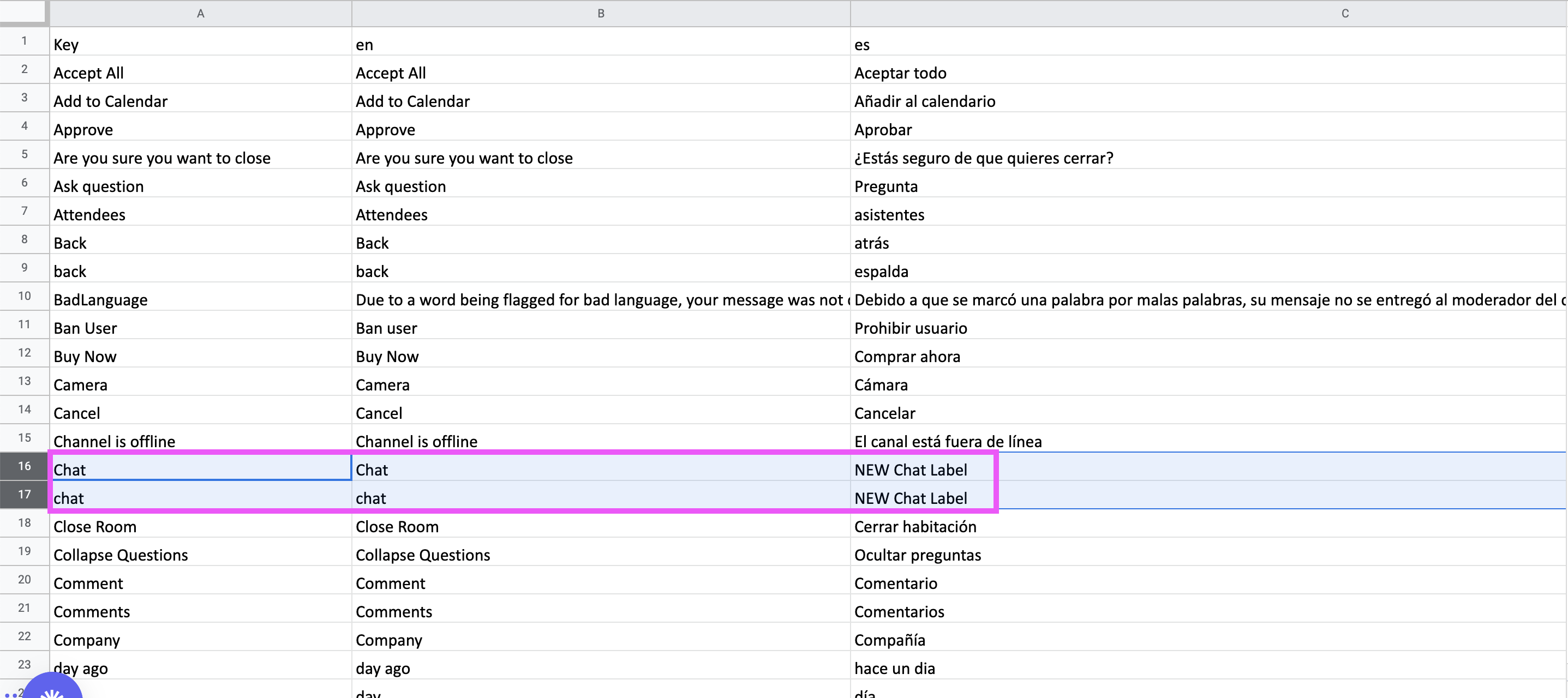 When complete, export your sheet in .xls format. Excel is the only accepted file format.
6. In the Admin Console, select your default event language and upload your new translation file.
Then, select the language you are uploading and click 'Upload':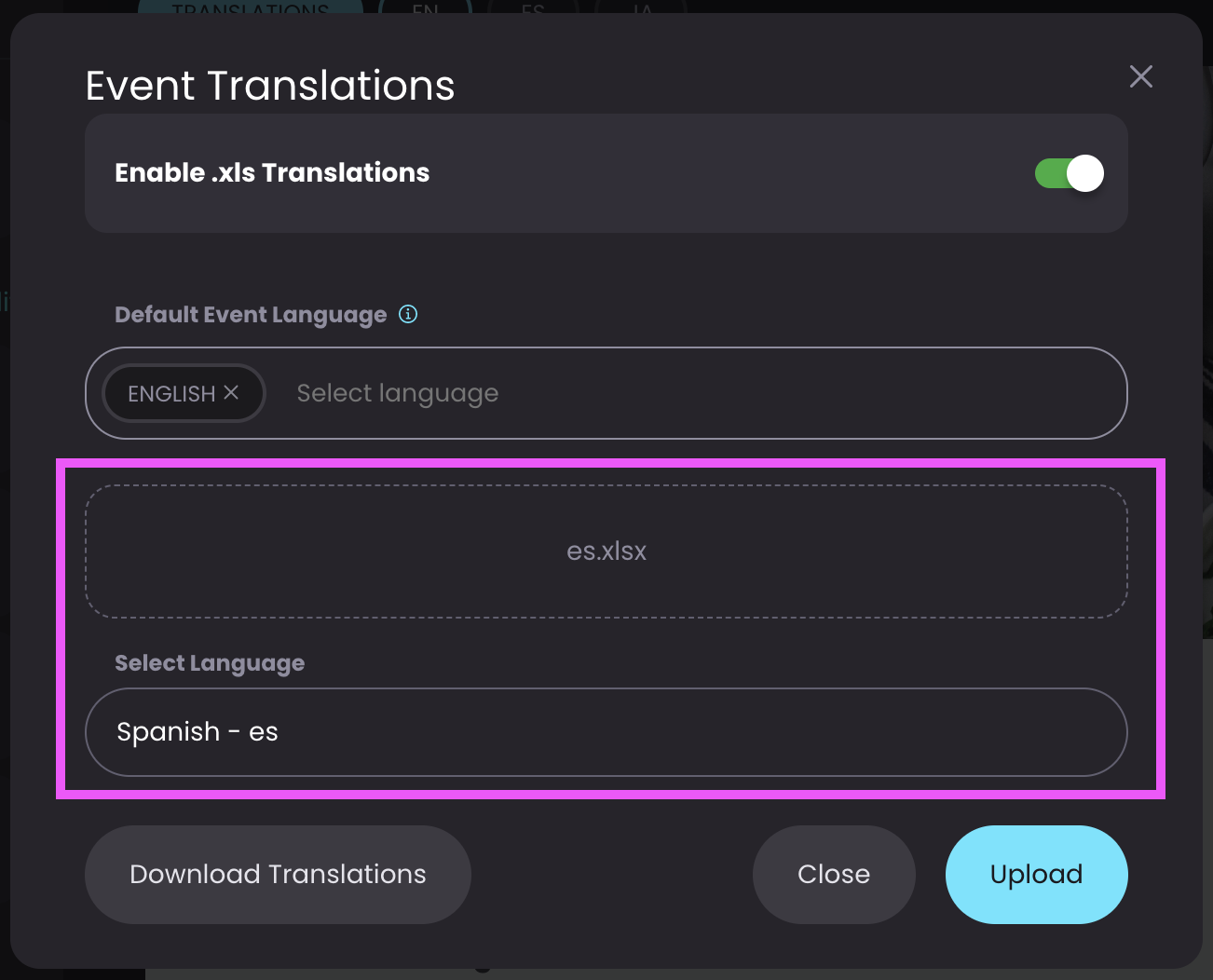 A second menu will appear to let you know the upload has finished processing. If there are any errors detected, the platform will inform you of the errors.
You can then choose to re-upload your file or click 'Apply Translations':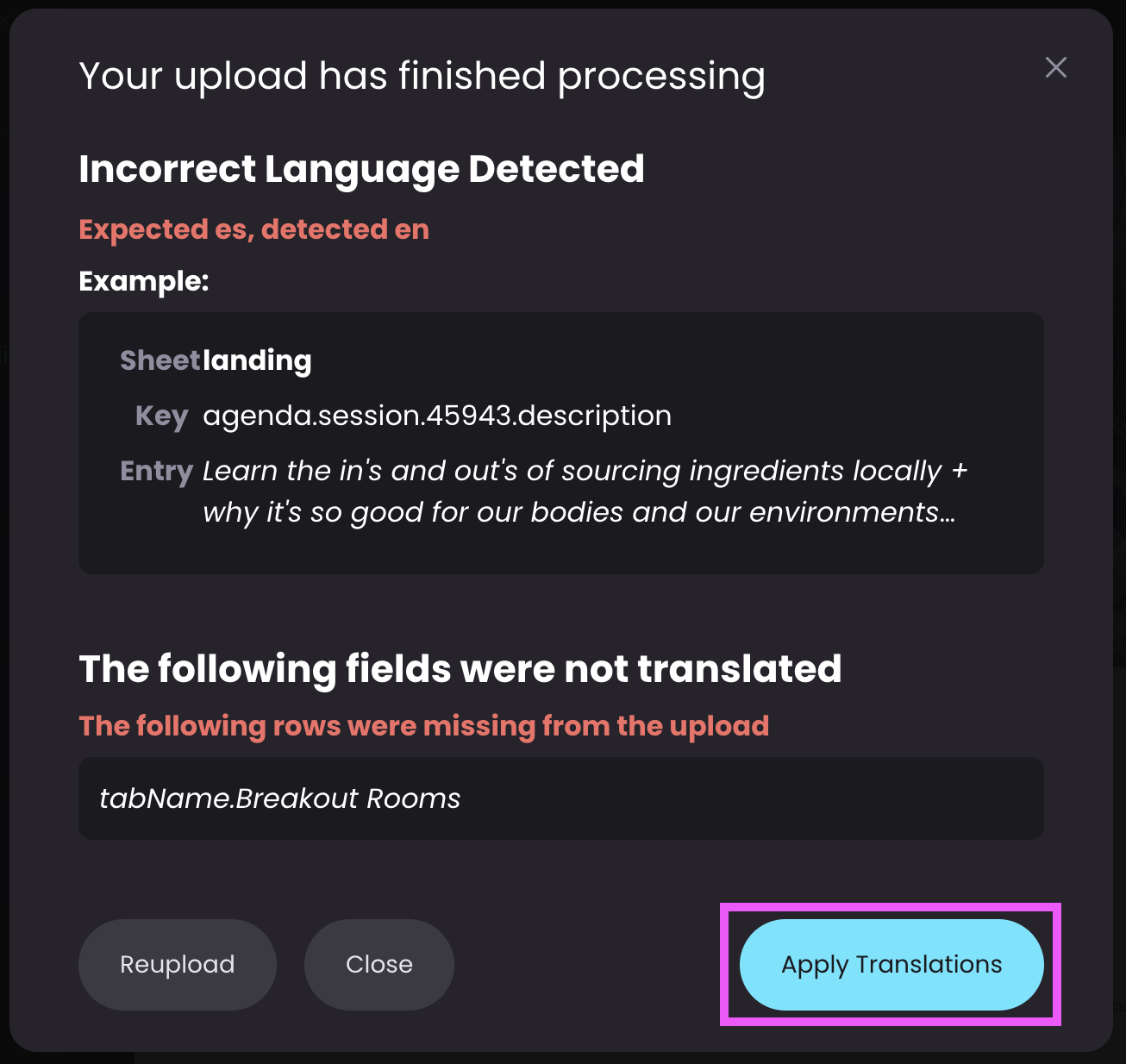 Once you've applied the translations, they will appear on your event site for the select language. In this example, the Chat box is now labeled 'NEW Chat Label'.
Note: You may need to refresh the page for the changes to appear.
Publish your page for the changes to apply to your final site.
You can re-upload a new version of your translations document at anytime.
Related Articles