Increase event attendance and engagement with in-platform emails.
Reach registered and prospective attendees directly through branded, customizable emails. Invite attendees to register, remind attendees of upcoming sessions, and let attendees know when a session is available for on-demand viewing - all without leaving the platform. Schedule emails ahead of time for complete peace of mind while your event is live.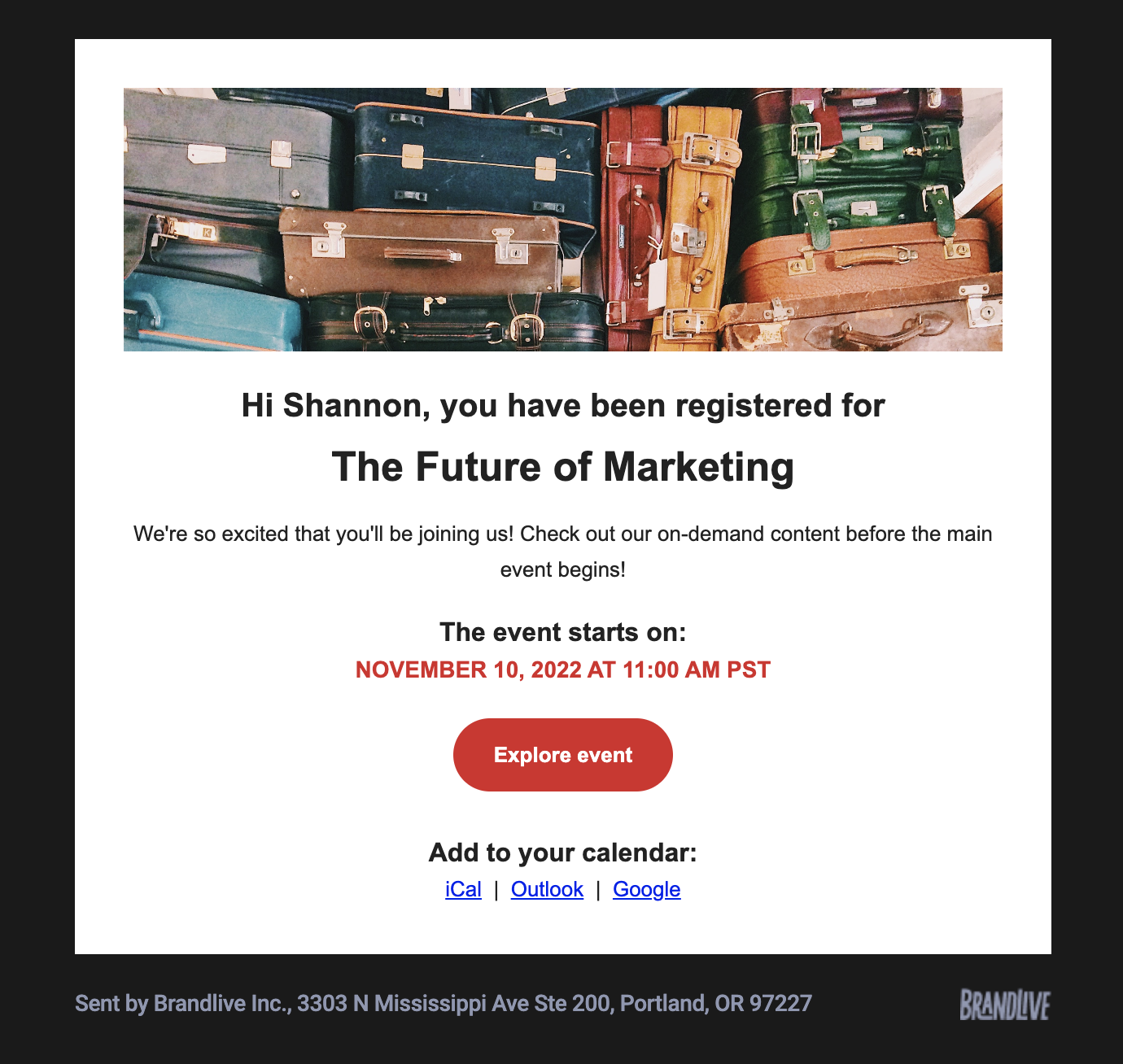 Types of Emails
There are three types of emails: Invitations, Confirmations, & Reminders. All emails feature full customization options and can be scheduled to send. Learn more about each one below!
Invitation Emails
Invitation emails can be sent to a pre-uploaded audience list, inviting them to register for your event.
Invitation emails are designed to be used as an outbound marketing tool to increase your event registrations. The clickable button in the email will bring prospective attendees directly to the registration page.
Registration Confirmation
Registration confirmation emails are generated automatically once an attendee has registered for your event (when this feature is toggled on). The clickable button will bring registered users to the homepage of your event.
Session Reminders
Session reminder emails can be sent before a session begins, when a session is live, and after a session has been moved to on-demand.
Session reminder emails are sent to registered users who have access to the session. The clickable button will bring registered users to the session page your reminder email is for.
Design & Customization
In-platform emails can quickly and easily be designed and customized to look and feel like your brand using the assets and palettes you've already created and uploaded.
Edit all text in the email including the greeting, title, description, and button text. Upload images, link out to other sites, and opt to include an Add to Calendar button for your attendees to save the session date and time to their calendar with ease. Customize your emails using your palettes or individually change the text color of each field.
Scheduling & Segmentation
Emails can be scheduled to send at any time in the future using the scheduling tool. Send as many emails as you'd like, there's no limit!
Emails can be sent to attendees based on their status as an attendee and/or their access to a session.
Prospective attendees - send invitation emails to an Audience List
Registered attendees - automatically send a confirmation email
Specific session attendees - send reminder emails to registered attendees for a specific session
How-To Articles
Frequently Asked Questions
How many emails can I send?
There is no limit to the number of invitation and reminder emails you can send. Confirmation emails are only sent when an individual registers.
Are open and bounce rates tracked? How can I see if someone has utilized the invitation email?
Open and bounce rates are not tracked at this time, however, you can compare your Audience List with your registration report to determine who has registered from an invitation email. You can also view this information on an individual level by viewing your Audience List under the People tab on the main dashboard.
Can I edit the time and date?
Yes! This text is fully editable.
Can I have more than one image in an email?
Not at this point in time.
Can I remove the image?
Not at this time, however, you may use an image with a transparent background if you would like.
Can I send Session Reminders and Confirmation emails in other languages?
Yes! Confirmation emails and Session Reminders will be sent to users based on the language selection made at registration.
Can I edit the same email in different languages separately?
Yes! Simply toggle to the language you'd like to update to edit each email.
Can I edit the subject line?
Not at this time.
Can I schedule emails ahead of time?
Yes! All emails must be scheduled for a time and date in the future.
I'm sending invitation emails to 500,000 contacts. Will they all be sent at once?
Emails will be sent in batches of 50,000.
Can I send an event level reminder email (as opposed to session)?
Not at this time, however, this will be included in future releases. We suggest enabling access to an opening session for all users to utilize in the meantime.
Can attendees reply directly to emails?
Yes! You can update your sender email address under your Channel settings.

Can I send emails to specific registered users?
Not at this time. Session reminders will go to all registered users with access to the session.
My brand colors are not available in the text colors. How can I add them?
Custom colors can be added in the "Custom editor colors" module in the Theme tab.
Can I hide the Brandlive logo?
Yes! Simply toggle it off in the email settings.