Make sure to capture and save all your best moments with the recording feature in Greenroom.
Within Greenroom, it's possible to record video without live streaming. This feature is beneficial because it allows you to pre-record videos and segments within Greenroom, have those videos get automatically added to your Media tab, and ultimately allow for an easier experience building your show. In this article, we'll show you how to record on the Greenroom canvas and how to access those recordings.
Canvas Recording Overview
How to Record on the Greenroom Canvas
Once you open Greenroom, there will be a green button at the top that says "Stream", where you'll also see a dropdown arrow with two options:
Stream: Upon clicking, you'll be streaming your show live as well as recording it.
Record Only: Upon clicking, you'll only be recording. Nothing will be streamed live.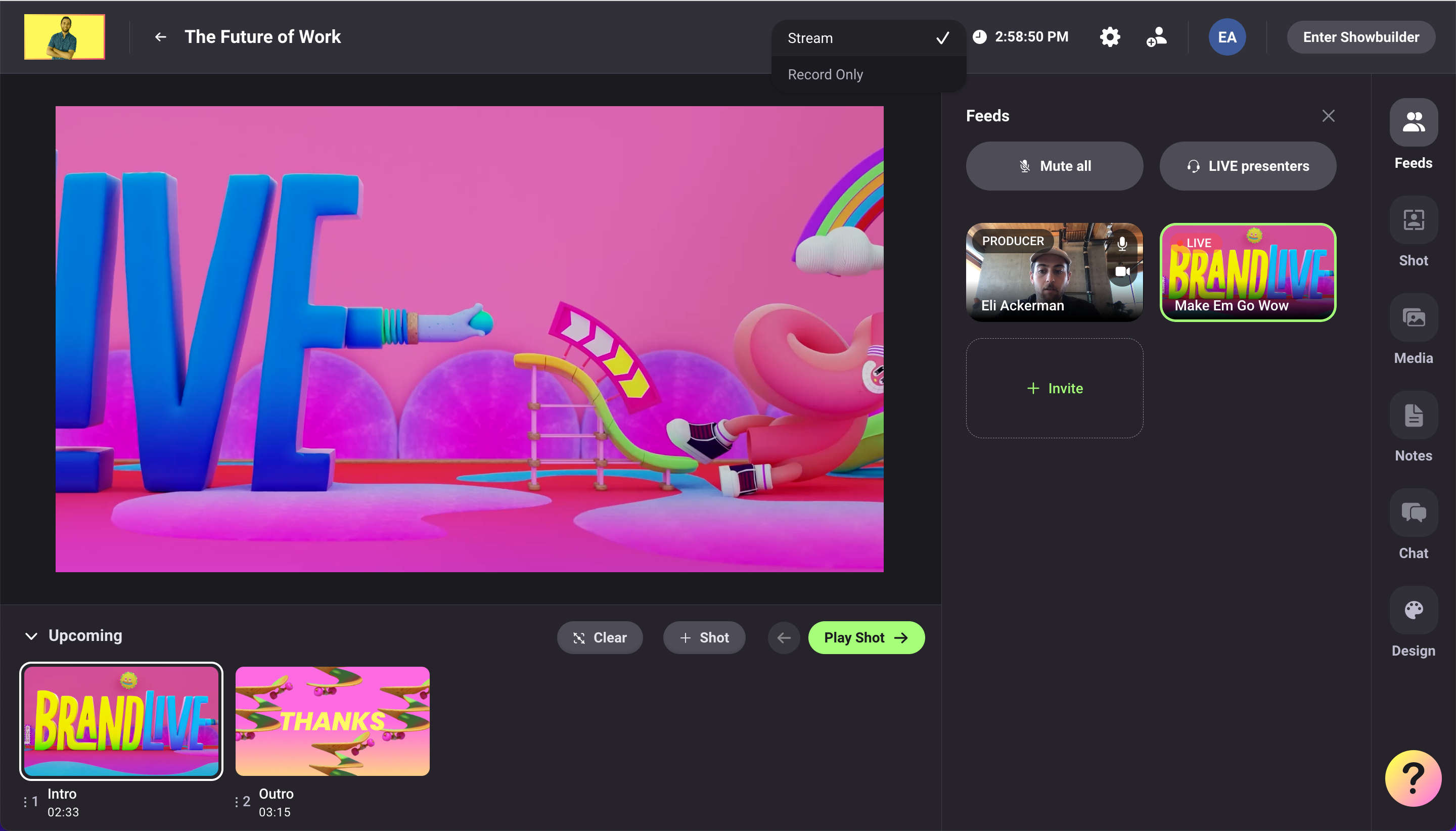 Once you select the option "Record Only," the "Stream" button will turn red and list the option you selected; "Record". You will then need to click the button again to start recording.
The button will then say "Starting Recording" and a few seconds later, it will show that you are "Recording" – this will be black with white text.
When Streaming, the "Stream" button will stay Green, and indicate to the user "Starting Stream", and "Streaming" when activated.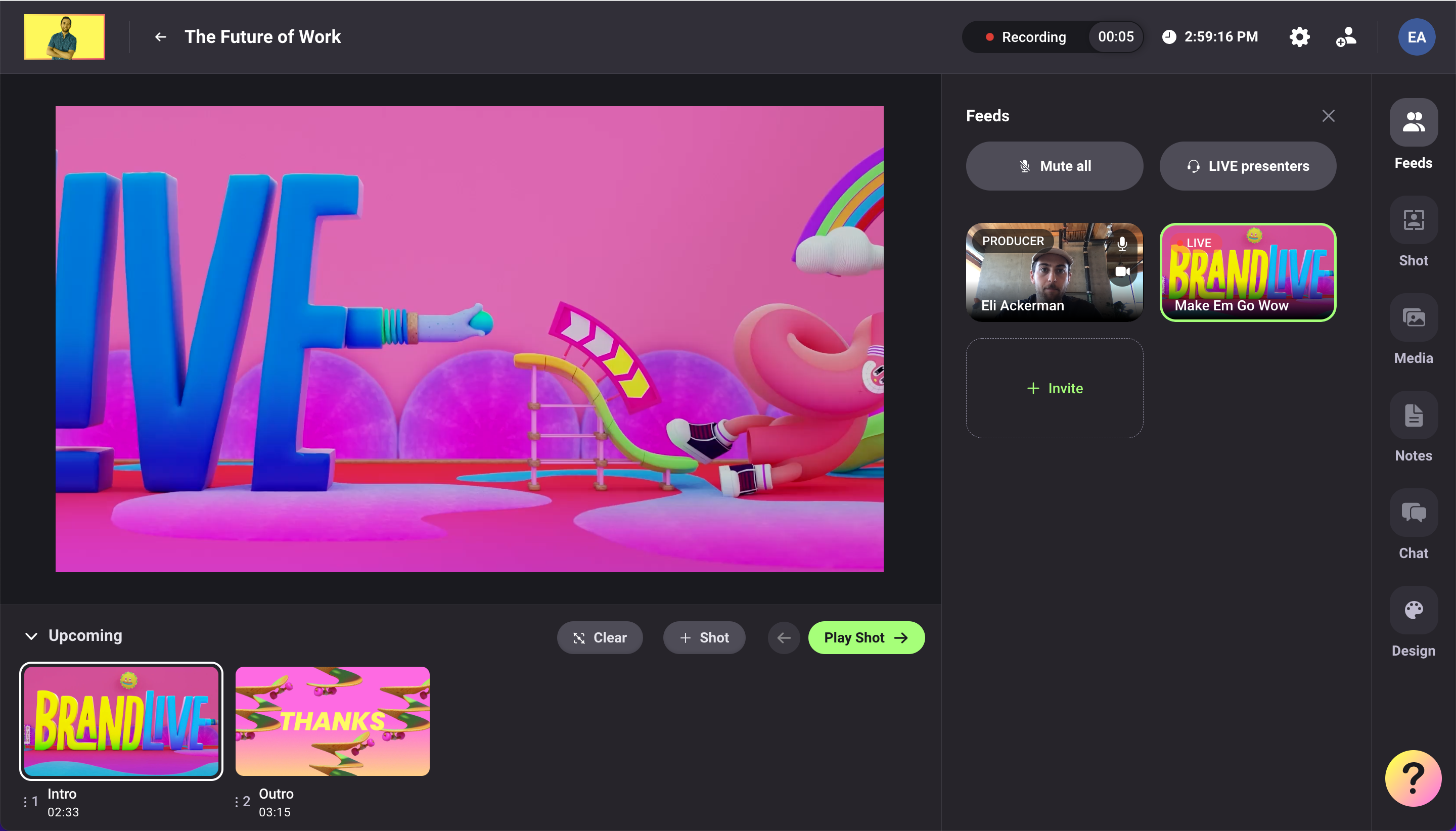 To end your recording, hover over the "Streaming" or "Recording" text to show a red button that will say "End Streaming" or "End Recording;" click that to end.
Accessing Your Recording
Shortly after you've finished recording, you can find your video in the Media tab, under the sub-tab Recordings. (Reminder: Videos from any time you hit "Stream" or "Record only" will live in this Recordings tab.)
With access to your recordings right in Greenroom, it's easy to then drag your videos onto your shots to build your segments. You can also edit and rename your recordings, as well as preview or download just as you would with any media file.
Once a Recoding or Stream finishes, it will take some time for the file to process before you have the option to download it. Should a Producer like to view the recording immediately, they can put it in a shot in their Showboard and play the shot.
Trim
When in Showbuilder, you can access a trim feature for your Greenroom recordings.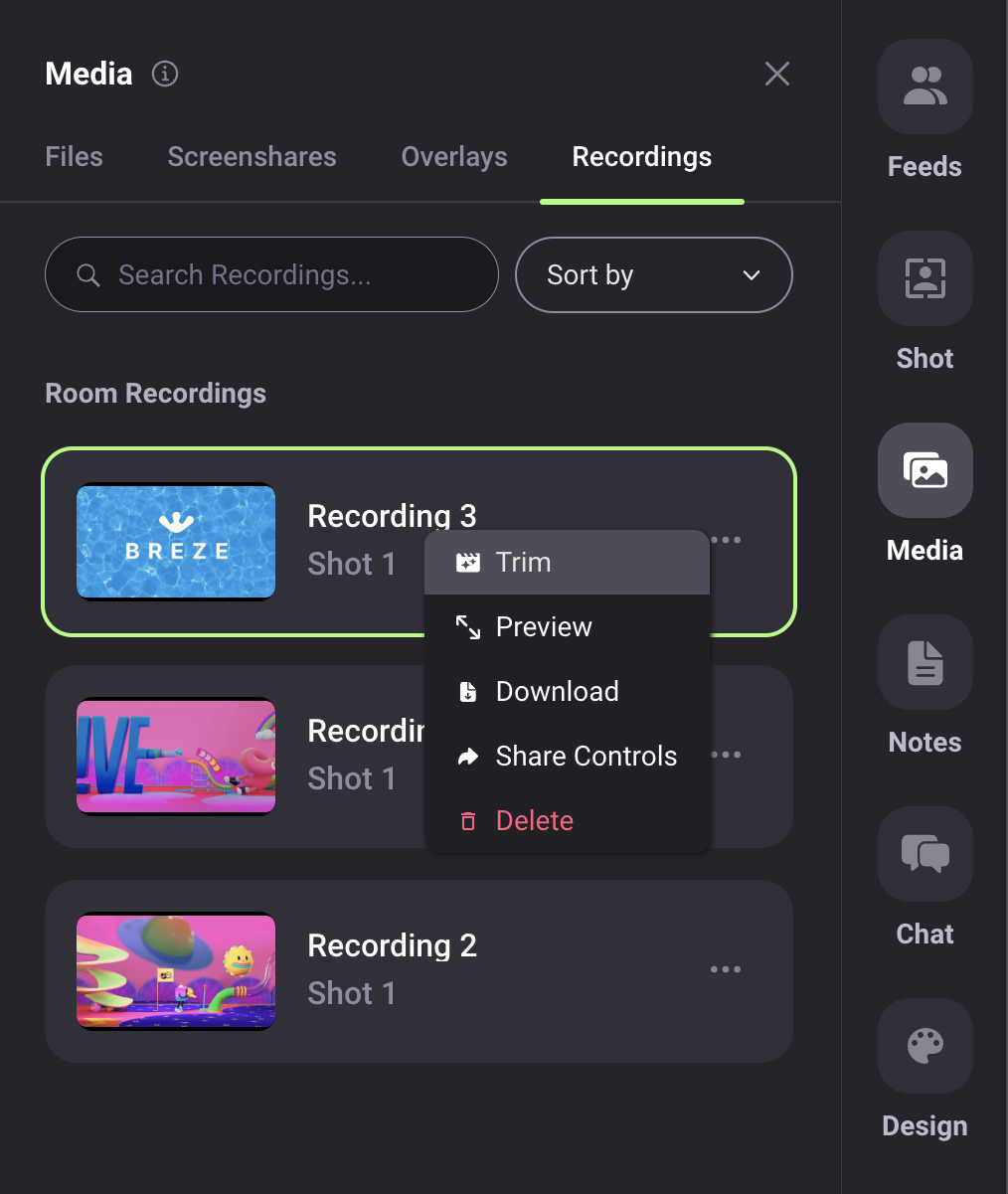 The feature will open up a new player with the recording, where you can mark start and end points for the new video clip, and access playback controls.
For more information on trimming your Greenroom recordings, click here.