CSS (Cascading Style Sheets) is a language used to change the presentation – the look and feel – of certain page and web elements. At Brandlive, CSS is one of the tools used to develop custom branded pages for our clients. The Streams product provided an easy way for clients with CSS experience to input CSS code themselves. In this article, we'll show you how to access the CSS editors in Streams.
CSS on the Event Level vs. on the Session Level
Note: While CSS can hide elements like the buttons and chat, it cannot change the layout of the page or the wireframe itself.
There are two places to input CSS: the Event level and the Session Level.
CSS applied on the event level affects the event landing page, registration, home page and session page.

CSS applied on the session level affects only the session elements (i.e. hiding chat feed, removing video player, etc.).
Accessing Theme CSS Editor
Edit, or create a new event

Click on the "Theme"

Scroll down to "Event Custom CSS" module

Click on the pencil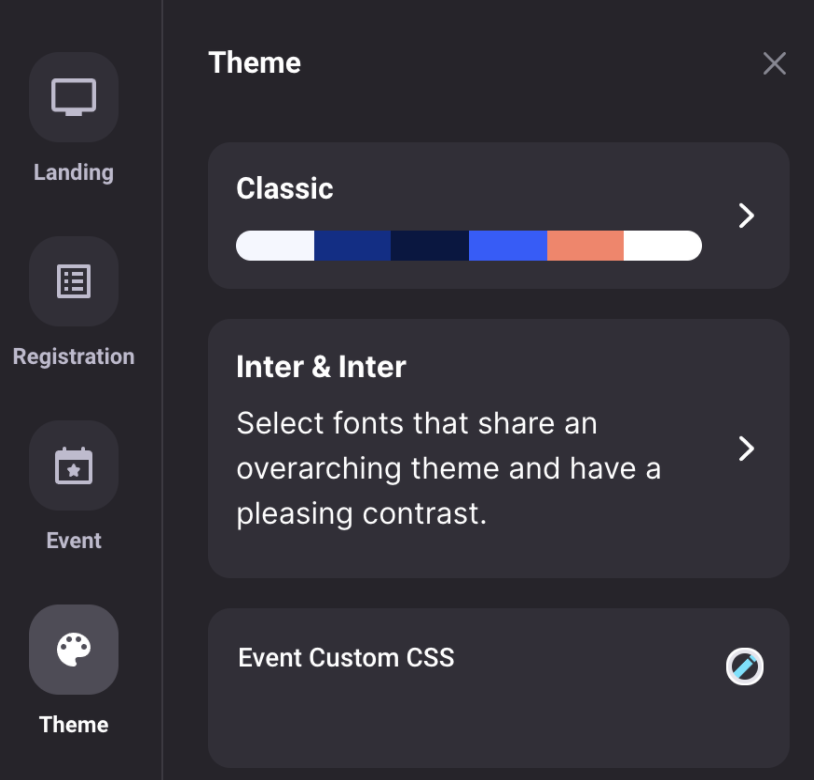 Accessing Session CSS Editor
Edit, or create a new Session

Click on session "Settings" tab

Scroll down to "Session Custom CSS" module

Click on the pencil