Ensuring your camera and microphone works correctly is imperative to successfully using Greenroom.
In this article, we'll show you how to troubleshoot a camera or microphone connection.
Troubleshooting a Camera or Microphone Connection
Sometimes, if a Presenter is having difficulty being seen or heard by other users within a Greenroom, they might see this symbol or pop up within their Feeds tab.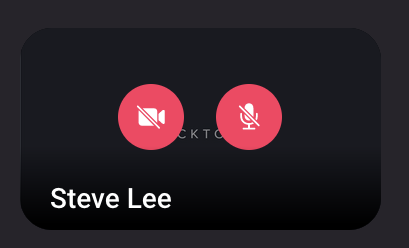 This symbol is indicating that Greenroom doesn't have access to the camera or microphone settings, or that the browser in use has disabled access to them. There are a few troubleshooting steps that may be taken:
Refreshing browser while in Greenroom
Hard refresh of browser while in Greenroom (Mac: Shift + Command + r) (Windows: CTRL + F5), which can help clear the browser cache and give a better connection to the site.
Checking your Chrome or Microsoft Edge browser settings can also determine if the browser is blocking access to Greenroom. When Greenroom is accessing your computers' camera and mic, you should see a camera icon within the URL bar of Chrome or Edge. Hovering over the camera icon will let you know if you have given access. If it's crossed out with a red line, that's an indication that the browser denied access to your camera and microphone. There also might be a lock icon to the left of the URL that allows access to the control of your camera and mic permissions.
Example: Chrome Browser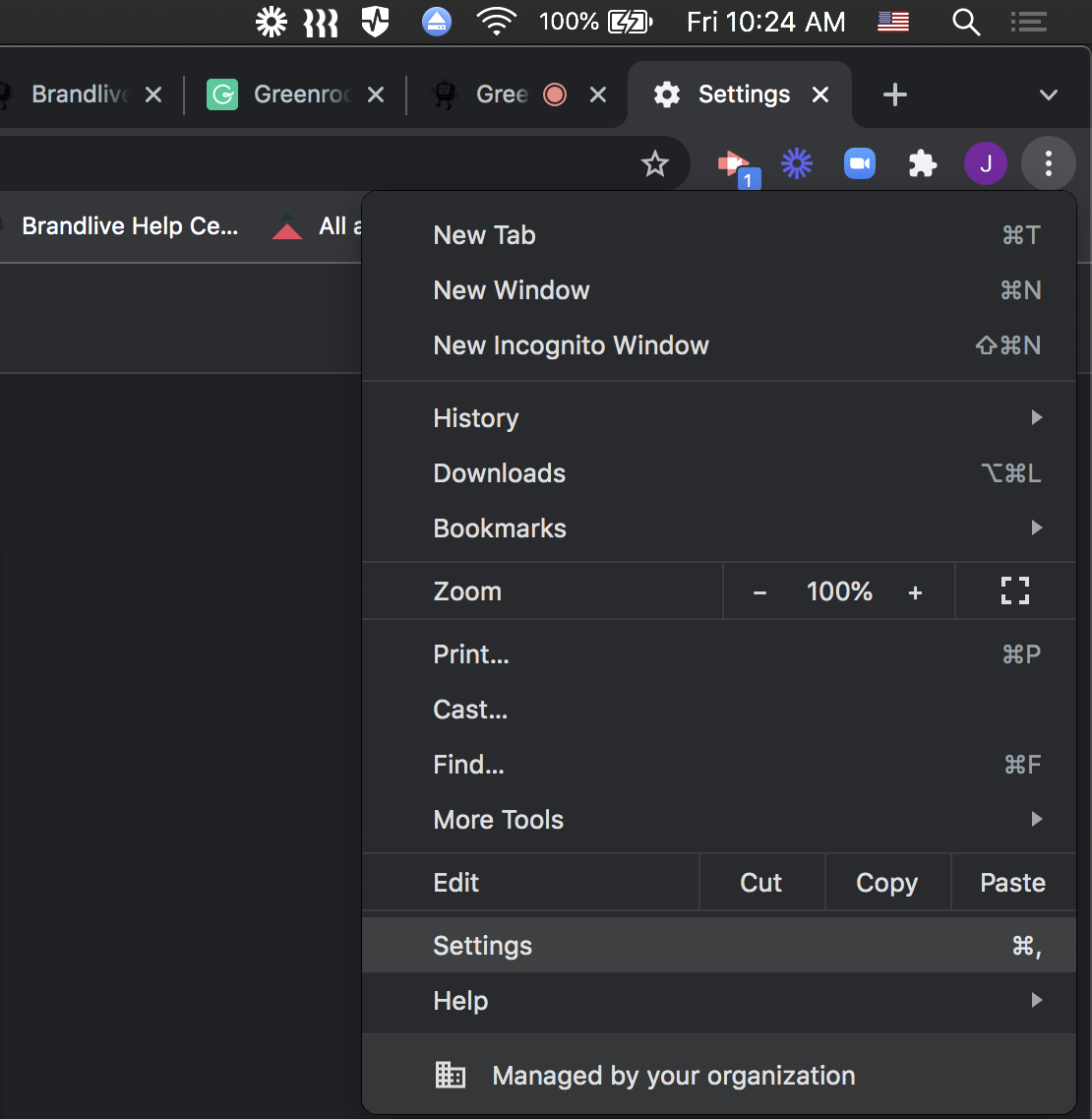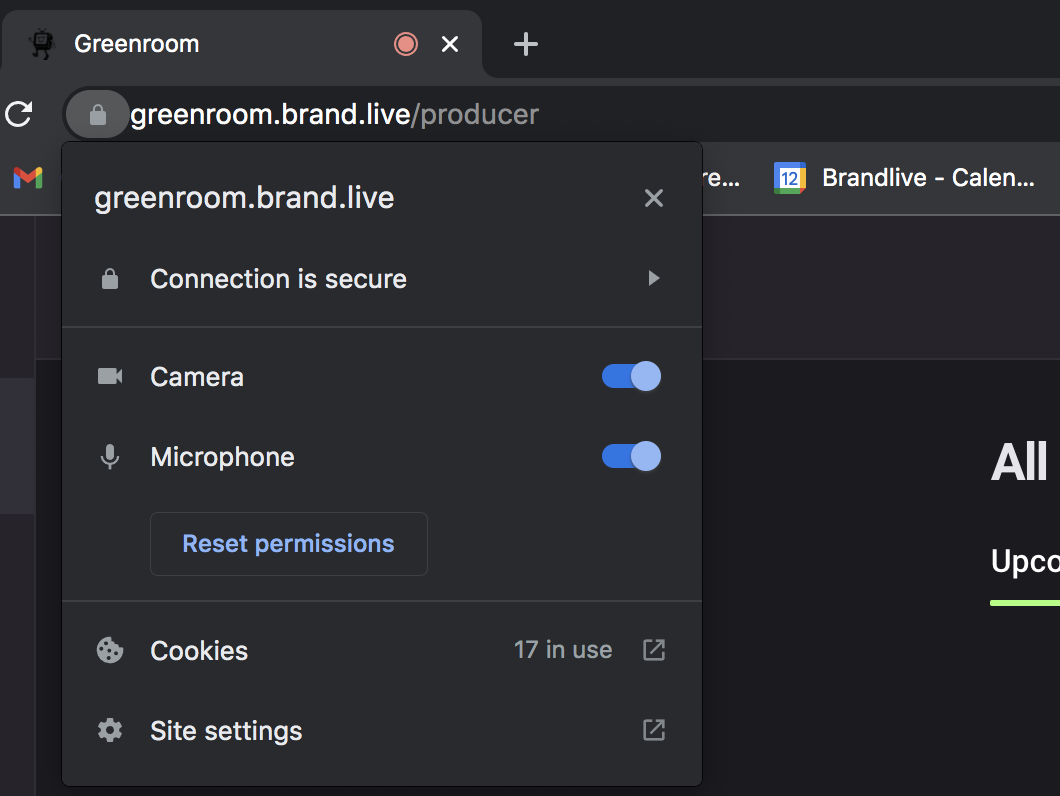 Example: Microsoft Edge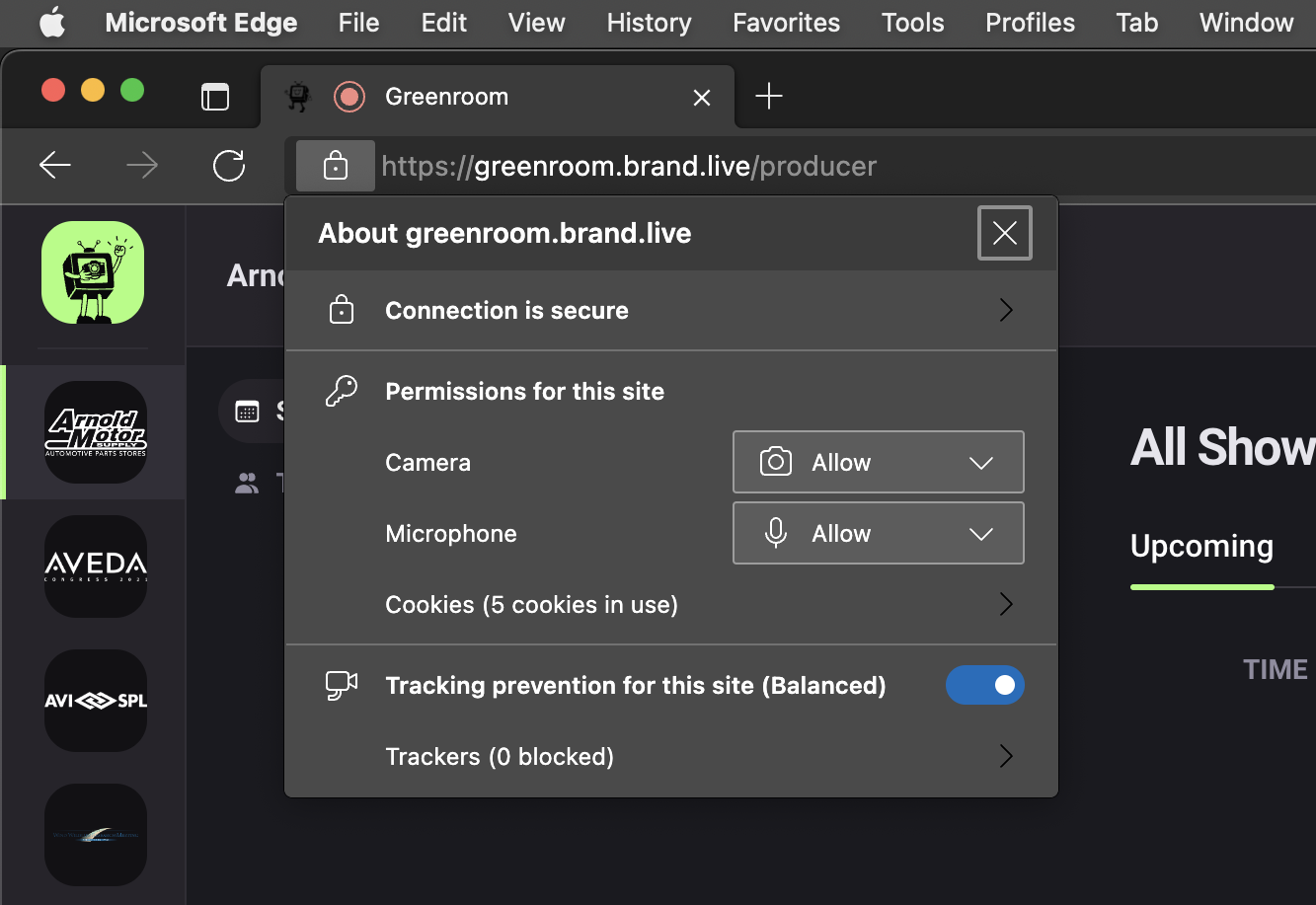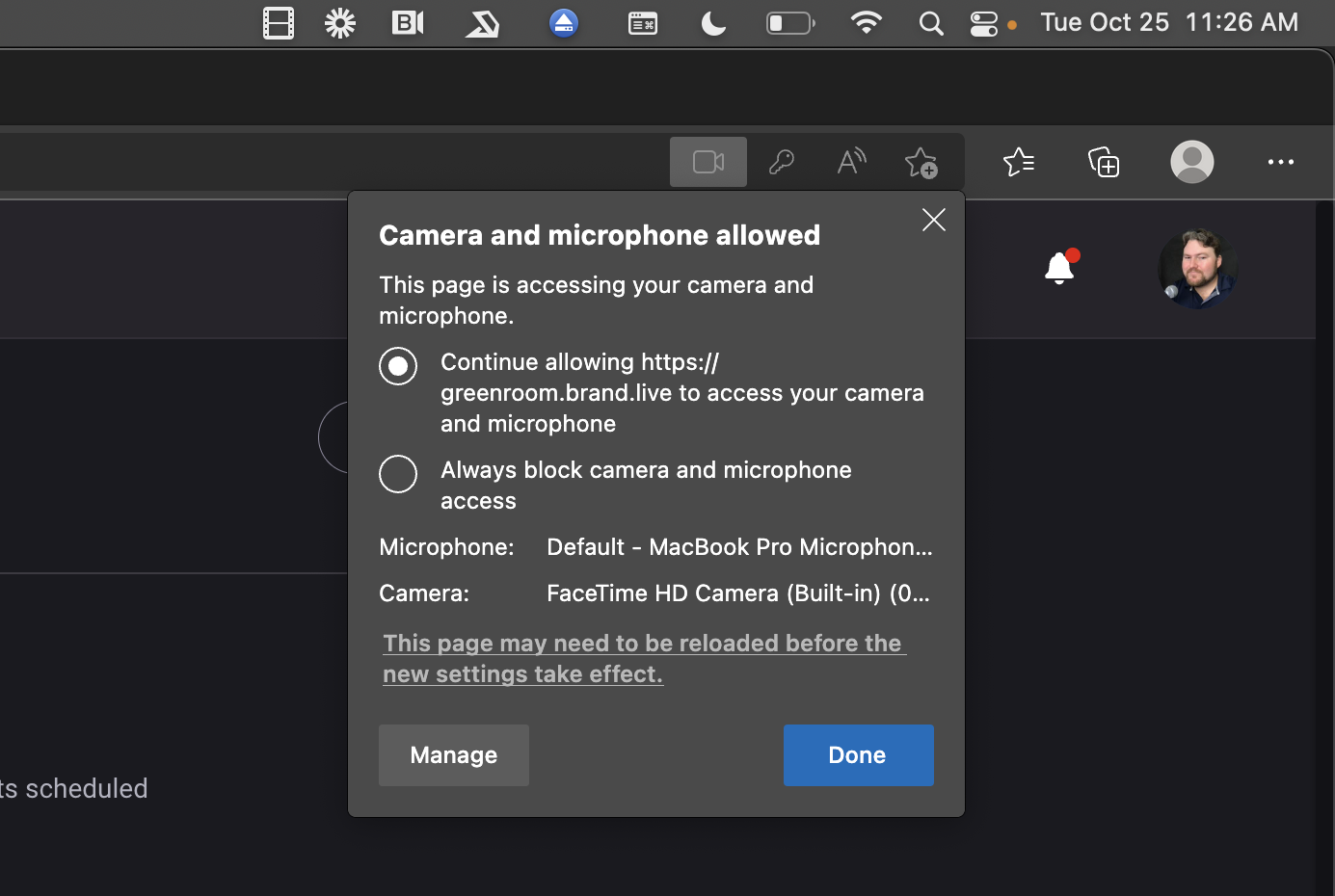 Browser Privacy Settings
You can also confirm your camera and microphone settings within the browser's privacy settings area, as shown below.
Example: Chrome Browser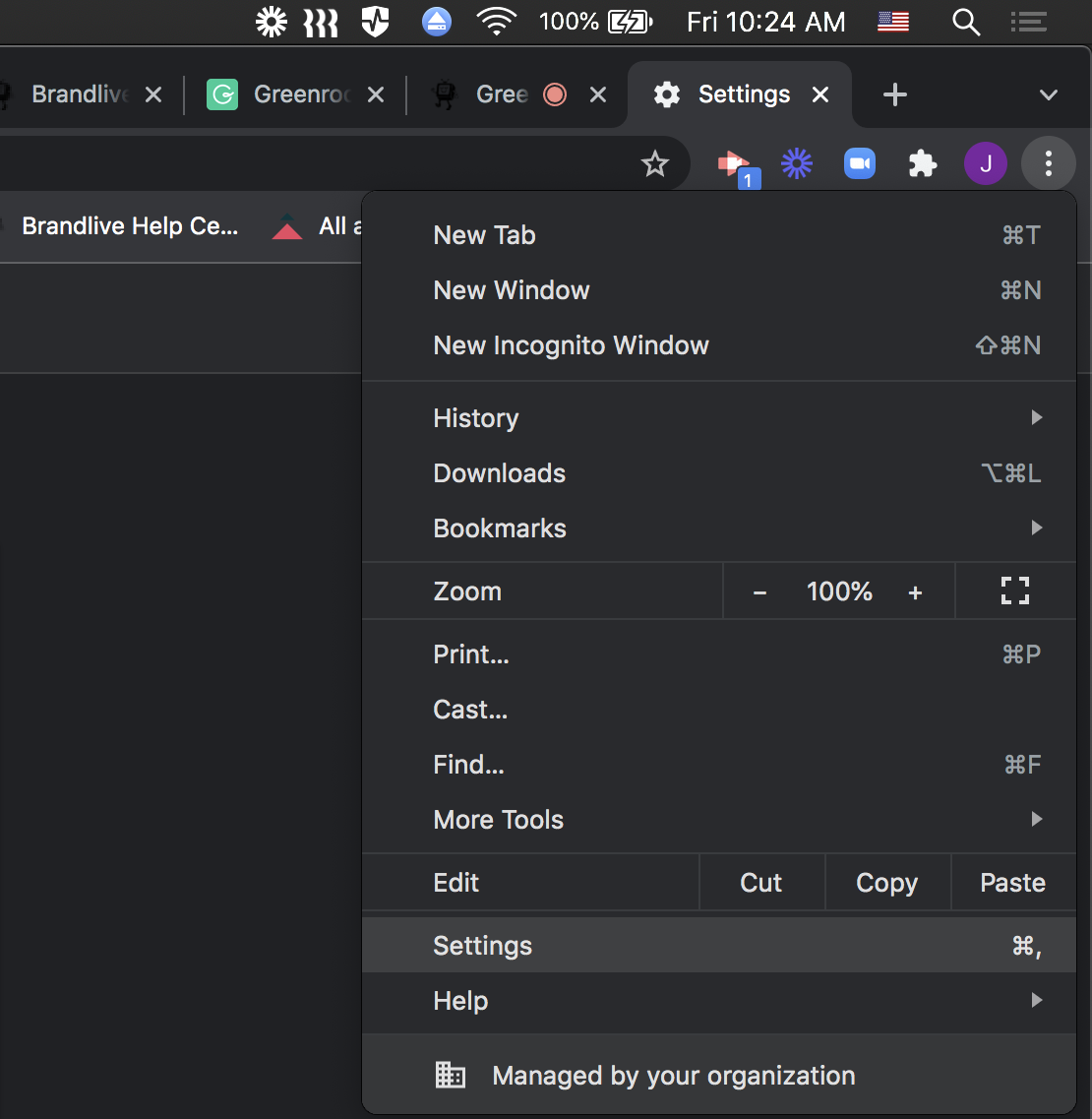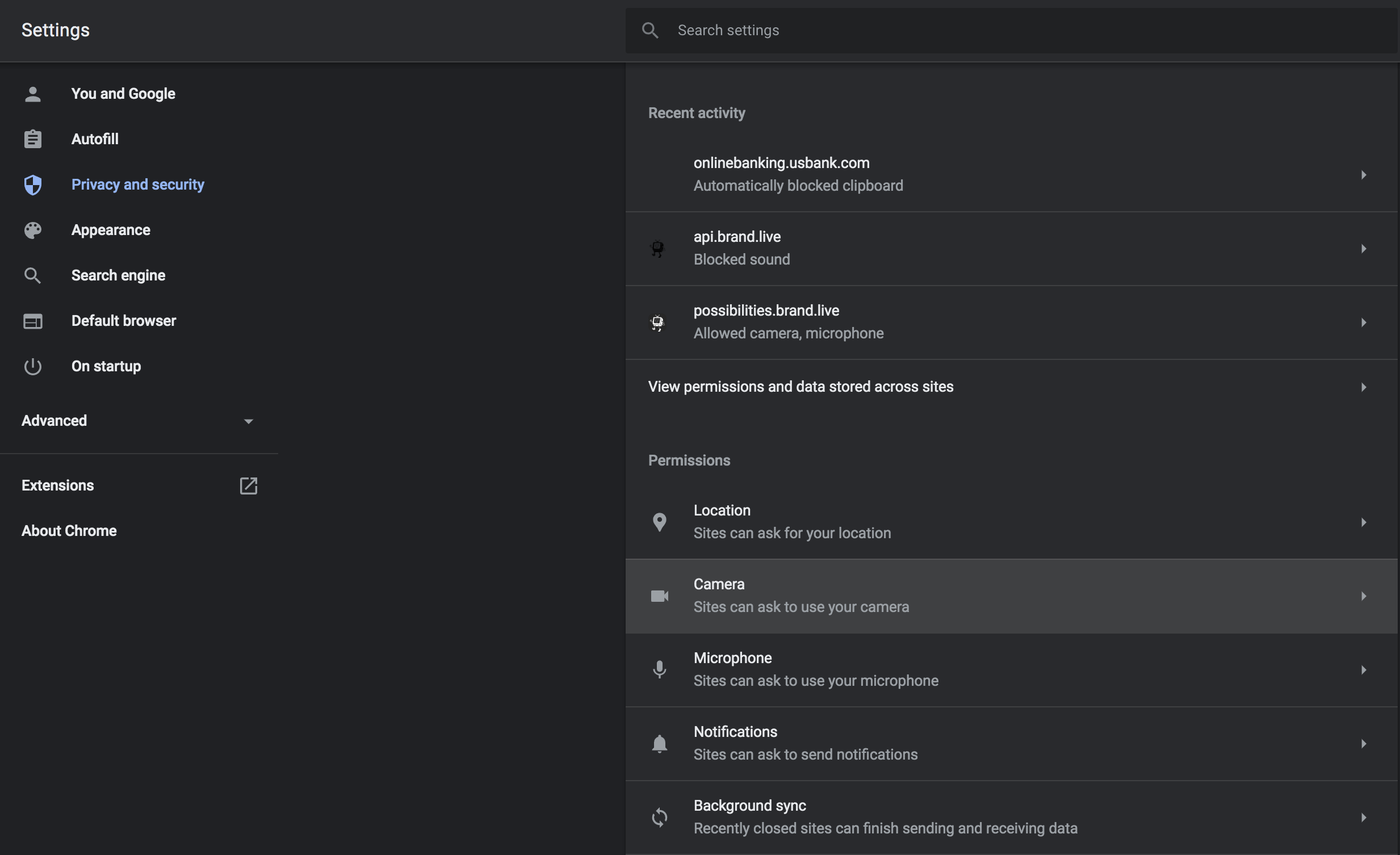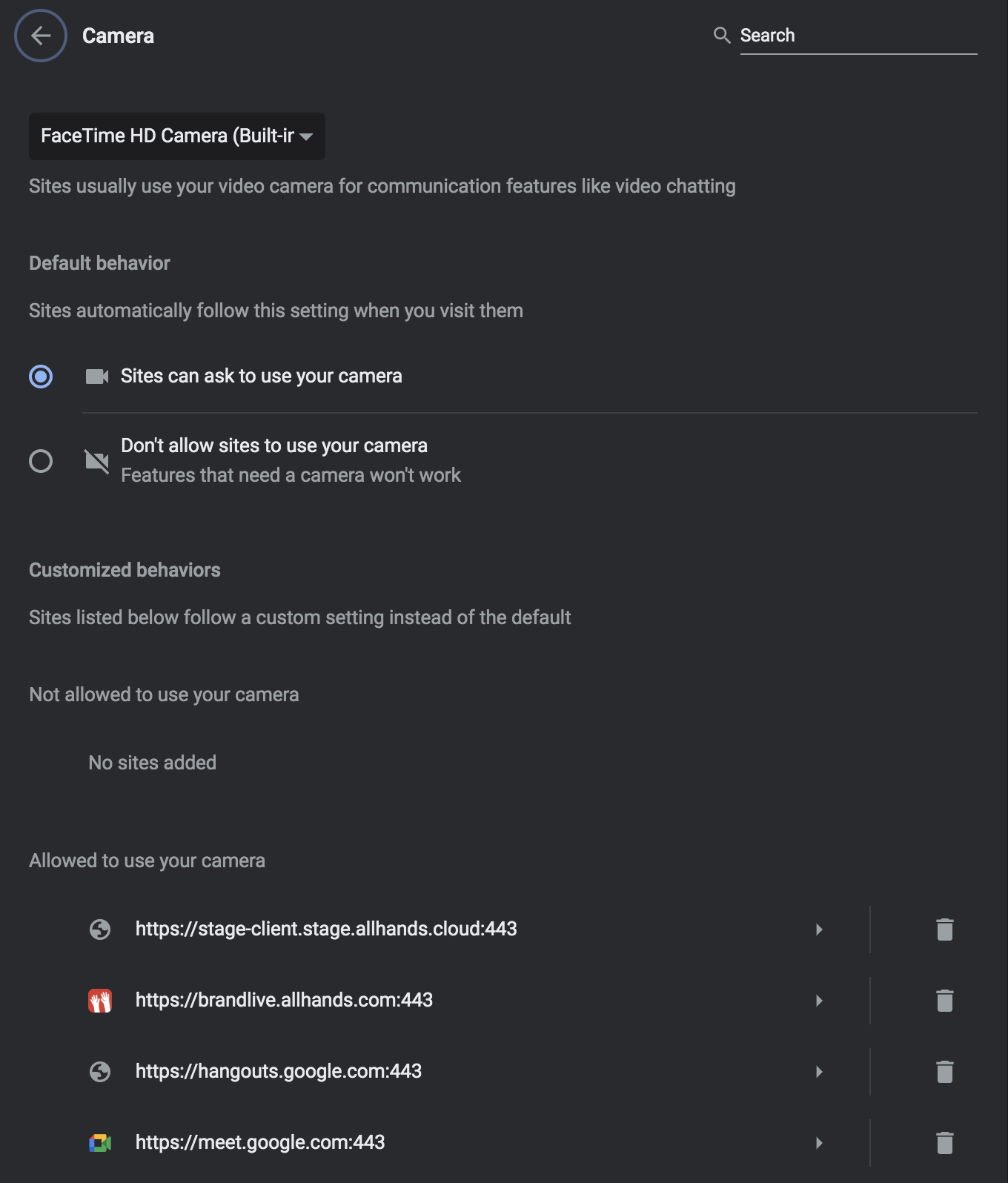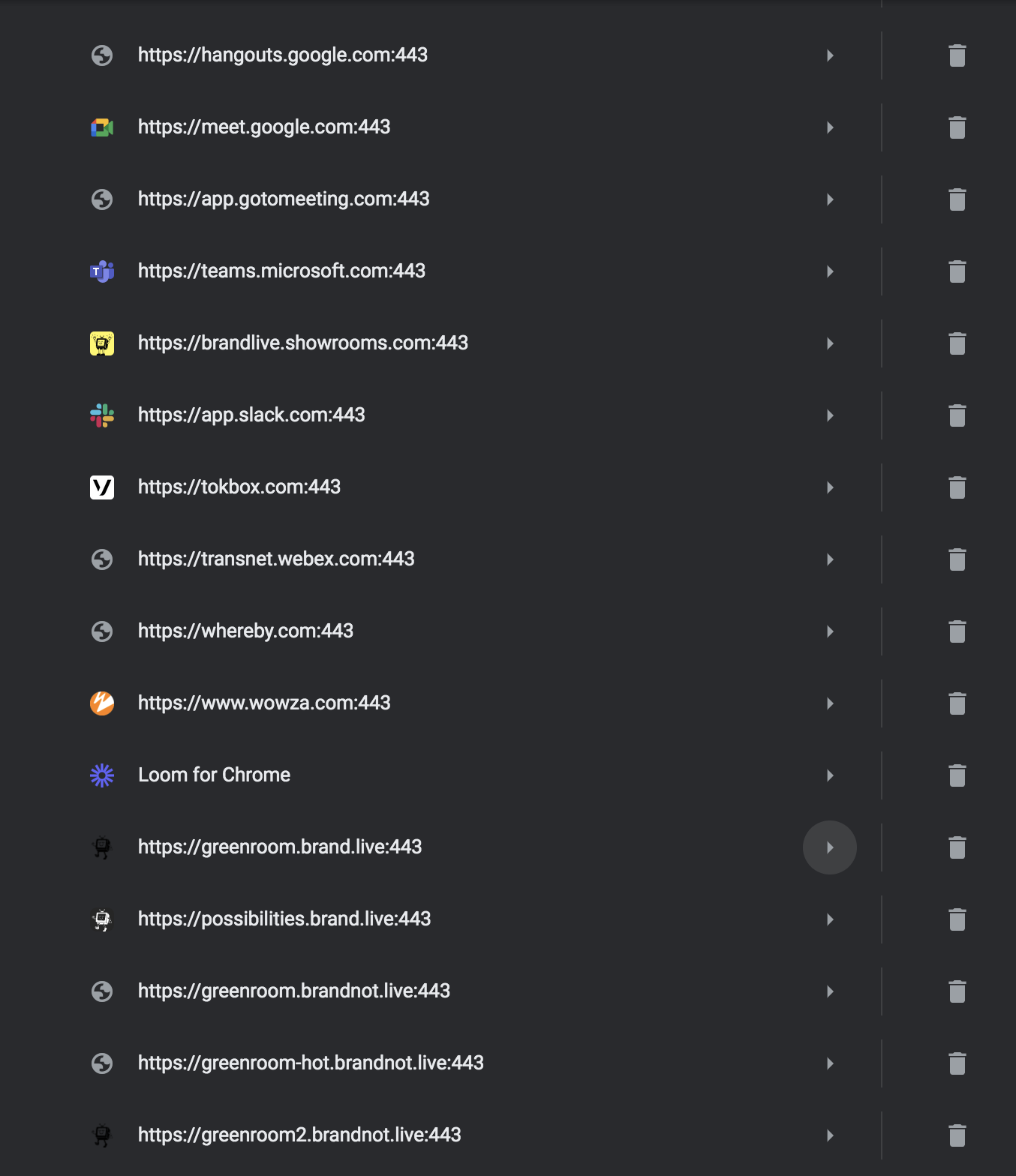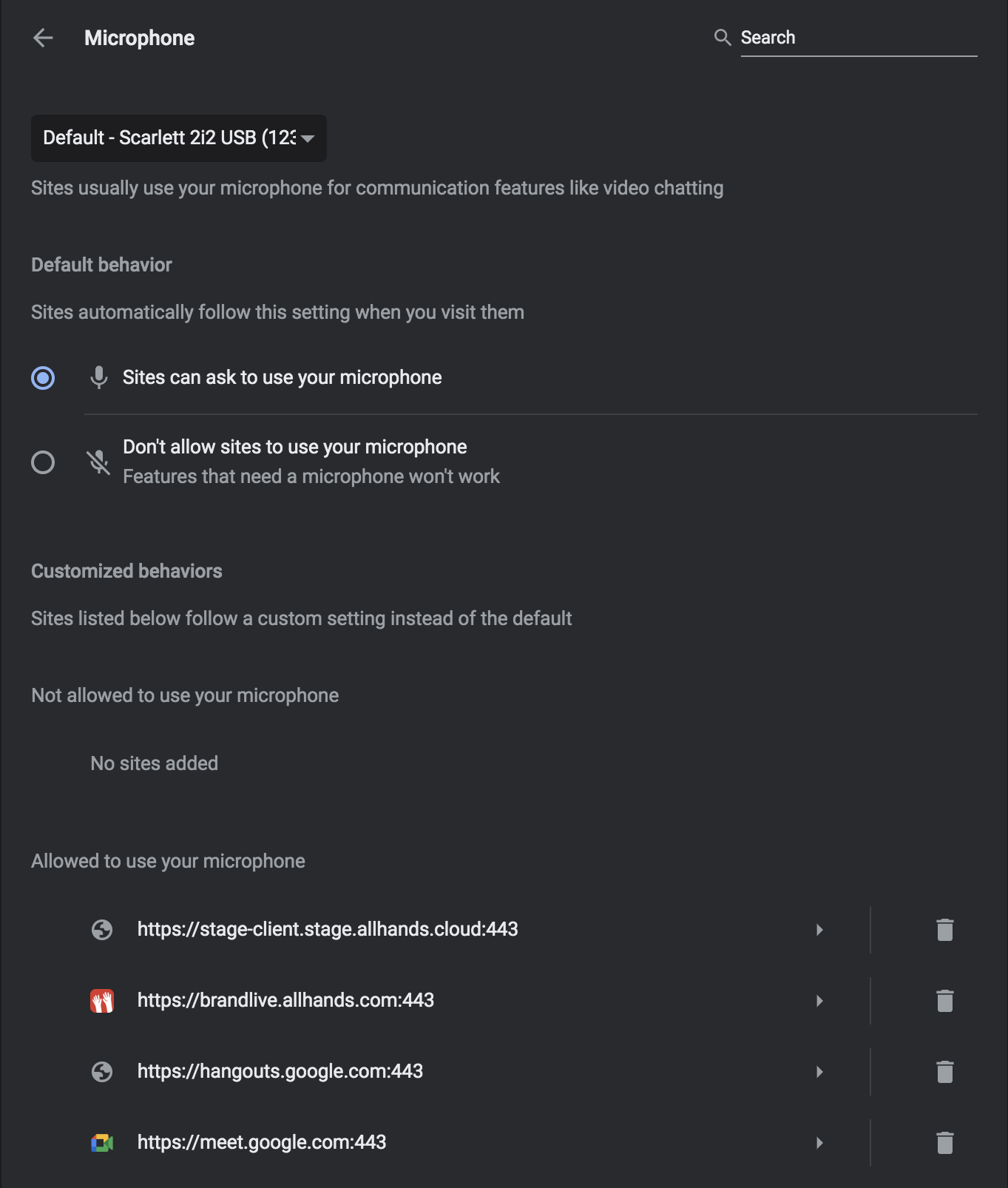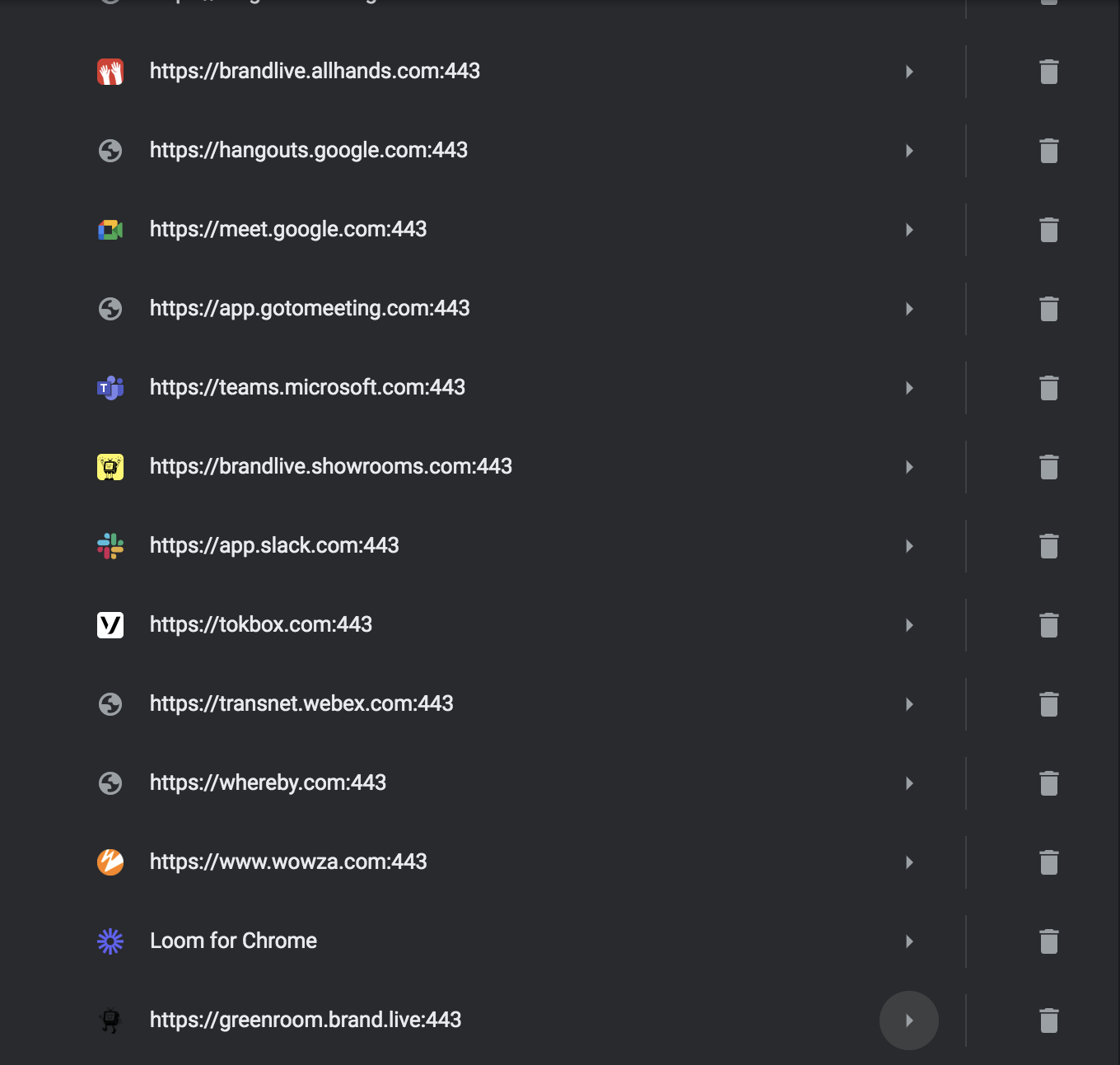 NOTE: The majority of web-based video conferencing application use the same TCP Port 443 that's used to access a computer's video and audio sources, so if you notice Greenroom isn't working for you, you can also test another application that uses the same port, such as Google Meet, to ensure you have this port access. Check out the Chrome browser troubleshooting article for more info.
Example: Microsoft Edge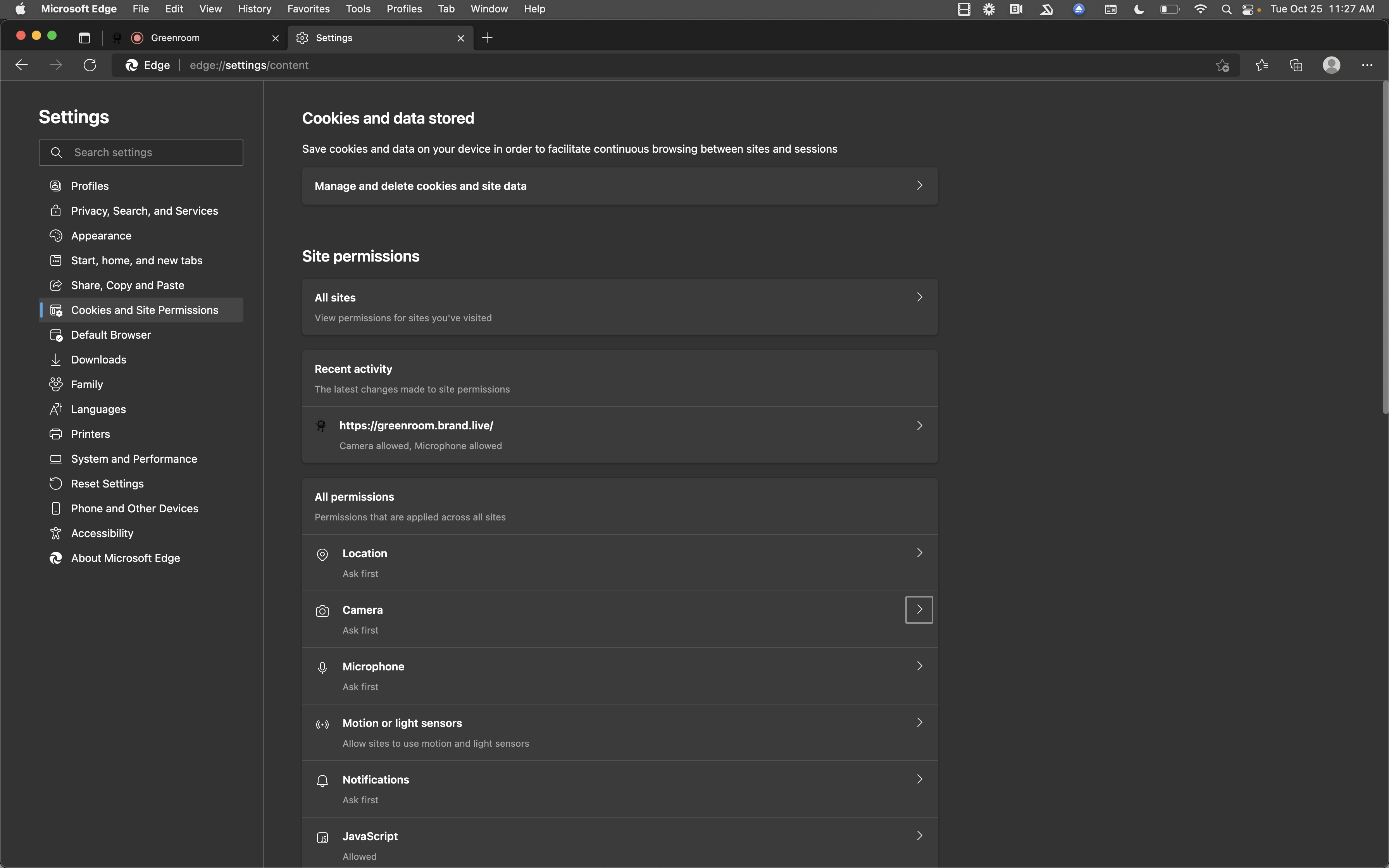 Mac Privacy Settings
If you're on a Mac, you may need to go into your computer settings to enable microphone access.
Click the Apple logo in the top left corner of your computer to open System Preferences > Security & Privacy > Enable Access Microphone Access

The Greenroom platform will quit

Reopen your browser, like Firefox

Reopen Greenroom

Then, you will successfully be able to select your microphone dropdown
Additional Troubleshooting Steps
If the camera and microphone are still having issues, there are additional steps that may be taken:
Ensure your web browser is up-to-date. In Chrome and Microsoft Edge, click the Chrome/Edge Tab in the top left corner, then click About. This will indicate whether the browser needs updating, which can be done via the subsequent pop-up.
If you're using an external microphone or camera, ensure that it has a proper connection to your computer. You can open up another application to see if that source is recognized, such as your Quicktime Player. Some HDMI capture cards and audio interfaces might even require a driver to be installed on your computer, so ensure you have that up to date driver if it's required.
If you are using a VPN on your computer, turn it off or disable it before attempting to log into Greenroom, as it could be blocking access to the camera and microphone.
Ensure that you don't have another program open that might be using your camera and mic, such as Zoom or any other conferencing tool. The other program could be preventing Greenroom from accessing your camera and mic.
Other Reminders
If you're using an external camera that has a built-in microphone as well, you'll have to select the appropriate output in both the "Camera" AND "Microphone" dropdown selectors.
Greenroom will try its best to remember your past audio/video settings, but disconnecting and reconnecting can often times revert the sources to default settings. Make sure to check your settings before showtime.