With Greenroom's ability to incorporate slide decks into shots, there are many ways you can present a slide deck in your Greenroom show. However, there are certain tips and tricks that can get your slide presentation to really stand out within the Greenroom environment. In this article, we'll be going over how to choose the right layout, how to control a slide deck, and how to create slide notes.
Choosing the Right Layout
When someone first thinks of a slide presentation, what usually comes to mind is a Powerpoint-like presentation that's full screen on a computer, or full screen on a projector to a large audience. With Brandlive's various virtual platforms, there are lots of components that can make up the viewing experience for the audience that's not just a slide presentation or program feed.
With a platform like Streams, you can broadcast your Greenroom show to a landing page or session page that has lots of branding or interactive elements that might complement the show. When a Greenroom Show is broadcasted to a Streams page, the program feed will be displayed within a video player on the page, which can vary in size depending if you're in Theater mode or not. With both player viewing options, you'll still see various elements of the Streams page and not a full computer screen experience, which is why your slide presentation could be seen differently from the virtual audience.
We recommend having your slide presentation in a shot layout that highlights the presentation as the larger feed, in comparison to another presenter or feed within the shot. Greenroom offers many different layouts that can highlight your presentation alongside a various numbers of presenters. The Layout spacing tool can also adjust the look of the layout to better style and highlight the presentation as well. There are certain Layouts that exist within Greenroom that can scale to fit any 16:9 or 4:3 aspect ratio media that you place in the shot, but won't give you the ability to adjust layout spacing, as it will be fixed.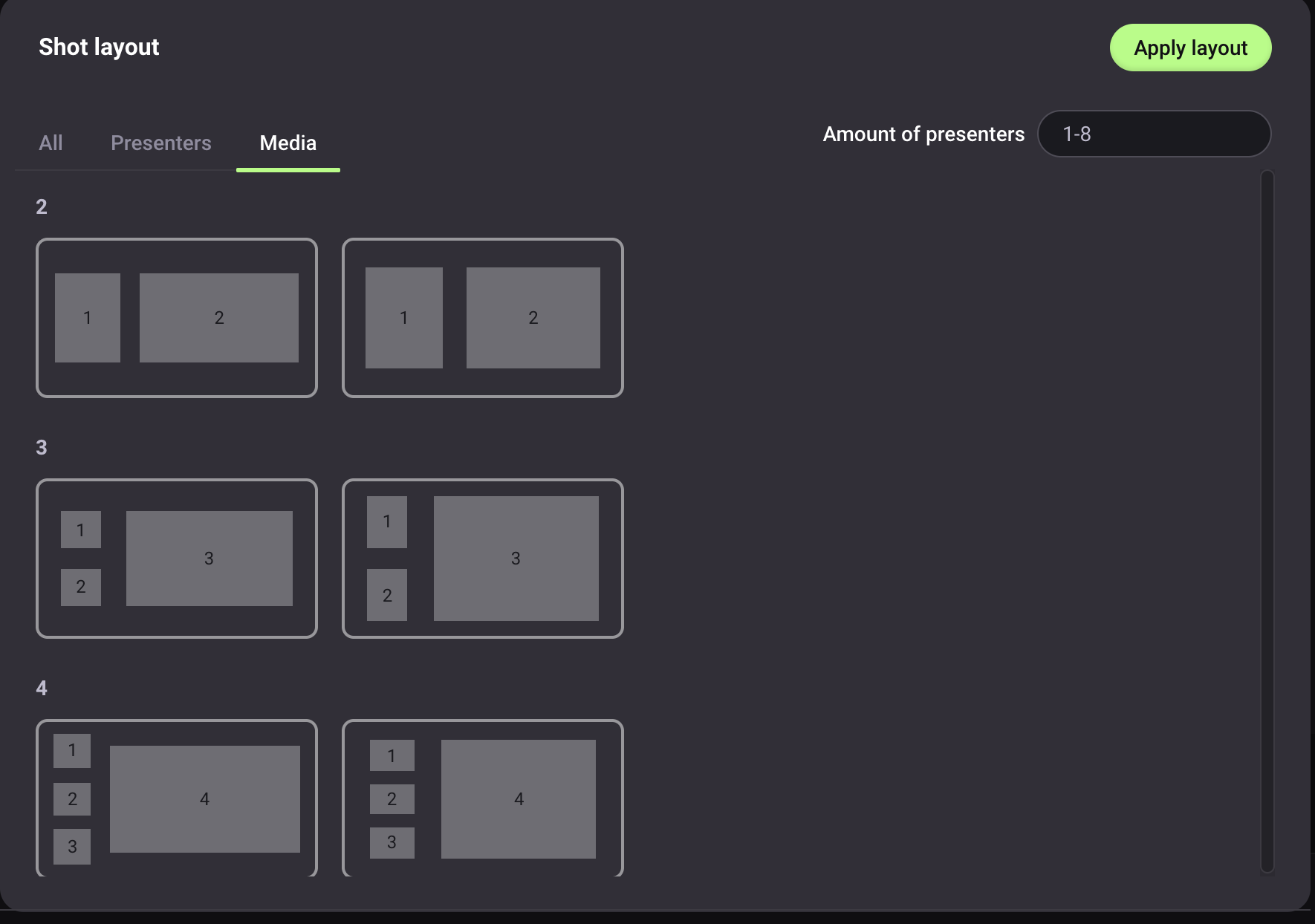 Ideally, having your slide presentation full screen will give your audience the largest view of it, and there is a way to incorporate a presenters voiceover to the shot as well. Check out our article on building a shot with a voiceover affect in Showbuilder for more info.
Controlling a Slide Deck
There are currently 3 ways in which a Presenter is able to have controls over a slide deck:
The person who uploaded the media has full control to edit, share, delete
The people to whom the media is shared has the same controls as someone who uploaded the media
The person who is placed into a shot alongside a slide deck may control advancing the slides
When controlling a slide deck within a shot, you have options in how you advance your slides.
1. Hover Arrows Over Presentation: You can use the arrow buttons that overlay the bottom corners of the slide deck, to either advance the slide deck or to go back a slide. These buttons appear when you hover your cursor over the slide deck in the canvas.
While the buttons will appear for Presenters and Producers advancing the deck, they won't be visible during a live show to the audience that's viewing the Greenroom broadcast.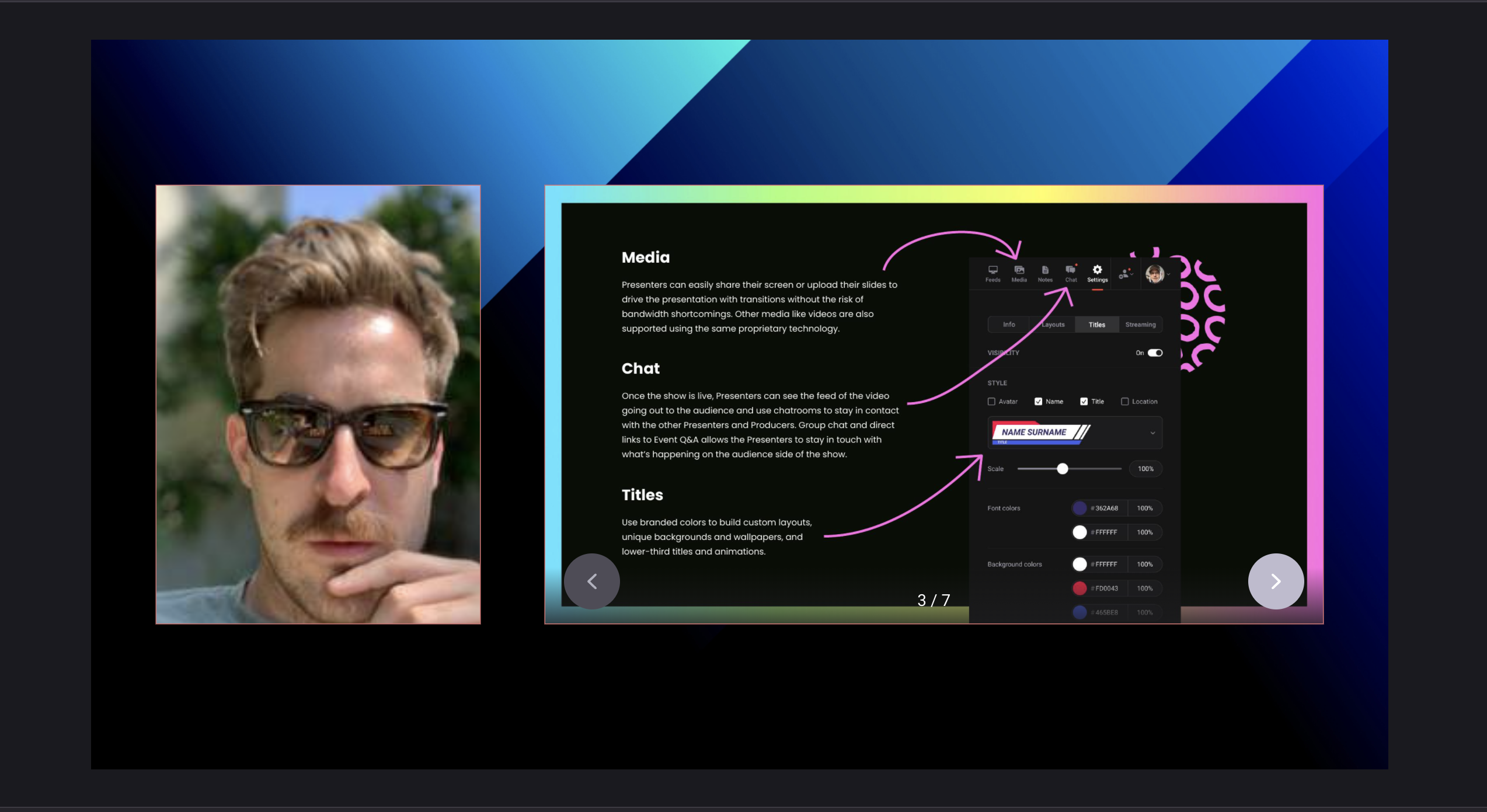 2. Keyboard Shortcuts: Greenroom users with control of the slide deck can also use the arrows on their keyboard as hotkeys for advancing the slide deck and going back a slide. Check out our article on Greenroom hotkeys for more info on the available hotkeys.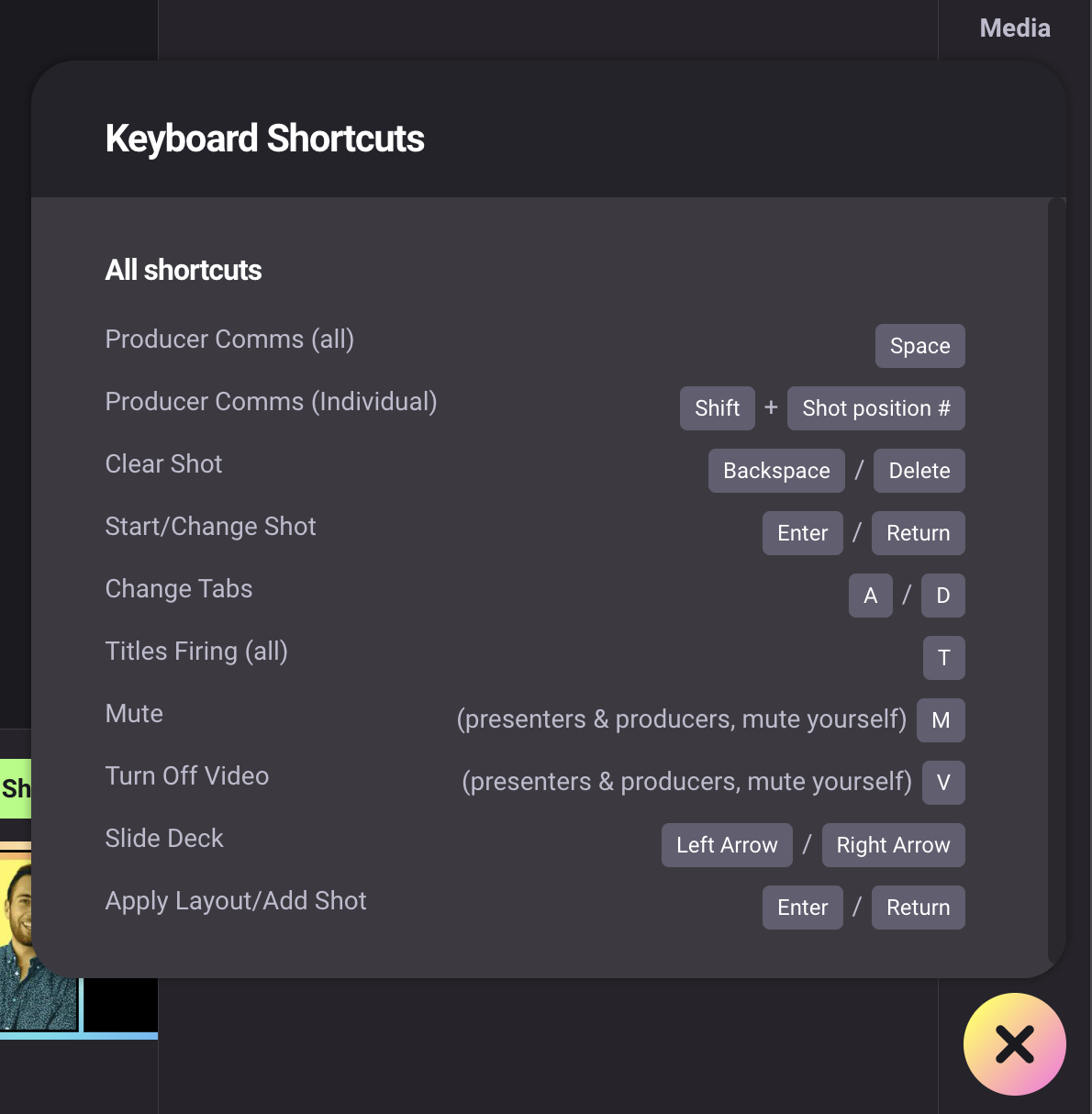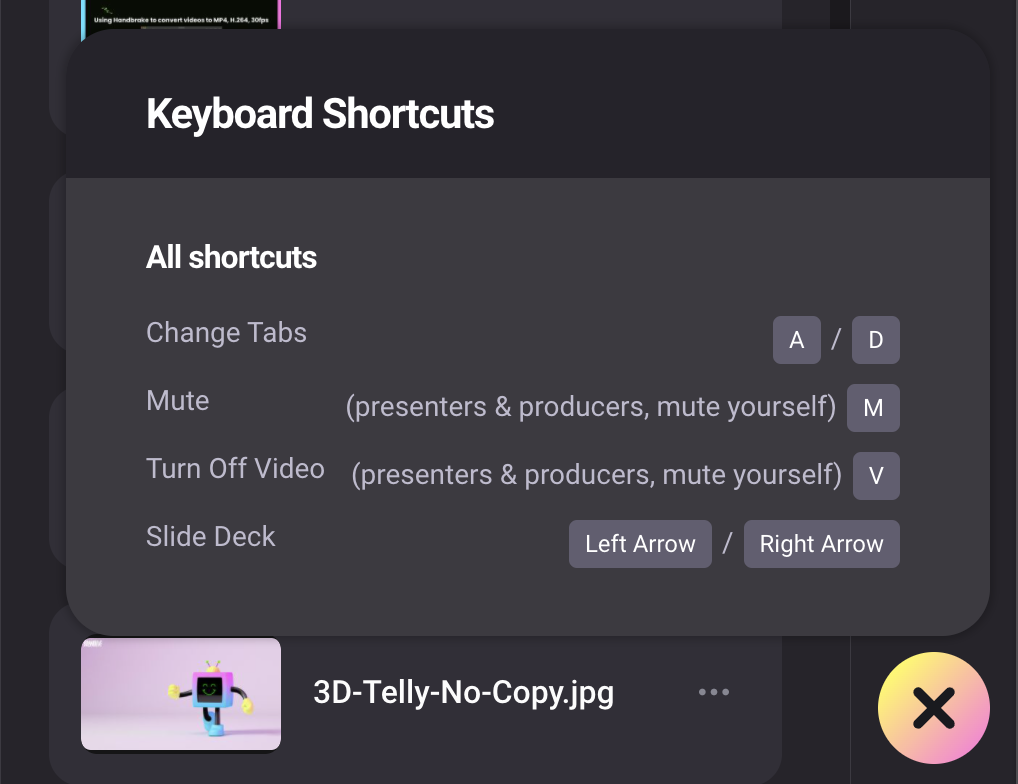 (Producer Shortcuts) (Presenter Shortcuts)
3. Slide Preview: When a slide deck is being presented within the canvas, you can also open your media tab to access a total slides view of the entire presentation by clicking on the "Slides" button within the greyed out thumbnail of the media that's currently being presented. This will allow you to jump to various portions of the slide presentation without having to click through many slides.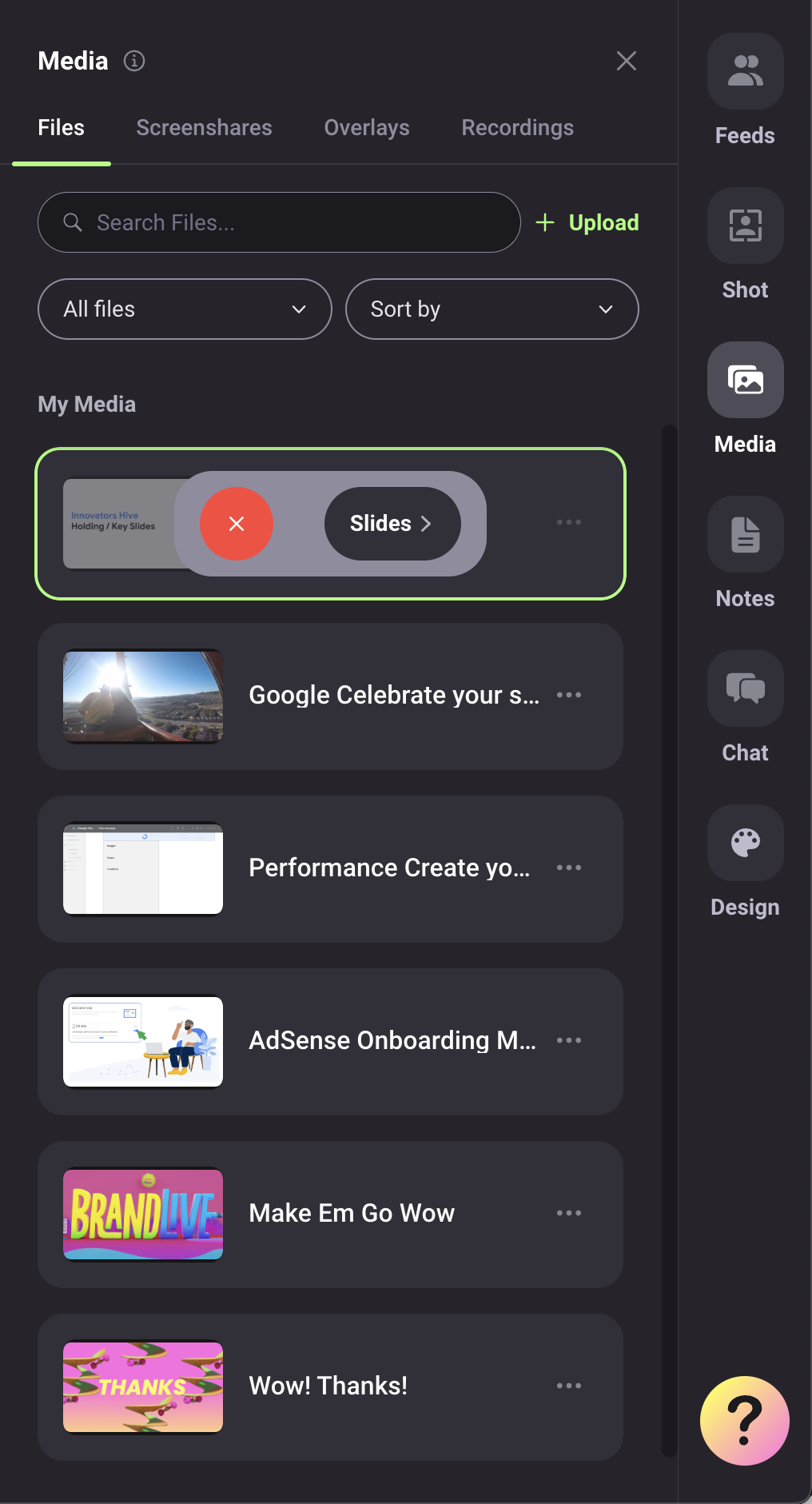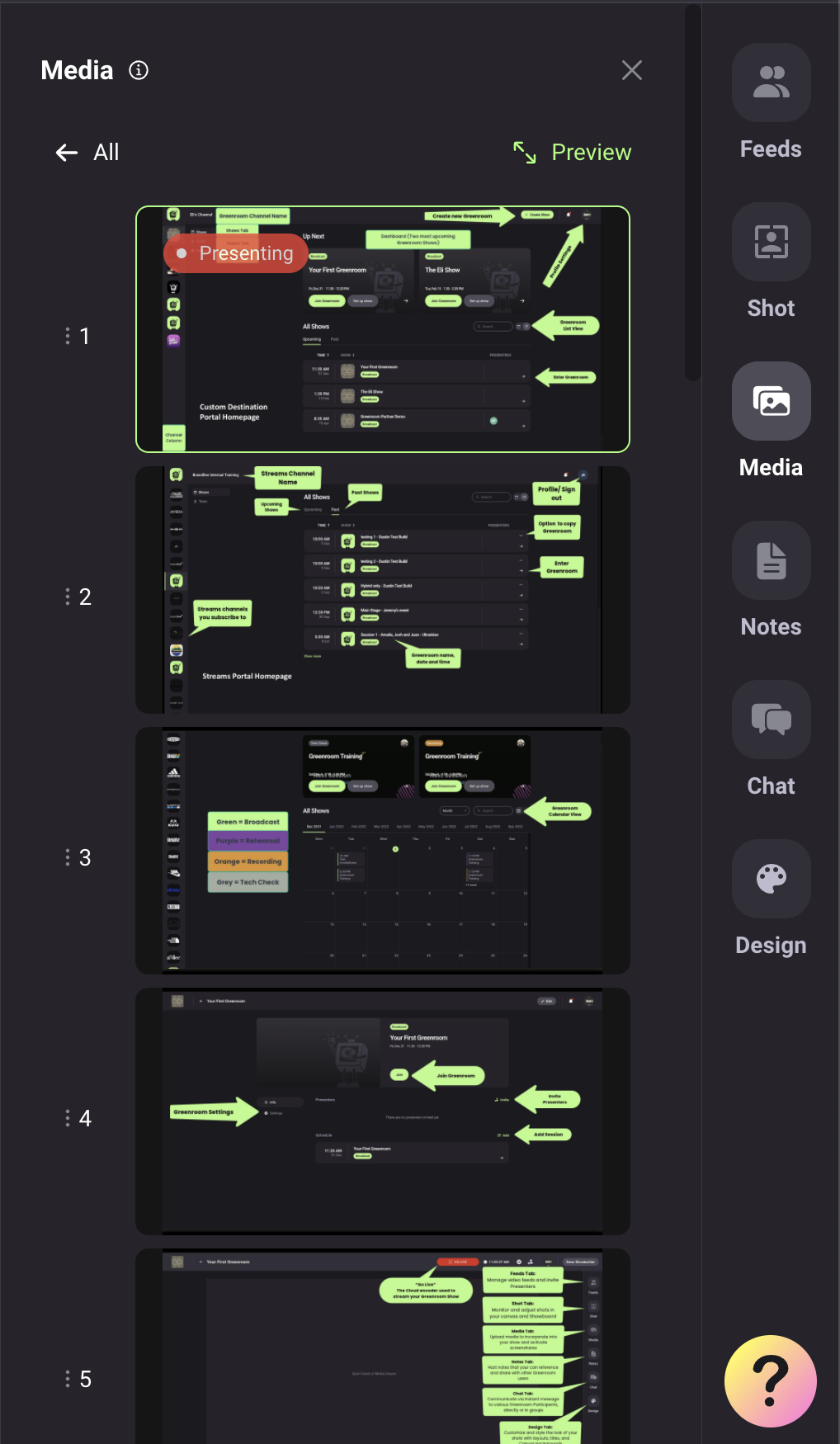 Check out our article on voiceover two-shot workflow for more tips on how to create integrated 1-box and 2-box shots that incorporate a slide deck.
Creating Slide Notes Within Shot Notes
One feature that exists within the notes tab of Greenroom is the ability to create shot notes. This is very similar to how notes work in Powerpoint and Google Slides. With shot notes you can store notes that belong to specific shots as well as specific slides of a presentation that's placed within a shot (Slide Notes).
Check out our article on using Greenroom notes for more info on how to benefit from shot notes and slide notes.
Additional Resources
Check out our article on uploading and editing slide decks in Greenroom to learn more about getting started with slide decks.