For your Streams events, there is an option to require paid ticketing to get into your events. In this article, we'll talk about how you can do this with Stripe, how to set-up ticketing, and answer some of the more frequently answered questions about this process.
Monetizing Your Virtual Events with Stripe
Stripe is a global leader in payment processing. With Stripe, you can easily sell tickets to your event by collecting credit card payments all in one place, with no messy redirects to a third-party ticketing platform. Customers fill out their card details on a secure Stripe form at the time of event registration, and the payment is instantly sent to your Stripe account.
Benefits of Using Stripe
Quick set up: It takes only minutes to create a Stripe account and integrate with the Brandlive platform, so you can start accepting payments from your attendees right away.
Low fees: Integrated per-transaction pricing means no setup fees or monthly fees. Stripe collects 2.9% per successful transaction, while Brandlive collects 7% of ticket sales.
Secure data: Rest assured that your sensitive information is safe and secure. Stripe has been audited by a PCI-certified auditor and is certified to PCI Service Provider Level 1, the most stringent level of certification available in the payments industry.
Reliable service: Have a question about your Stripe payments? Contact Stripe Support anytime 24 hours a day, 7 days a week by email, phone, or online chat.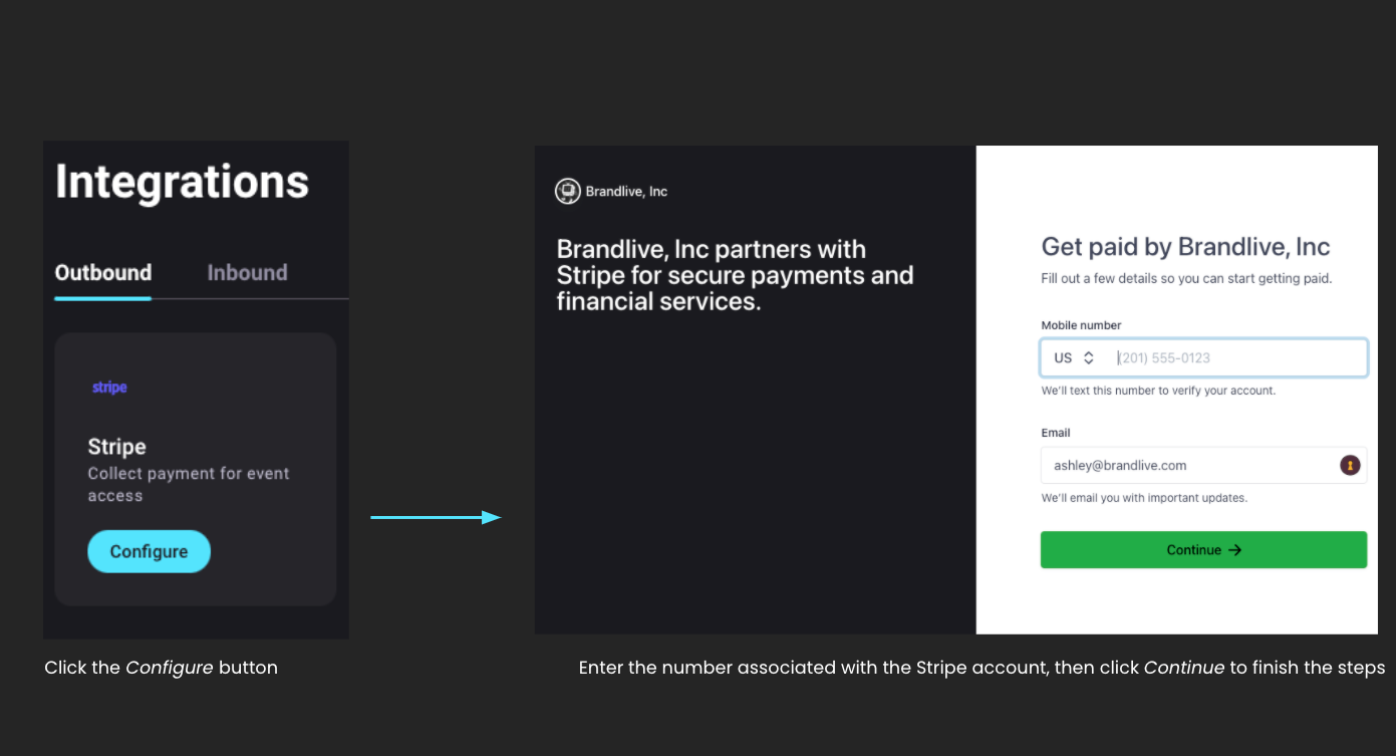 First, set up Stripe integration
Next, set up Paid List
Finally, turn on Paid Ticketing
Do I need a Stripe account to create tickets?
Yes, you will need to create an account with Stripe through our Stripe integration, which is a simple and easy process. Creating a Stripe integration ensures that you are able to collect the sales from your ticket.
Is there a charge for using this feature?
There is no upfront charges, however Stripe collects 2.9% per successful transaction, and Brandlive collects 7% of ticket sales.
Can I sell tickets but not use the Brandlive ticketing platform?
Yes, you can set up tickets on Eventbrite or another platform, and then integrate that information with Brandlive.