Last minute changes are inevitable – continue to tweak and improve your deck after you've uploaded it to Greenroom.
With Greenroom's ability to incorporate slide decks into shots, there are many ways you can present a slide deck in your Greenroom show. In this article, we'll be going over the best way to create, upload and edit your slide decks in Greenroom.
Uploading Slide Decks
When importing a slide presentation into Greenroom, it's best to have its dimensions be close to or exact to a 16:9 or 4:3 aspect ratio, depending if you want the presentation in a landscape or portrait view. The largest resolution dimension that is supported by the Greenroom is 1920 x 1080.
If your powerpoint or keynote presentation is made with unique formatting or any kind or proprietary fonts, it's best to export that presentation as a PDF before uploading to the Greenroom. This has been known to allow the specific formatting and/or fonts to be visible within Greenroom. Each Presentation file that's imported will need to be under 2GB in size. Check out our articles on uploading and placing media content and Greenroom MP4 and MOV video upload requirements for more info on upload requirements.
Document files (slide presentations) when uploaded to Greenroom are converted into a series of JPEG images for each slide. This means that if you have any videos embedded into your presentation, you'll want to upload them separately to the slide deck, once it's uploaded to Greenroom (more on this below). Any animations built within Powerpoint, Google Slides, or Keynote won't pass through during the upload process.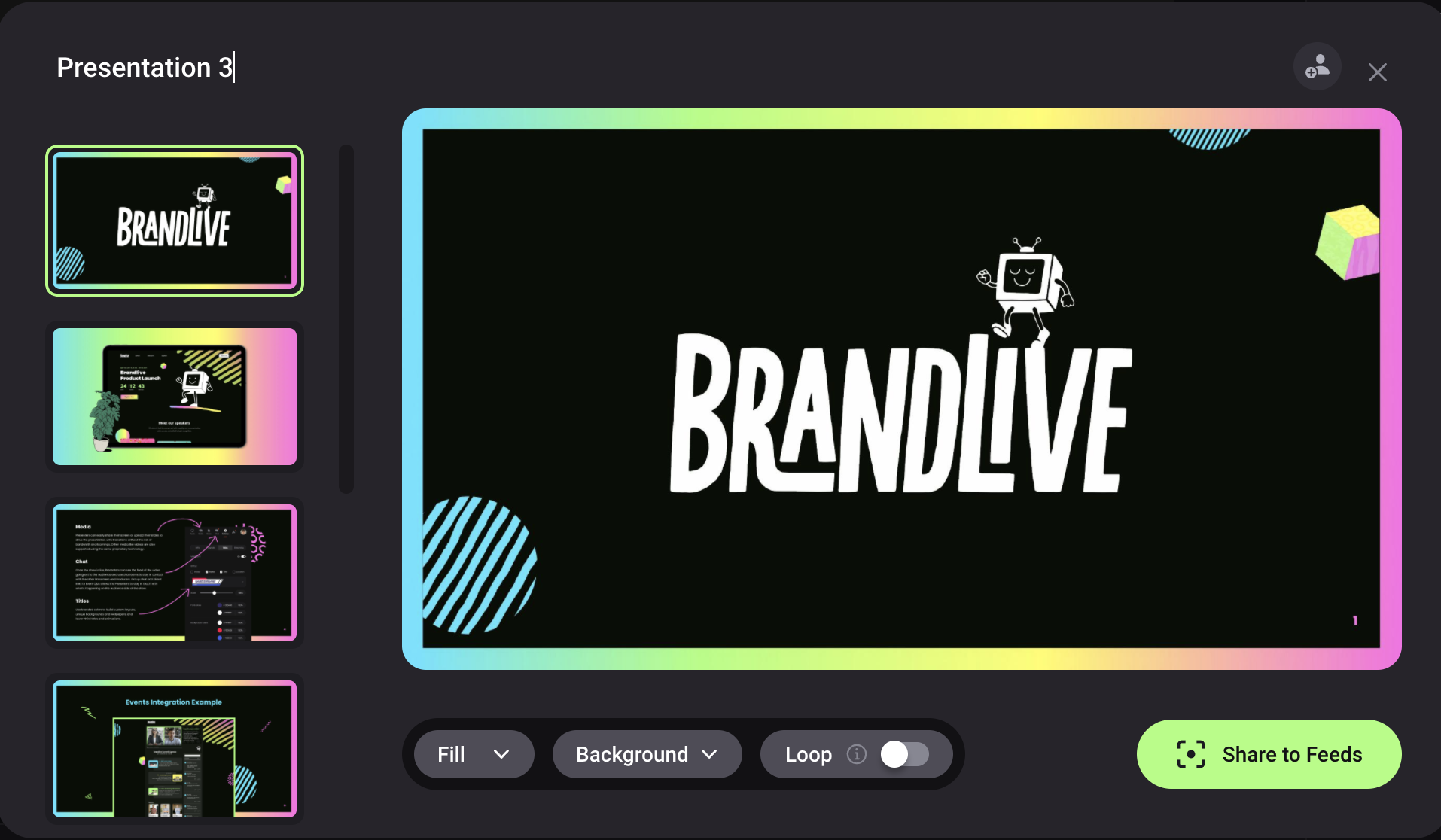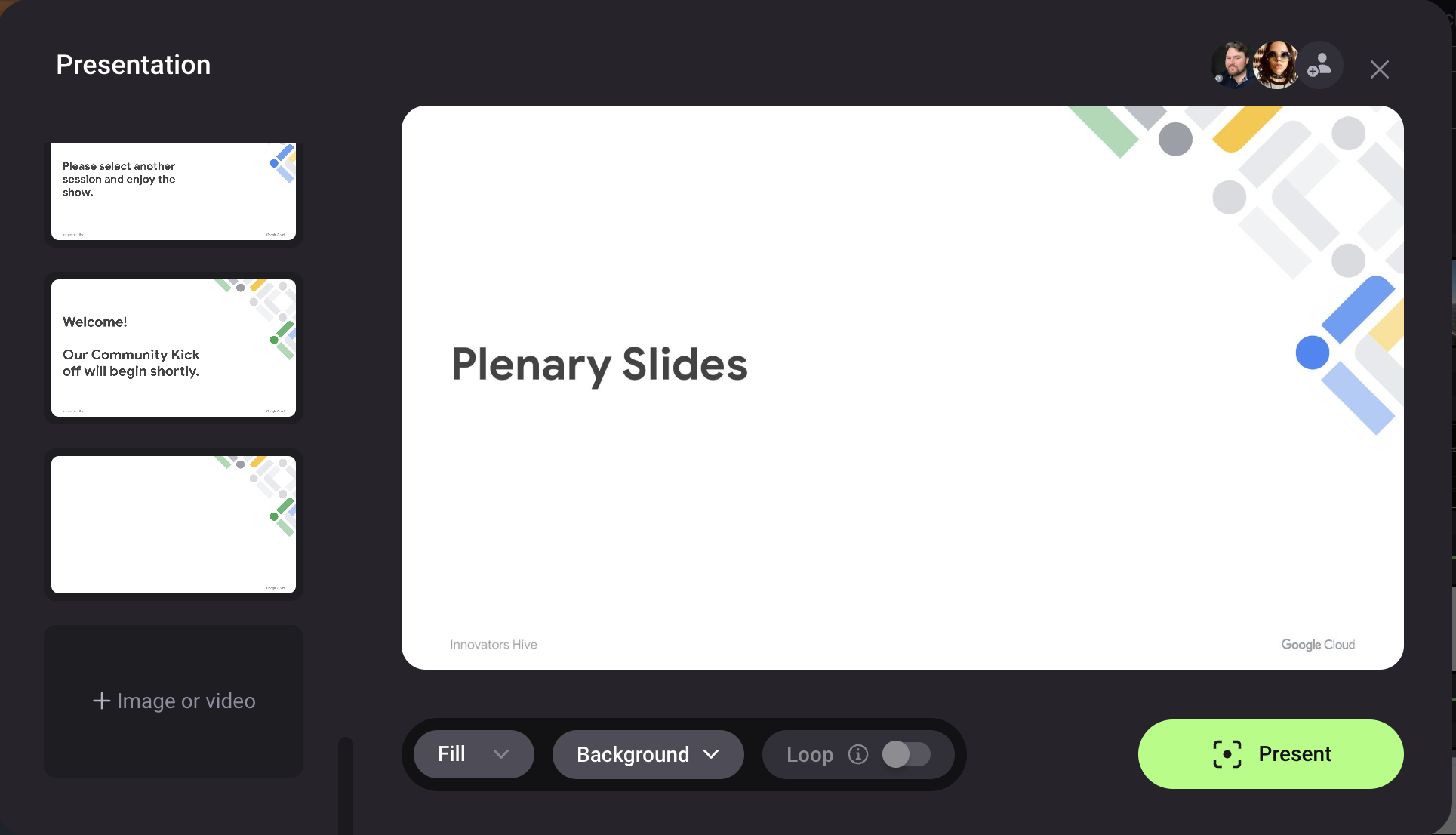 NOTE: If you prefer to present a slide presentation that incorporates animations, consider using the Media Tab's screen share feature, in order to screen share a full screen version of your presentation that's hosted on your local computer.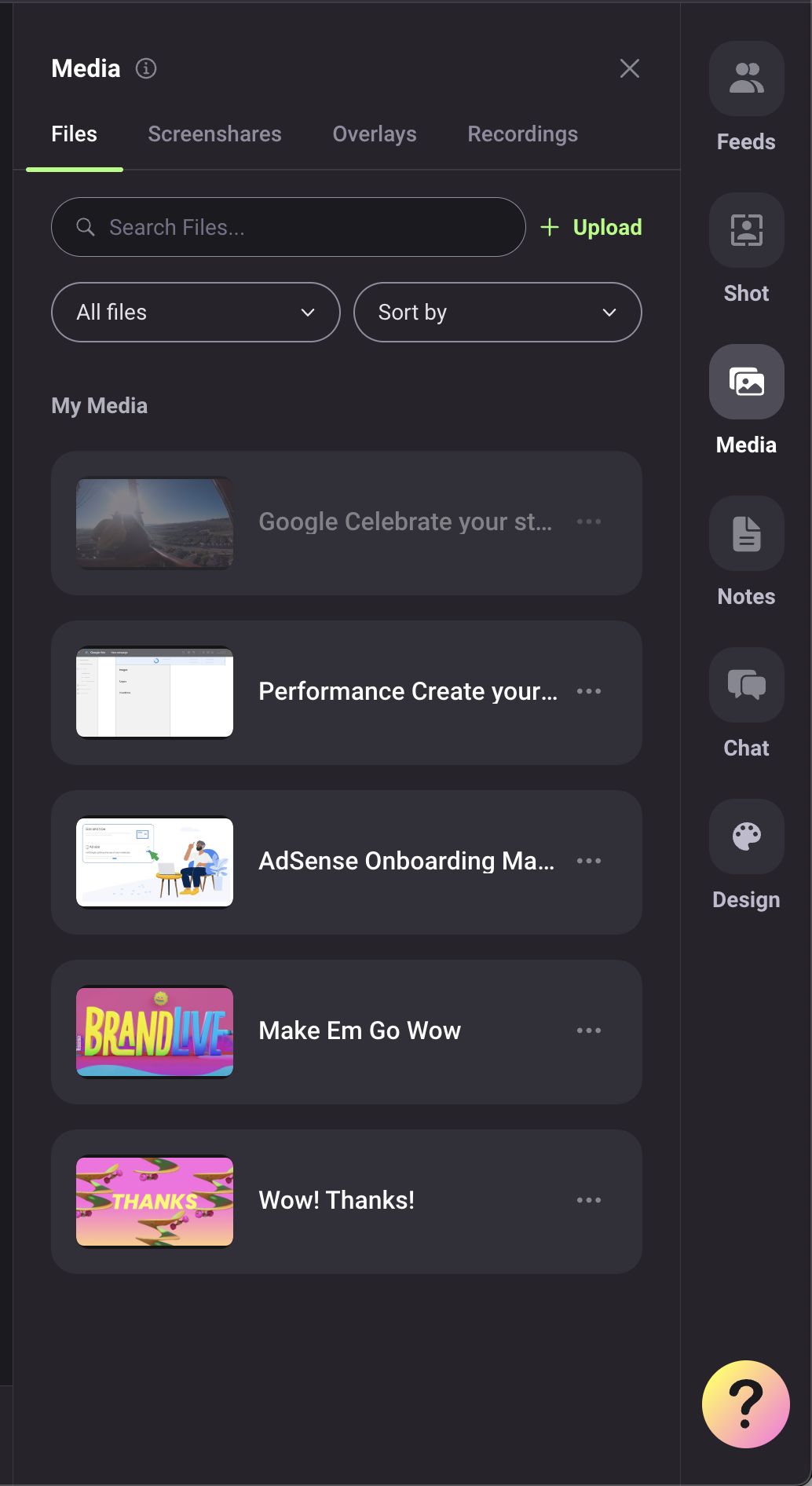 Editing Slide Decks
Once a presentation file is uploaded and seen with the media tab "Files" section, clicking on "Preview" within the 3-dot menu list on your file will prompt a modal – this will list your media file or break down your presentations into individual pages.
For presentations and multi-page PDFs, you're able to browse through the various images/slides to verify your content, move the slides into a different order, or delete an individual image or PDF that you don't want to present by clicking on the trash can icon. Editing presentations in the media tab, such as deleting a slide, can be done by the user that uploaded that piece of media.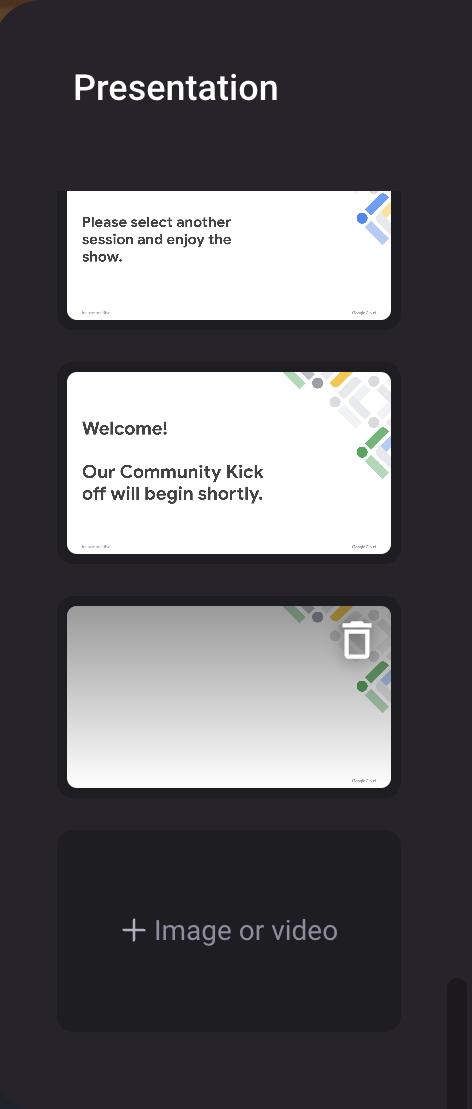 If you'd like to add more slide or videos to your presentation, scroll past the last page in your file to a blank page, allowing you to "Add Image or Video" to your presentation. To set images and video files in a different order, click and drag the image/video thumbnail to the desired placement in your presentation. You can also rename the media file to reflect the content that exists within it (i.e. "presentation playlist" or "beginning media").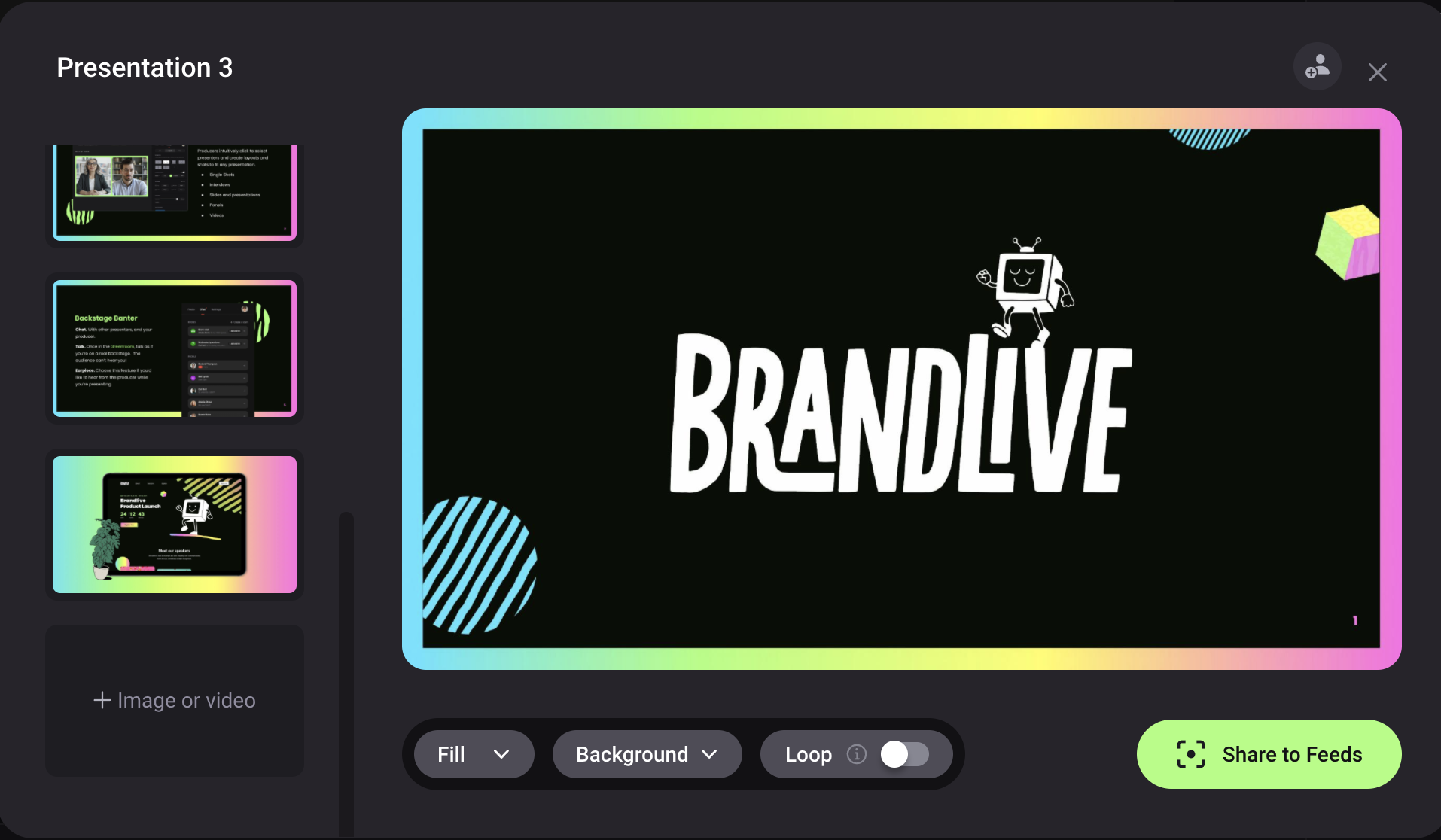 Fit/Fill Options
When uploading presentation content to the media tab, you'll have the ability to edit how it sits within a shot dimension. Within the edit section of your piece of media is a dropdown option for fit, with a second option below it for fill.
The fit option will place your media with its whole scaled dimensions within a layout container so that each full slide of the presentation is seen.
This might also leave some background space visible, depending on the size and aspect ratio of your media. If that's the case, you can use the background dropdown to the right to put background color around your presentation.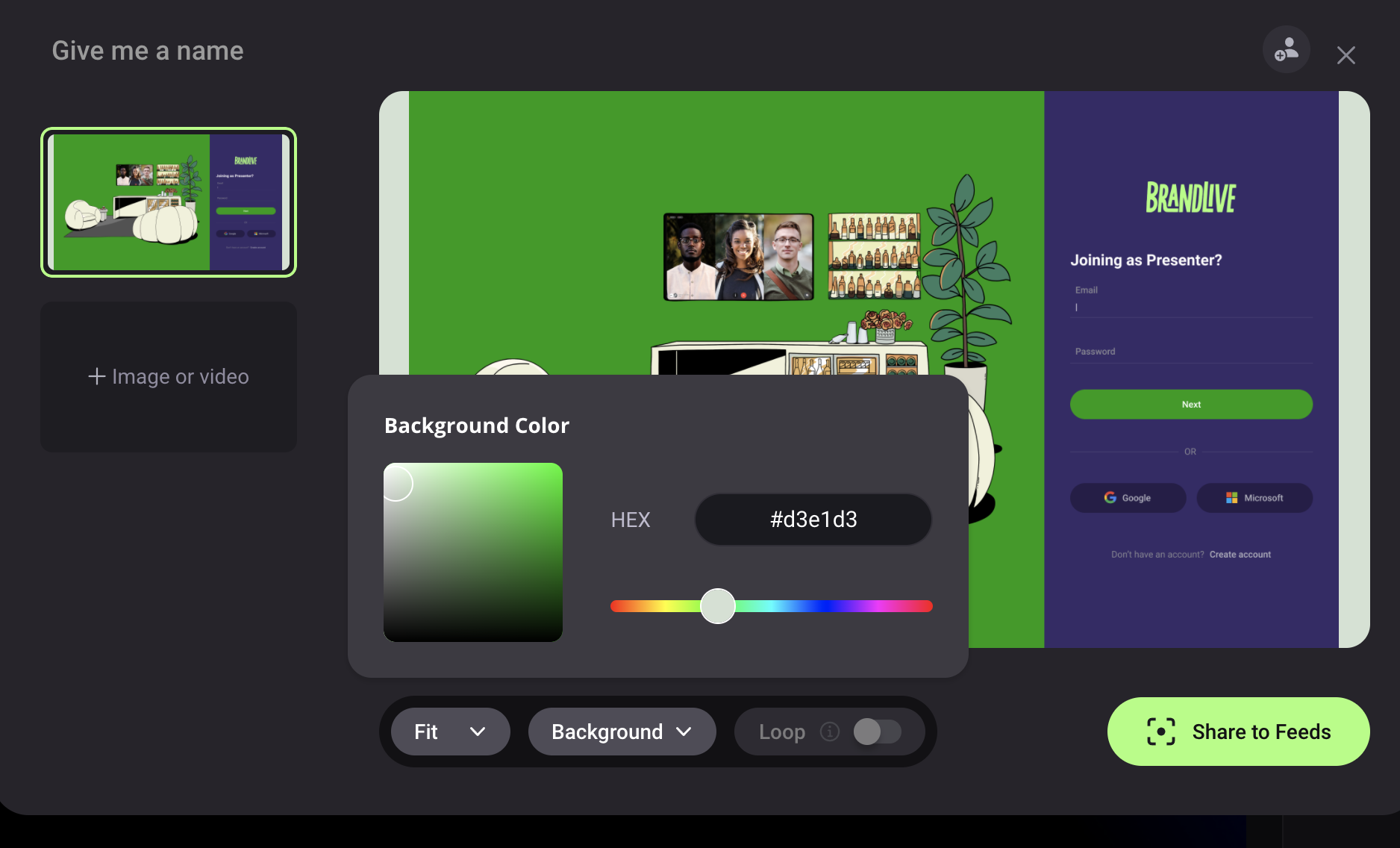 Selecting the fill option means your media will expand (unscaled) to fill the entire media container. This will allow your presentation to better fill each layout that's used within your Greenroom show, so that you don't have any container background space visible. However, this will likely crop a portion or some of the slides in your presentation, in order for it to fit within its media container.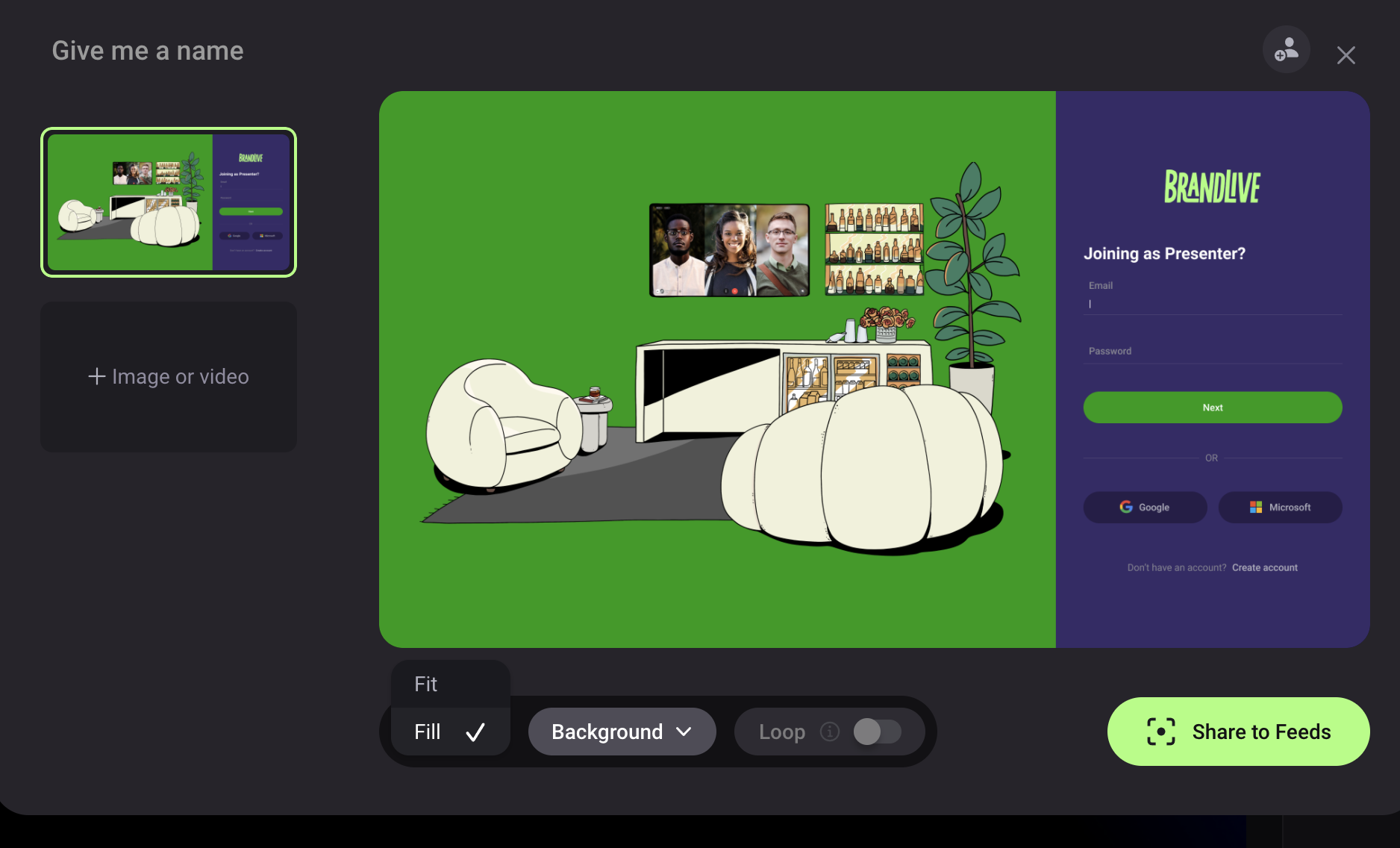 We recommend testing this setting with each piece of media when you're building your shots within the Showbuilder mode, in order to ensure the best layout look for your shot.
Sharing Media Control
Your presentation can also be shared amongst individual Presenters or everyone in the Greenroom. You'll see a sharing icon just to the left of the "X", that will allow you to share the media with someone specific, or with everyone that's in the Greenroom. This will allow those selected to advance slides and control the media when it is displayed in the canvas, even if that Presenter or person is not in the canvas with the media. Presenters will also have the ability to upload their own slide presentations to the Greenroom, and they can then share control of their presentation to others as well.
If you put a Presenter within a shot that has a slide presentation, the Presenter will get automatic control of that presentation when they're live with that shot.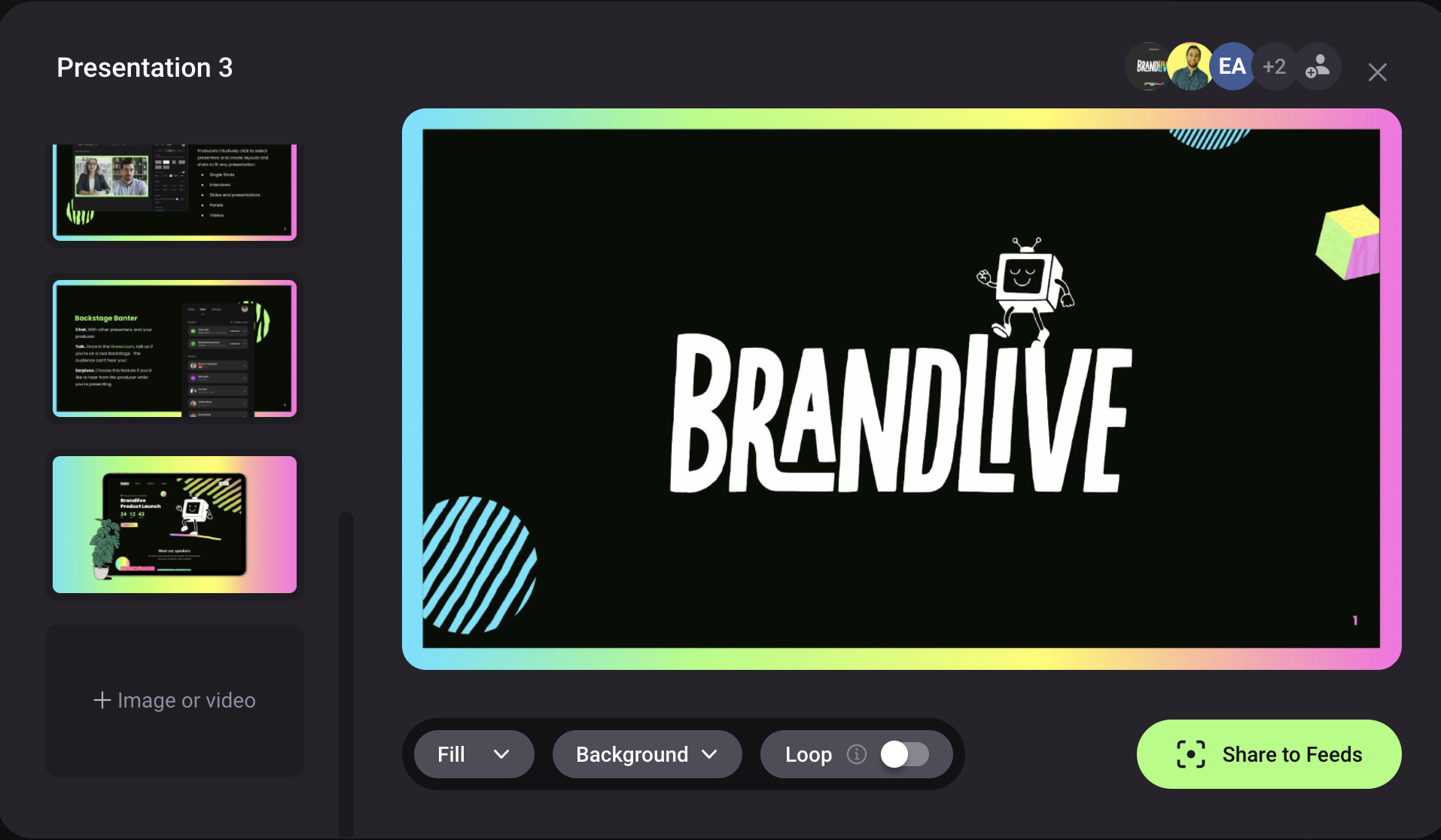 Powerpoint and Keynote Upload Requirements
Be sure that your Powerpoint or Keynote is not over 2GB in size.

If your Powerpoint or Keynote is using any custom fonts or proprietary fonts, as Greenroom will not recognize them for uploading successfully. It's recommended to convert your Powerpoint or Keynote into a PDF file, so then it can be uploaded to Greenroom.

If your Powerpoint or Keynote has any built-in animations into the presentation, those animations won't work within Greenroom and, therefore, the media tab won't allow you to upload that presentation. The recommended workaround is to convert your Powerpoint or Keynote into a PDF file so then it can be uploaded to Greenroom.

If your Powerpoint or Keynote has a video in it, that video will not play on the slide within your presentation when it's uploaded. It's best to upload any videos to the Powerpoint or Keynote presentation once it's in the media tab, so you can then place those videos between slides and make a media playlist for the presentation.