Time is money – copying a Greenroom allows you to duplicate the magic and prevents you having to start from scratch.
Copying a Greenroom is an easy way to copy the set up of one Greenroom into another. In this article, we'll talk about the possible use cases for copying a Greenroom, how to copy a Greenroom, along with what gets copied and what doesn't.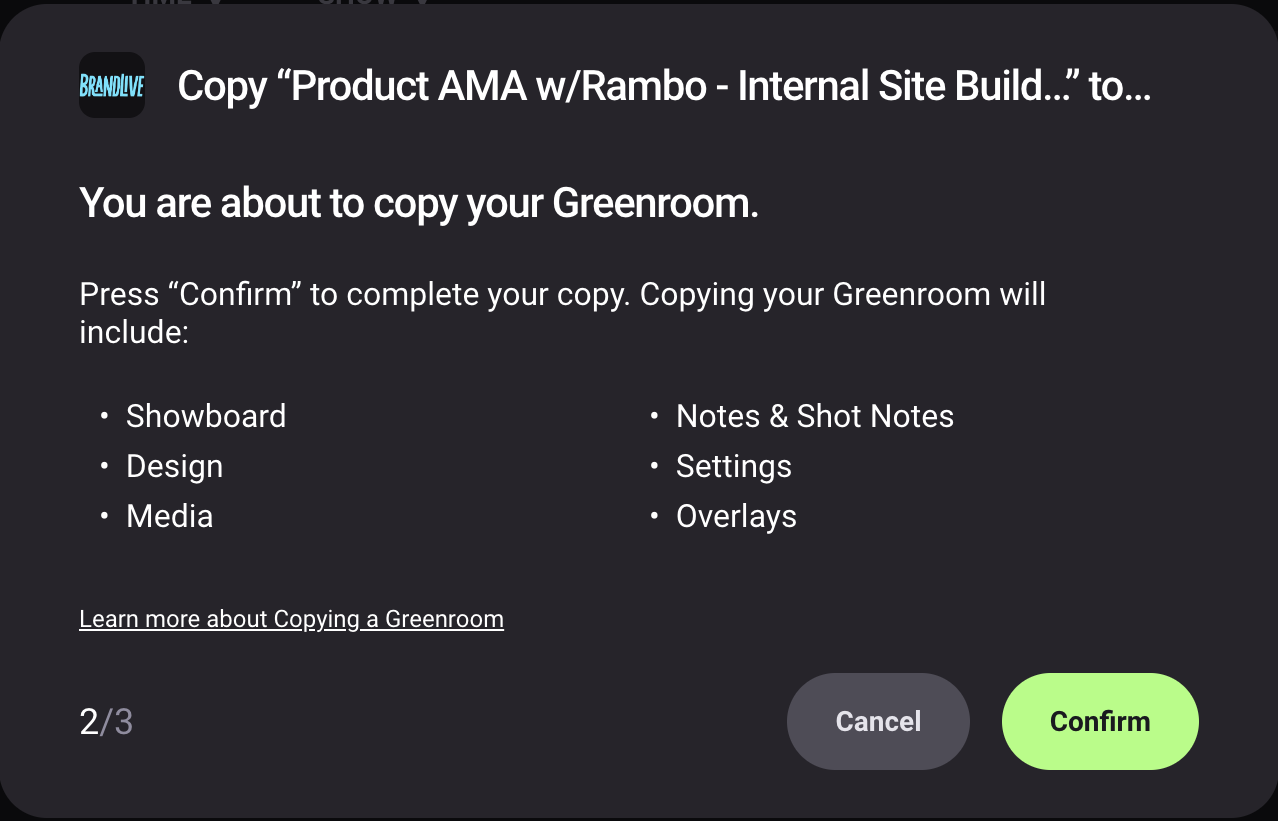 Use Cases for Copying a Greenroom
Perhaps the main reason you would want to copy a Greenroom is because you can then easily create multiple Greenrooms for a single channel, without having to start from square one with a blank Greenroom for each new show.
Additionally, if a customer has multiple channels, copying a Greenroom easily allows the set up from a Greenroom in one channel to be copied into a Greenroom in another channel.
How to Copy a Greenroom
Create a new show. This could be a show streaming to Brandlive Events, Allhands, or a Custom Destination.
Verify that the new show has an associated Greenroom listed in the relevant channel in the Producer dashboard.
Once the new show and associated Greenroom is created, use the Producer dashboard to navigate to the desired Greenroom to be copied.
Whether in list view or calendar view, click on the three dot (...) menu to see more options.
From the menu select "Copy."

From here, follow the subsequent flow which will:


Provide a dropdown to select a desired Channel into which to copy the Greenroom
Provide a dropdown to select a desired Greenroom into which to copy the original Greenroom
See an overview of what's being copied
Confirm the action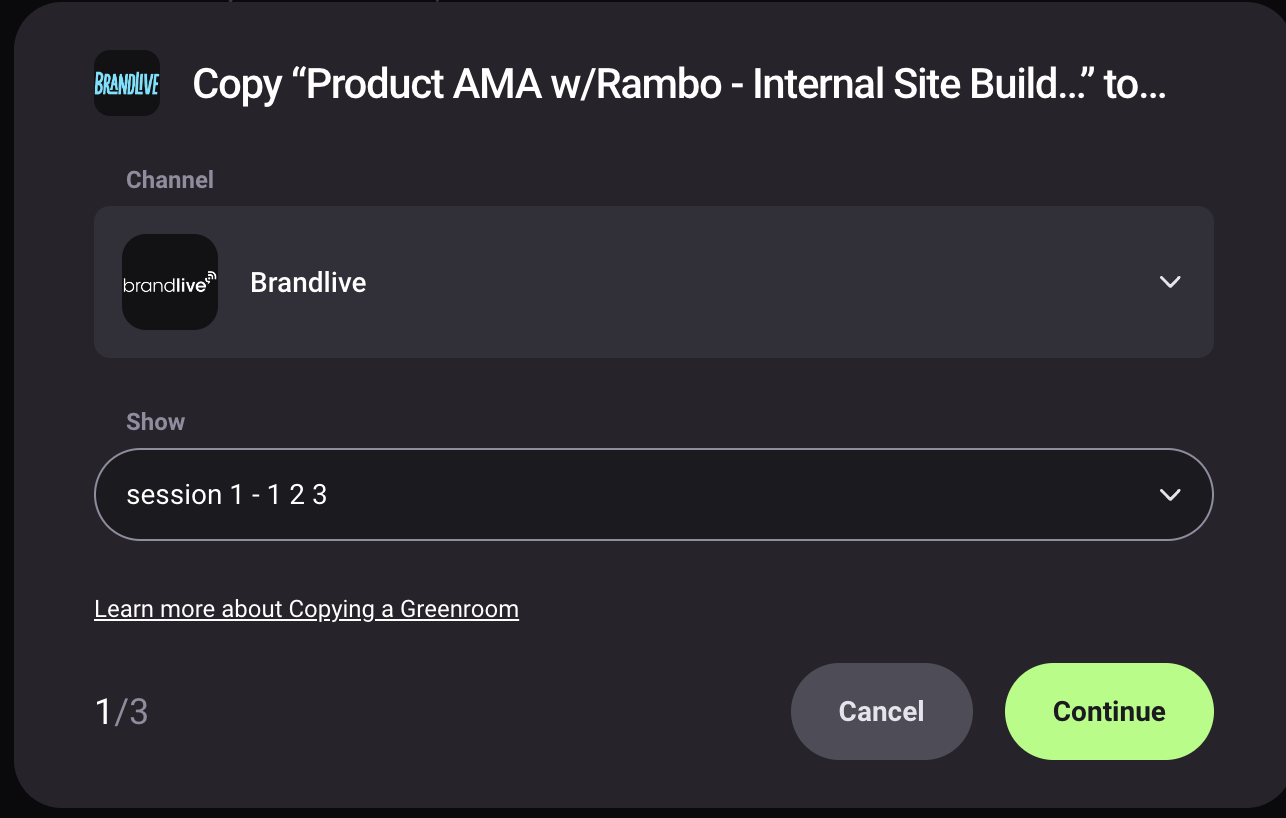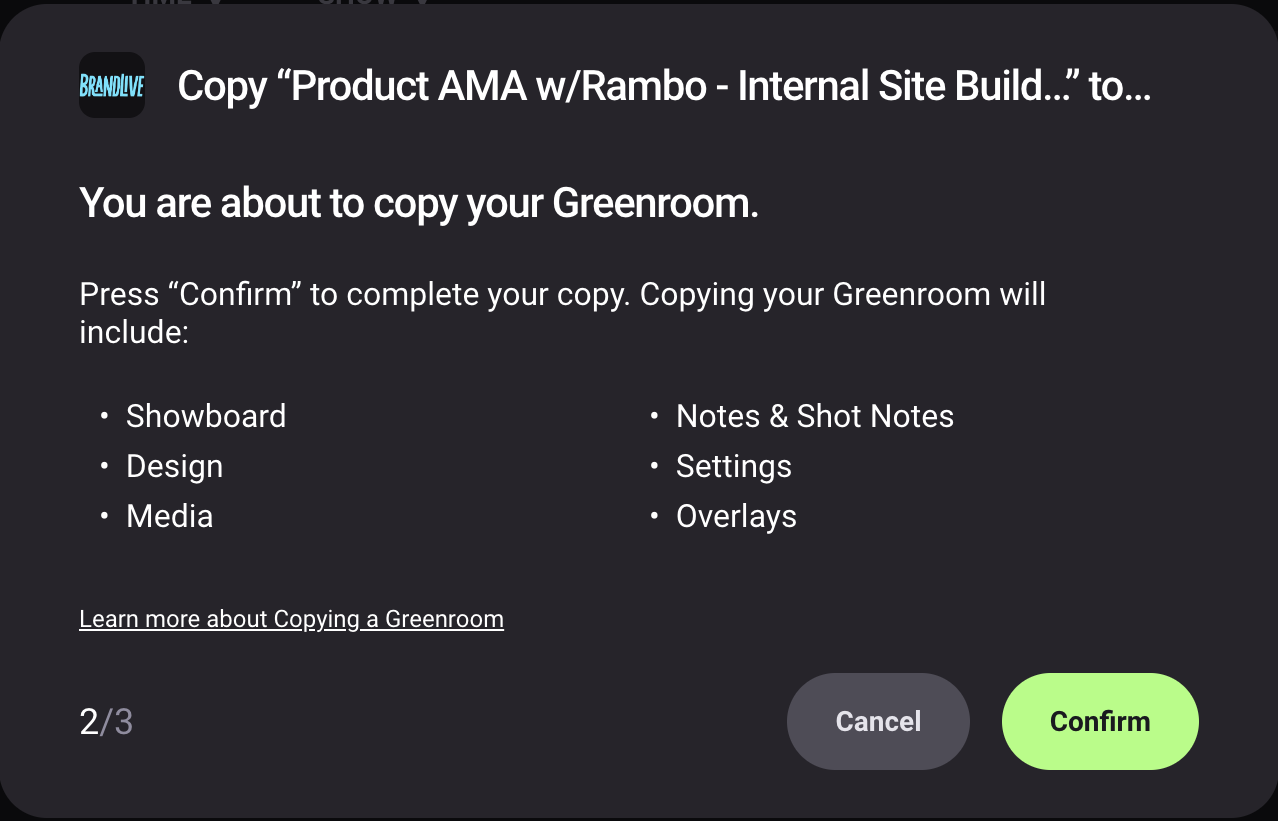 Note: Only Custom Destinations will display additional options to Edit or Remove the Greenroom.
What Gets Copied
The following items will be included in a copy between Greenrooms:
Showboard: This includes all built shots, and their respective shot settings as defined in the "Shot" drawer, being copied over to the new Greenroom. For example, if a shot has titles turned on, they will remain turned on when that shot is copied into the new Greenroom.
Design: The Design drawer has 3 tabs: layouts, titles, canvas. The settings in all 3 of these tabs will be copied.
Media: This includes copying over all Media
Notes & Shot Notes: This includes copying over all Notes & Shot Notes. Shot Notes will stay connected to its respective Slide Decks being copied over from Media.
Settings: All toggle states from the settings from the gear icon in the upper right-hand corner of Greenroom will be copied over to the new Greenroom.
What Doesn't Get Copied
Sessions added under the "Info" tab
Streaming destinations under the "Streaming" tab
Team Invitations
Chat Rooms
Chat History, which applies to both Chat Rooms and Direct Messages