Signing in as a producer gives you all the point-and-click tools needed
to build dynamic shots and shows your audiences won't want to miss.
Greenroom has the ability to power various Brandlive platforms. Here, we'll show you how to login to Greenroom as a Producer, how to navigate to a Brandlive platform or Custom Destination, and how to switch between platforms.
Video Overview
Creating a Greenroom Account
To become a Greenroom Producer, you must first set up a general Greenroom account, just like presenters do. Once your account has been created, an admin from your Brandlive Events channel or your Brandlive Point of Contact can assign you producer privileges within the Greenroom environment.
Logging In to Greenroom as a Producer
To login to Greenroom as a Producer, navigate to greenroom.brand.live/producer.
Once you enter your email, you'll follow one of two routes:
If your team has access to only one Brandlive product, upon log in you'll be directed immediately to your Producer Dashboard.
If your team has access to multiple products (Brandlive Sitebuilder or Custom Destination), you'll be prompted to select a Greenroom portal to enter to then navigate to your respective Producer Dashboard based on the product.
Selecting the Audience platform
If you're using the Brandlive Events platform, you'll click the Brandlive portal.
If you are using Greenroom and not with one of the Brandlive platforms mentioned above, you'll select Custom Destination. More on this in the next section.
If you're using the Allhands product, you'll click the Custom Destination portal.
Switching Between Platforms
To navigate between the various platforms, you'll need to sign out via the avatar dropdown in the top right corner. After re-entering your email, you'll see the platform selector.
Remember: If you only use Greenroom within one of the Brandlive products, you won't be prompted to select a product portal, and you'll be immediately taken to your Producer homepage after signing in.
Creating a Greenroom
Greenrooms are usually created through the Brandlive events platform, as they're linked to sessions or event pages that have been created. Producers not using the Brandlive Events platform will be able to create Greenroom Shows manually.
Producer Dashboard
The Producer Dashboard allows Greenroom Producers to reference all of their Greenroom Show within their channel, or multiple channels. The dashboard has different viewing configurations, and will let Producers click on the Greenroom they want to join.
Presenter and Viewer invites
Greenroom Producers can invite Presenters to their Greenrooms through a Greenroom landing page within the Producer Dashboard, or from within the Greenroom itself. A Viewer can also be invited to the greenroom to view it if they're not participating in the show.
Producer Login with Single Sign-On
First, go to admin.brandlive.com where you'll be prompted to enter your email address: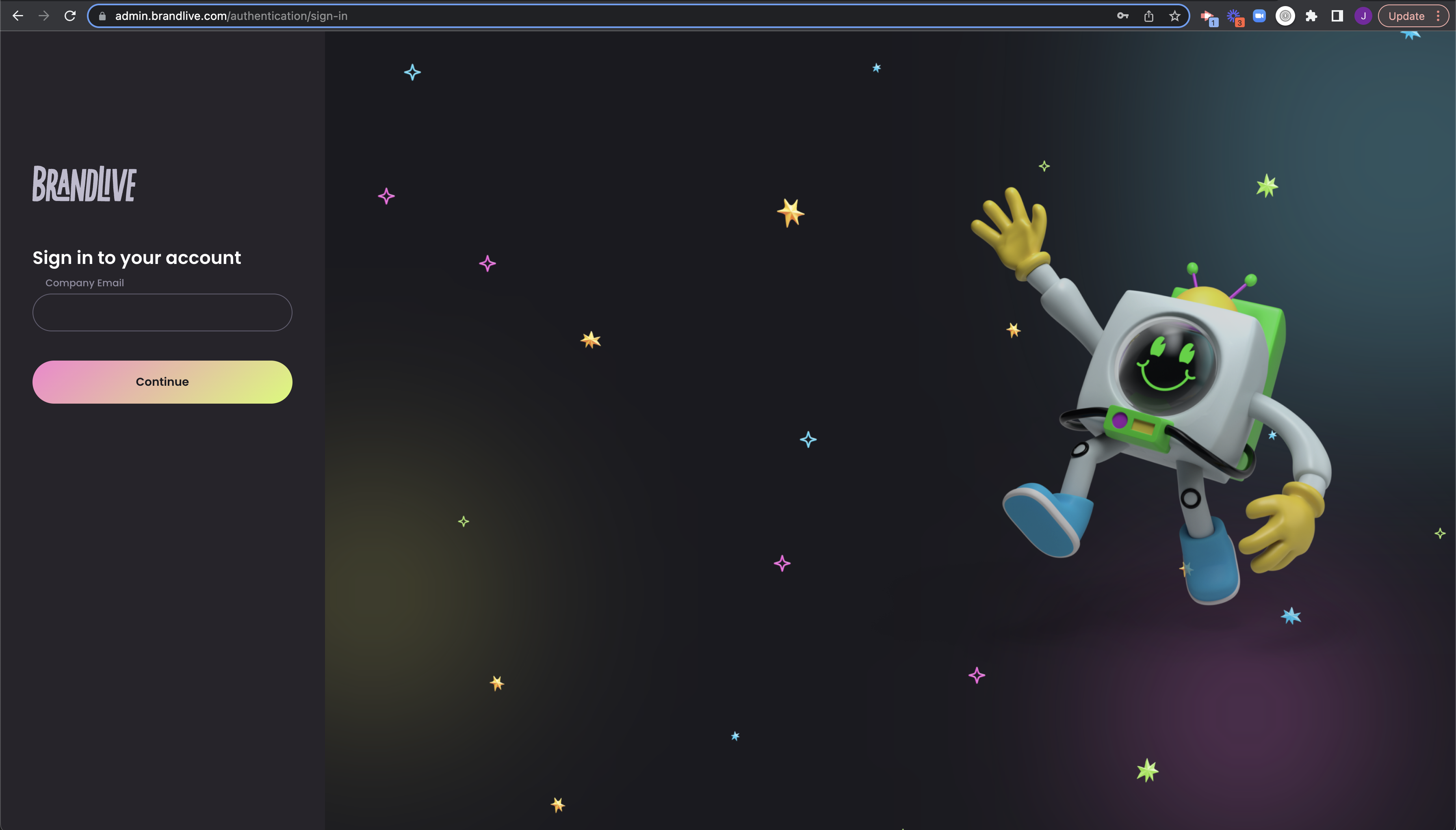 If your channel is set up with OIDC, SAML, or Oauth 2 Single Sign On, you will be redirected to login with your SSO Platform, before entering the Admin Console: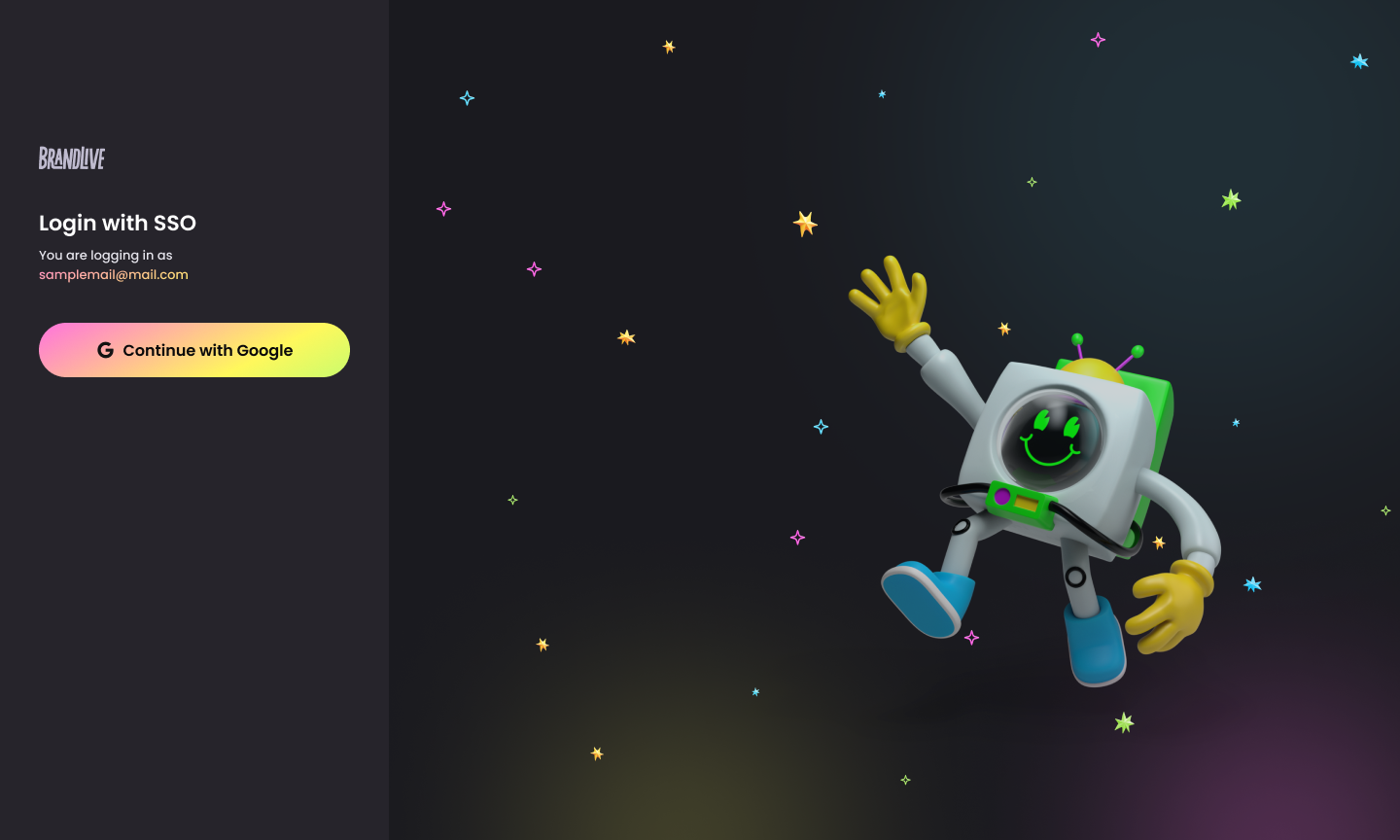 Click continue to sign in with SSO and access the Admin Console.
When accessing the details of an event within your Admin Console, you'll see the Broadcast session, or multiple Broadcast sessions associated with that event. Each one with have a "Go to Greenroom" button associated within its row. Clicking on that button will get you to the Greenroom as a Producer.
How To Articles