Greenroom allows your audience to see and hear you from anywhere in the world.
Ensuring your camera and microphone work correctly is imperative to successfully using Greenroom. In this article, we'll show you how to set these up upon entering Greenroom and how to set up an external camera or microphone.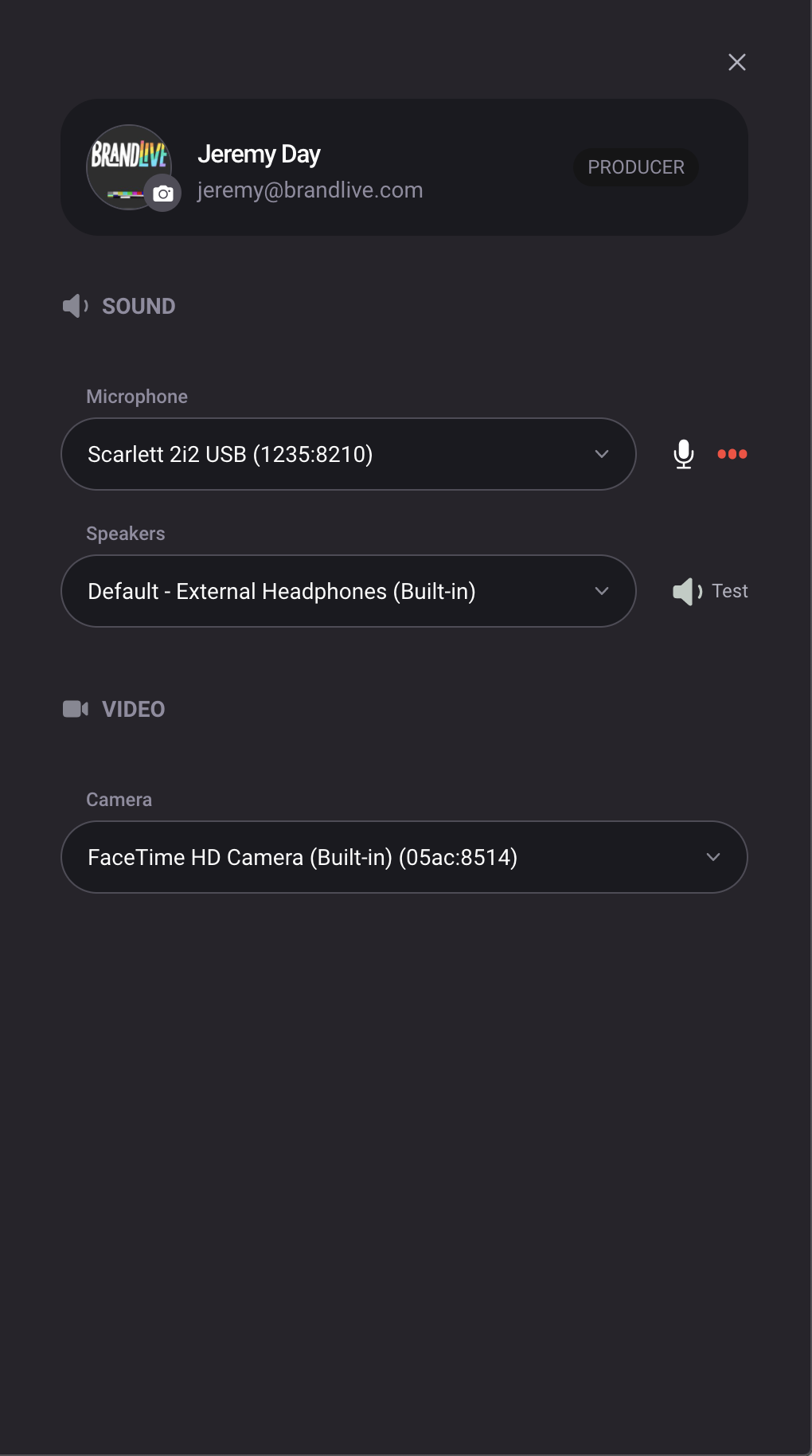 Setting Up Camera & Microphone Access Upon Entering Greenroom
When you enter Greenroom, and start going through the presenter entry steps, you'll want to:
Add your information (i.e. name, title, location)
Grant Greenroom access to your camera and microphone
Check that your sound and video settings are correct
Complete the internet speed test
1) You may see two pop-ups on your browser prompting you to allow Greenroom access to your camera and microphone. You'll want to say yes and/or accept.
2) Fill out your information, as shown below.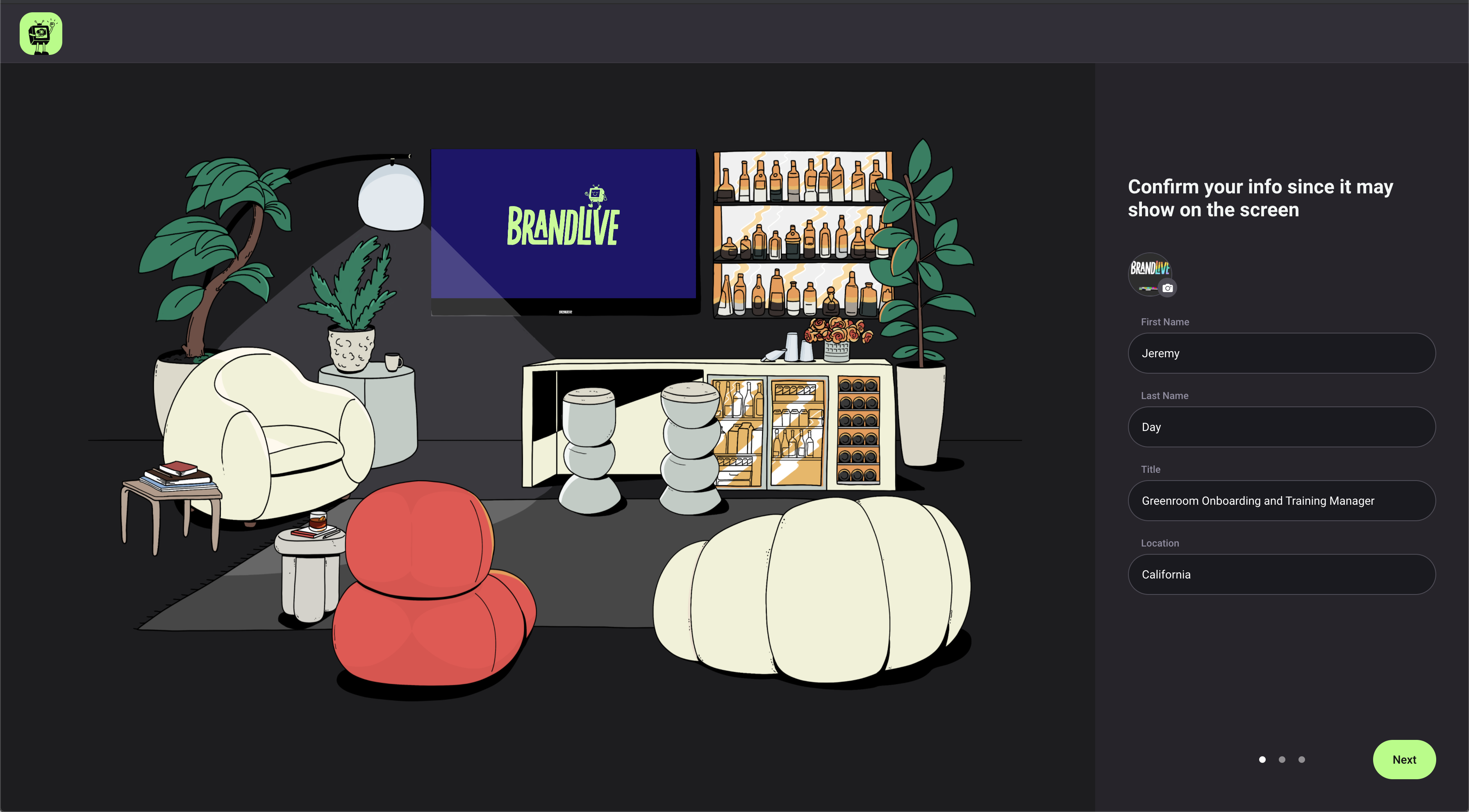 3) The default microphone and camera sources will appear. For each, there is a dropdown to browse and select alternative microphone and camera sources. You'll see how this looks in Chrome and Microsoft Edge, shown below.
Note: If you're on a Mac, you may need to go into your computer settings to enable microphone access.
Check out our article on enabling microphone access for a specific browser to learn more.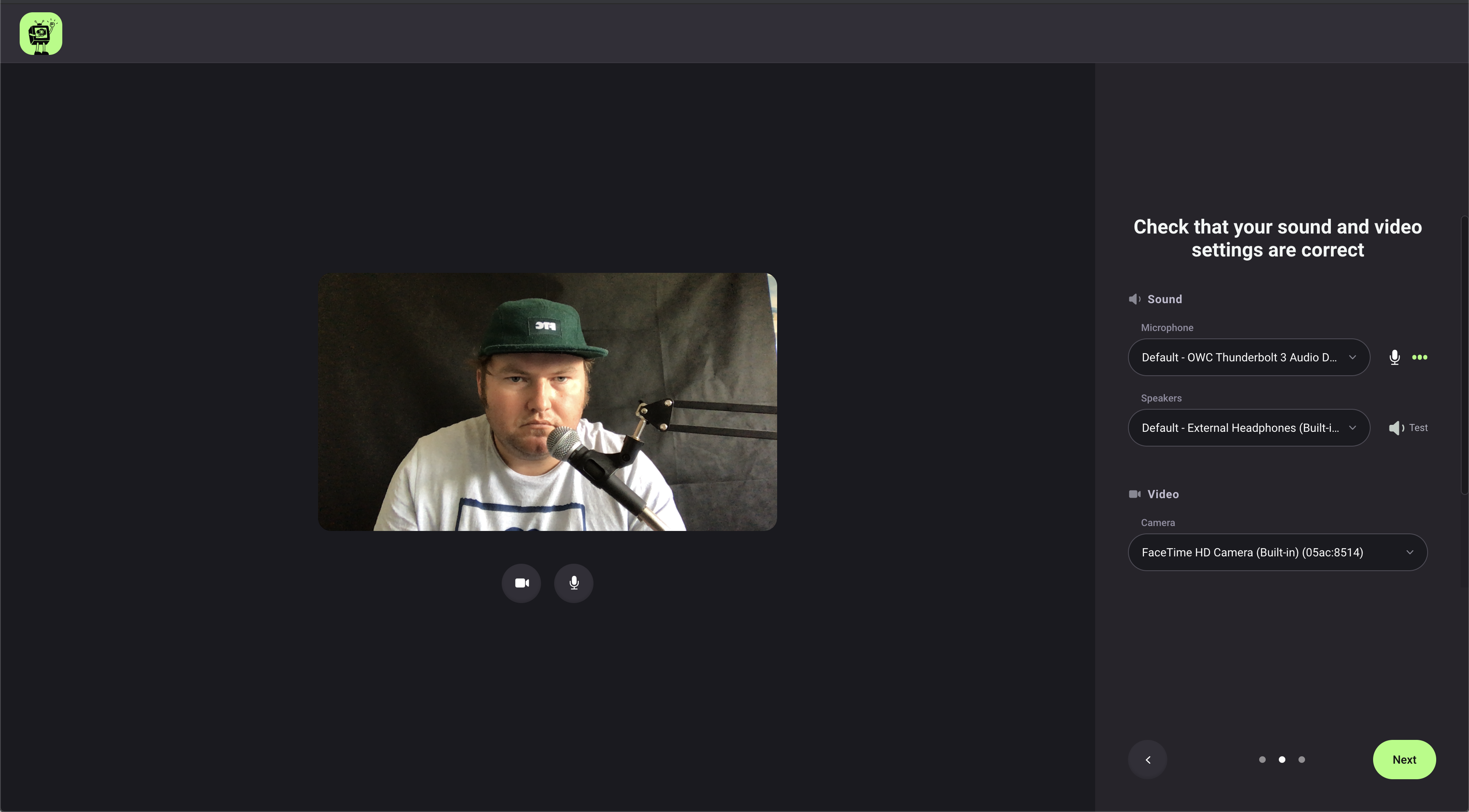 4) Greenroom prompts you with a Video Transfer Speed Test, which will test the quality of a video connection. If the test shows a result of 200kbps or higher, it means the internet speed will maintain a solid connection within Greenroom. Upon completion of the internet speed test, click "done" to enter Greenroom.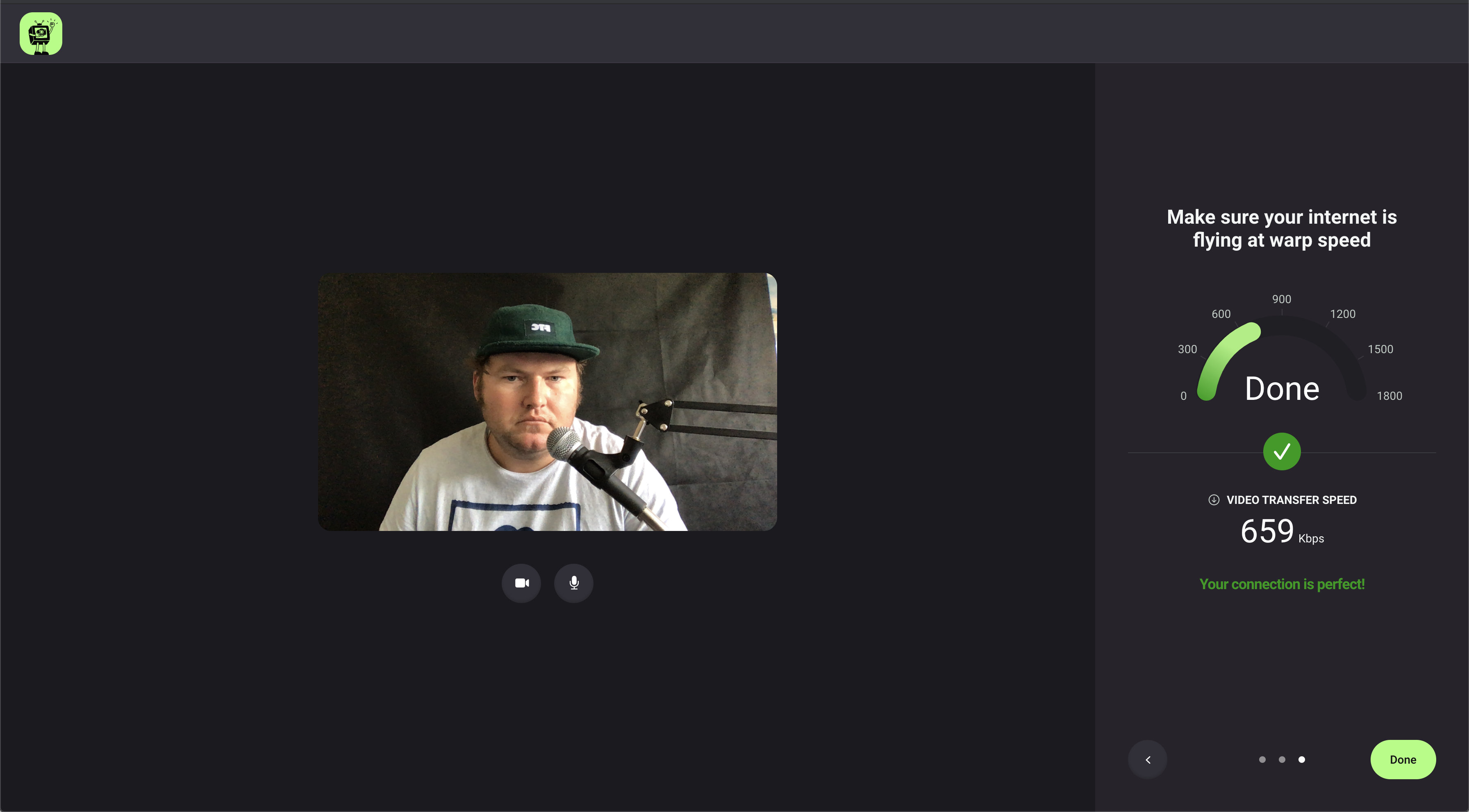 5) Once in Greenroom, you'll see your feeds tab open, allowing you to see and hear the other Presenters and Producers. After entering Greenroom, you have the ability to revisit the video settings.
Check out our article on getting started with Greenroom profiles to learn more about revisiting the camera and microphone settings from within Greenroom.
External Camera and Microphone Use with Greenroom
Greenroom supports the use of external cameras and microphones. In order to determine if a particular camera or microphone will work with Greenroom, you'll want to ensure first that your computer is able to recognize the device. As long as your computer is capable of receiving the device's signal, and you've had success connecting with the device via any other web or desktop based application, you'll be able to use the device within Greenroom.
To choose which input you'd like to use from within Greenroom, begin by plugging it into your computer before launching your web browser. Once you've connected, go ahead and join your Greenroom, and navigate to your user avatar which is located in the top right hand corner area of Greenroom interface. Within Avatar > Video Settings, is where you'll find the camera and microphone settings.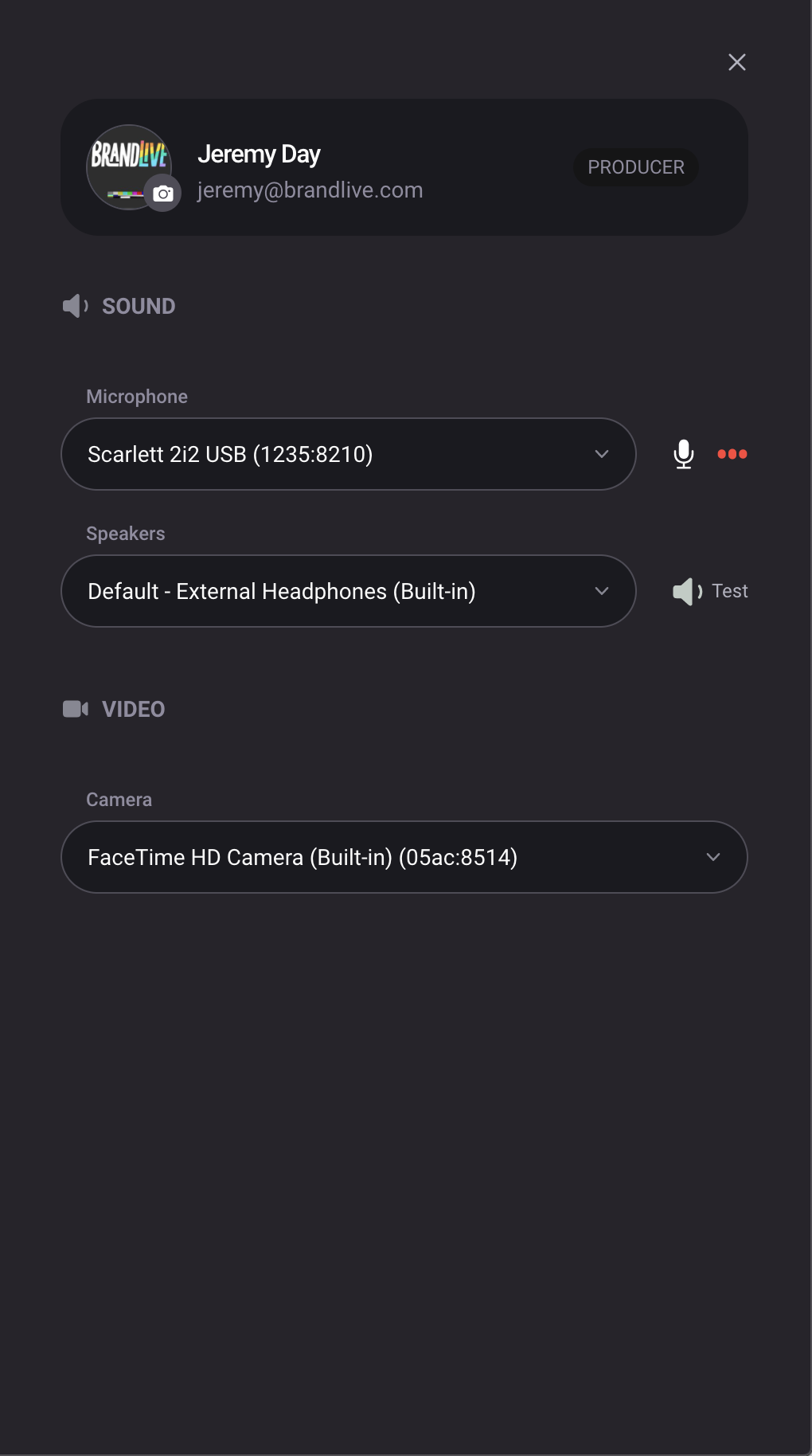 From here, you'll see drop down menus that allow you to select a particular camera, microphone, as well as speaker output if you're using something like a bluetooth headset.
The three red dots alongside the microphone field will move in reaction to audio it receives. If you speak and the dots move, then Greenroom is hearing you.
The test button next to speakers will feed you sample audio, to make sure your speakers or headphones are working.
Check out our article on using virtual backgrounds in Greenroom to learn how to connect to third party cameras and programs in order to leverage a virtual background in Greenroom.
Troubleshooting Resources
Check out our article on camera and microphone troubleshooting for more info on common issues.