Within the gear icon, located in the top right area of the Producer's view of Greenroom, are three settings tabs for Info, Streaming and Settings. All of these tabs host configurable options that the Producer can utilize during the show and before their Greenroom show, in order to prep for it.
Info Tab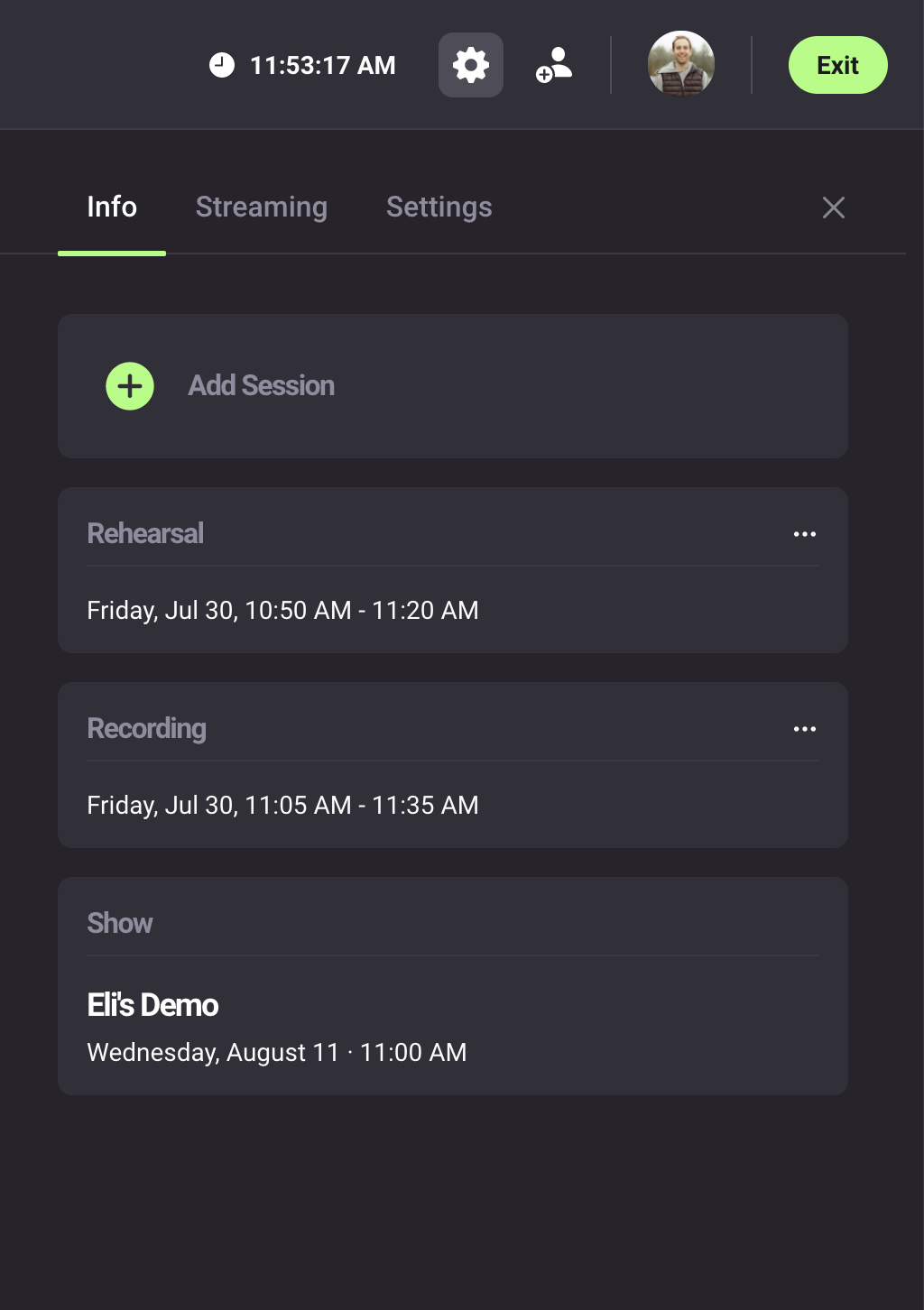 Sessions
Sessions allow the Producer to add a Tech check, Rehearsal or Recording to a Greenroom Show, which can be scheduled before the show date. The Producer can also choose who to invite to the rehearsal or tech check, whether it's everyone or just selected people. This is here to help groups coordinate and get together for key moments in the greenroom outside of the broadcast.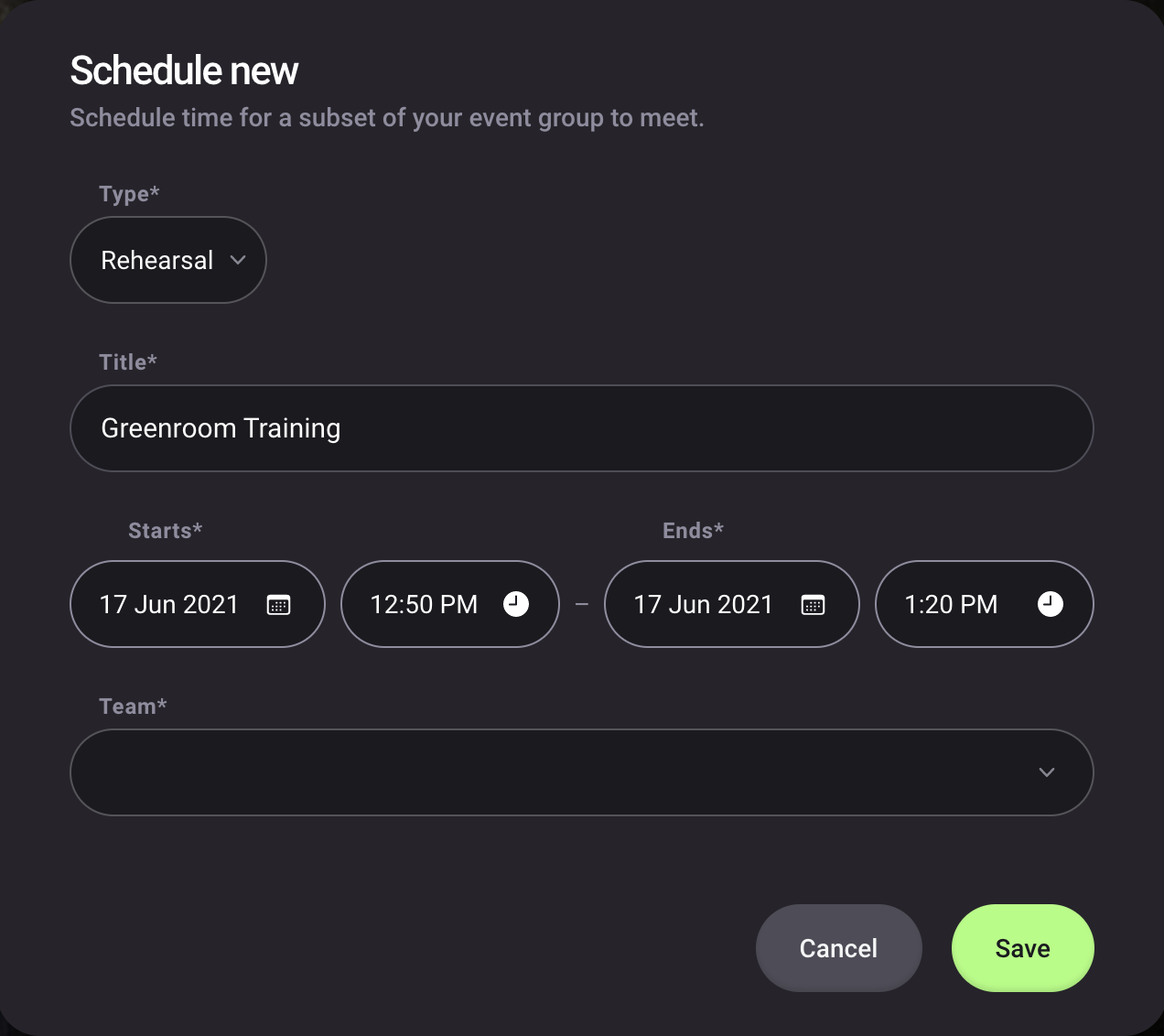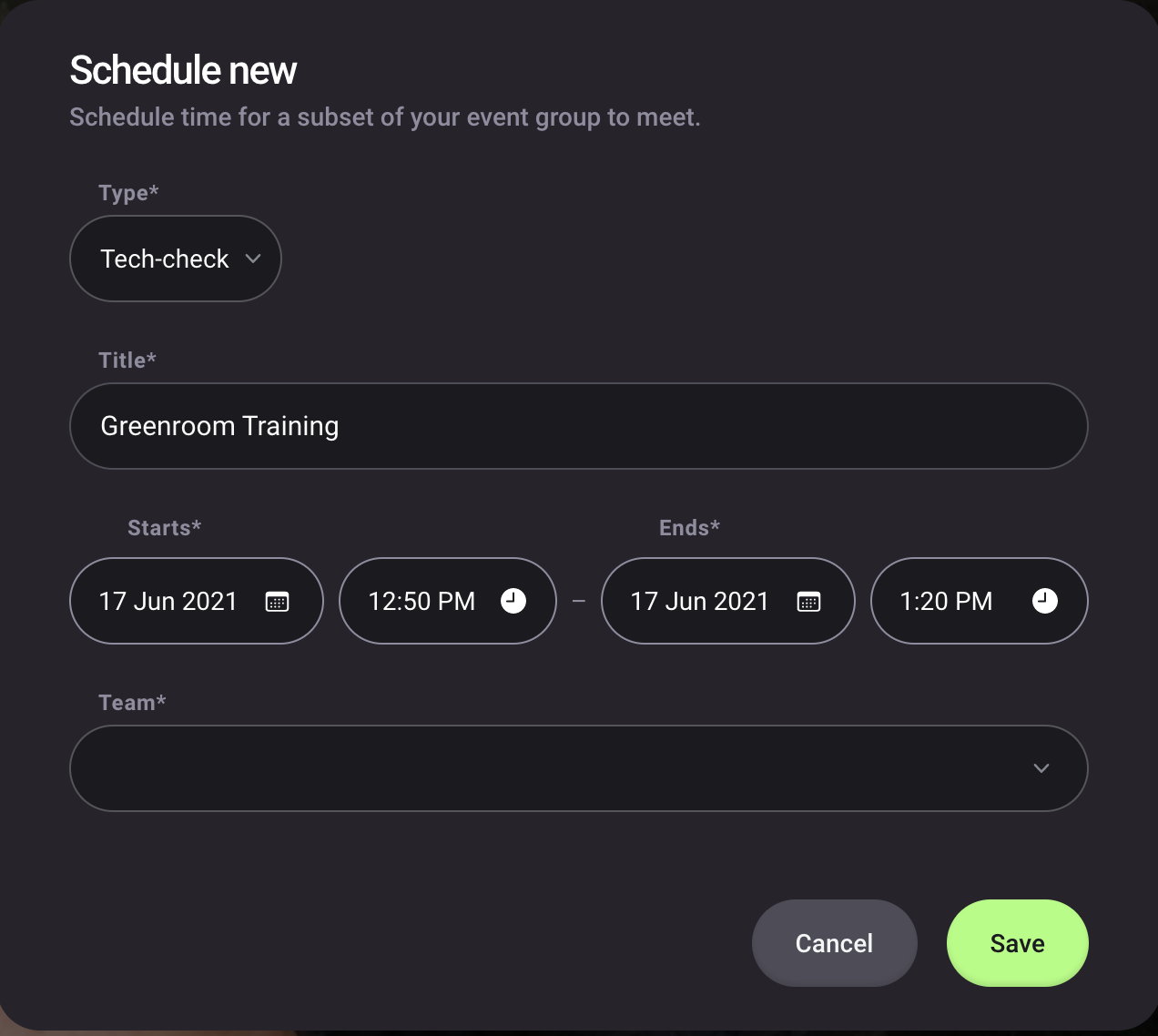 Settings Tab
Entry Requirements
To help add an extra layer of security, you can set entry configurations to your Greenroom, for your presenters to experience. You can set "Producers Approval", which will put presenters into an entry queue that the Producer can then approve, allowing them access into the Greenroom. You can set "Producers presence", meaning that the Producer has to get into the Greenroom first, before any other presenters can get in. Finally, you can set both options as a requirement.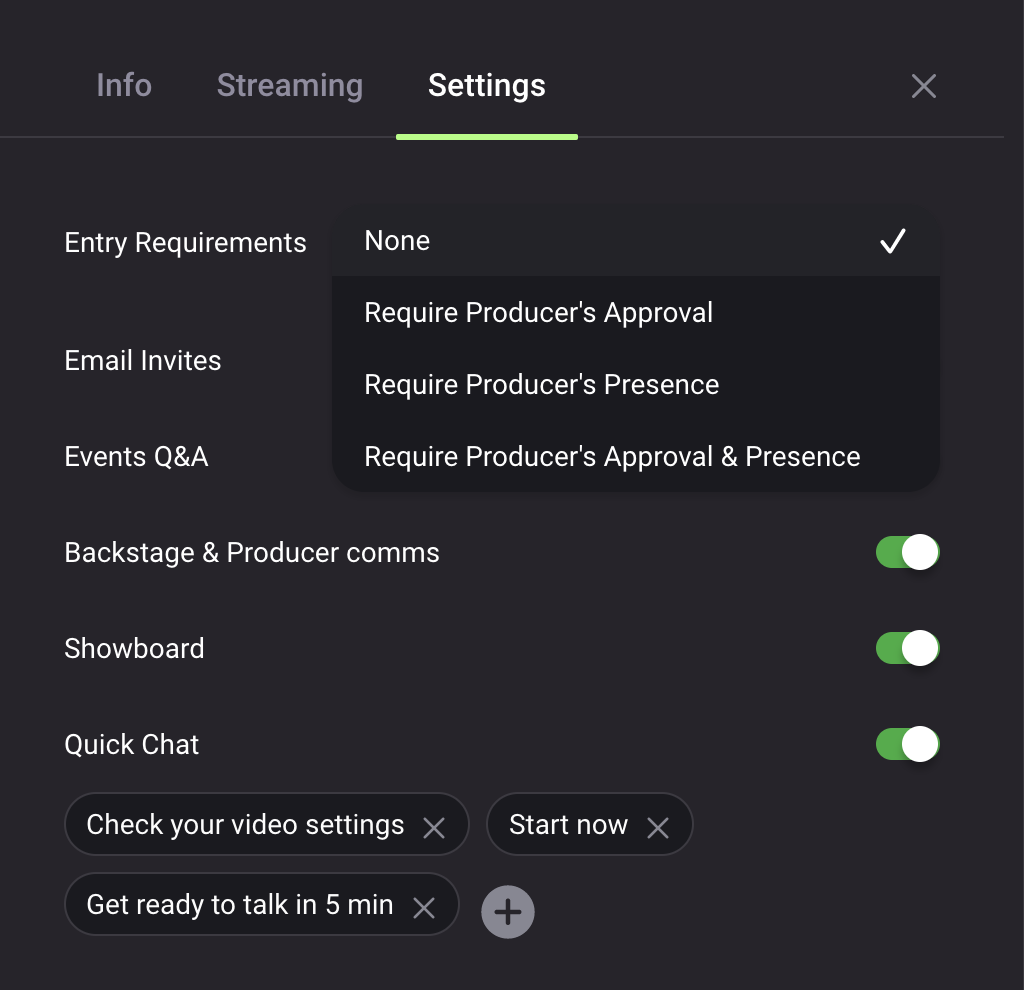 Email Invites
This toggle gives you the ability to turn off automatic email invites that get sent out to presenters, when they're invited to a Greenroom, Tech Check, Rehearsal or Recording.
Events Q&A
This Toggle activates the "Events Q&A" chat room within the Chat Tab. This chat room allows a Brandlive event moderator to forward comments and questions from the linked Brandlive event page, to this Greenroom chat room, which gives the Producers and Presenters the ability to respond to the audience during a live Greenroom show.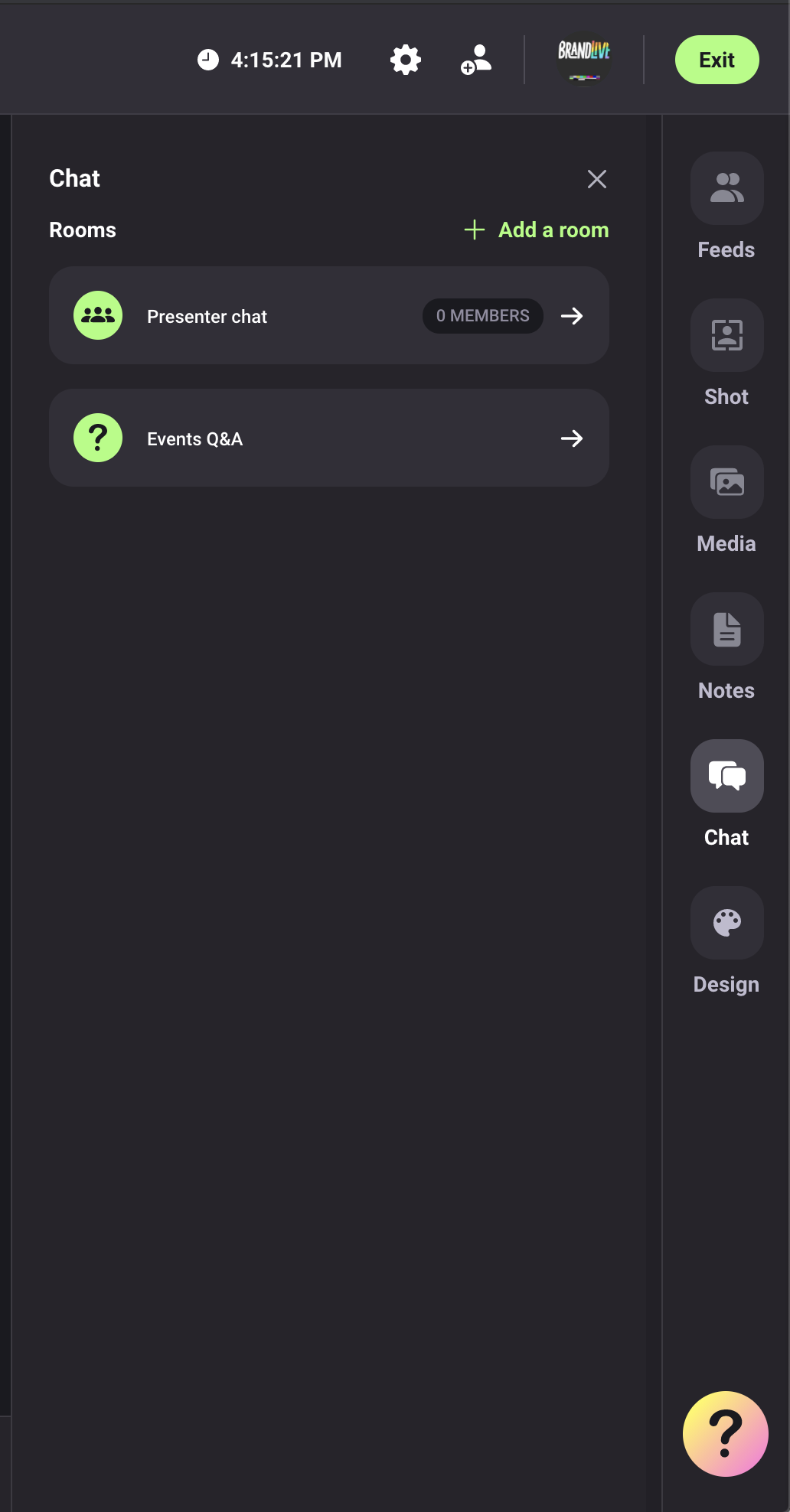 Backstage & Producer Comms
This toggle activates an audio feature built into the Greenroom, where it isolates the audio in the canvas that goes to the live event, from the backstage environment where other presenters wait. It helps prevent backstage noise or background noise from another presenter from bleeding into the live broadcast. It also allows the Producer to use a "Live Presenters" comms button, to talk to live presenter in the canvas, without the Producers audio being heard in the broadcast.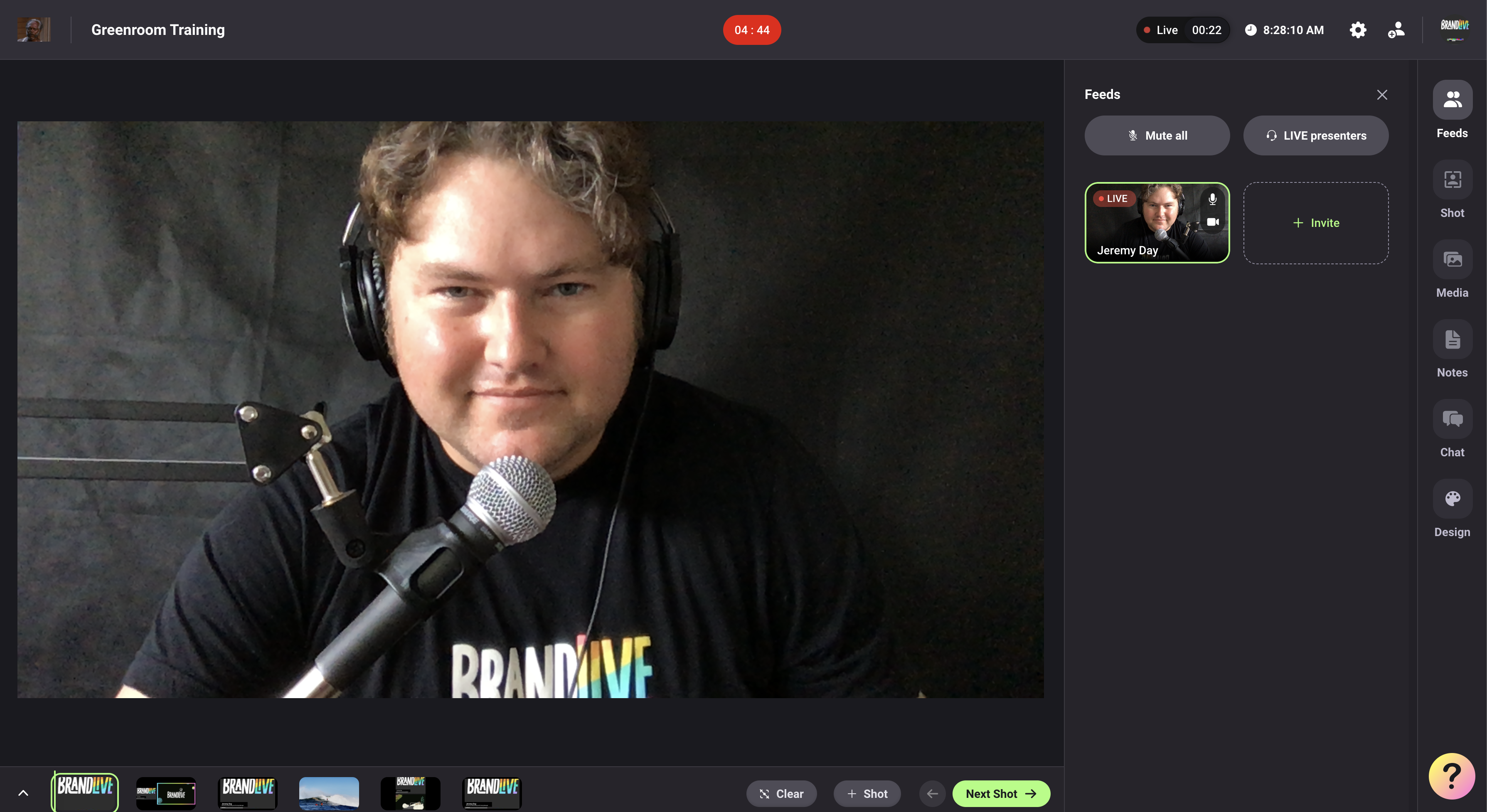 Quick Chat
This toggle activates pre-listed chats and allows you to add custom phrases and chats to utilize within the Chat Tab, making it easy to reference terms and actions to your presenters.