This article will cover the best practices, setup procedure and limitations that go along with presenting videos, slideshows and files in the Greenroom media tab.
To begin, make sure you have the files needed on hand. Greenroom supports a variety of video, photo and slide based formats for upload. This includes Microsoft Powerpoint, as well as Apple Keynote files. If you have built a presentation using Google Slides, you'll be able to download it as either a PDF or .pptx file. If your Powerpoint or Keynote has any animations built into it, we recommend exporting them as PDFs, in order to be displayed properly within Greenroom.
The supported formats are: .pdf, .pptx, .key, .jpg, .jpeg, .png, .gif, .mp4
Things to know when preparing MP4 video files:
Refrain from using special characters (_ ,%, $ etc) within the file name
Videos with a bitrate above 4Mb/s (4000Kb/s) will be automatically processed.
Greenroom can accept files up to 2GB in size
Video frame rate should be 30fps
Video should be encoded in H.264
Maximum video resolution can be set to 1080p
Once you have your files ready, make sure you are logged into your Greenroom account, then navigate over to the media tab.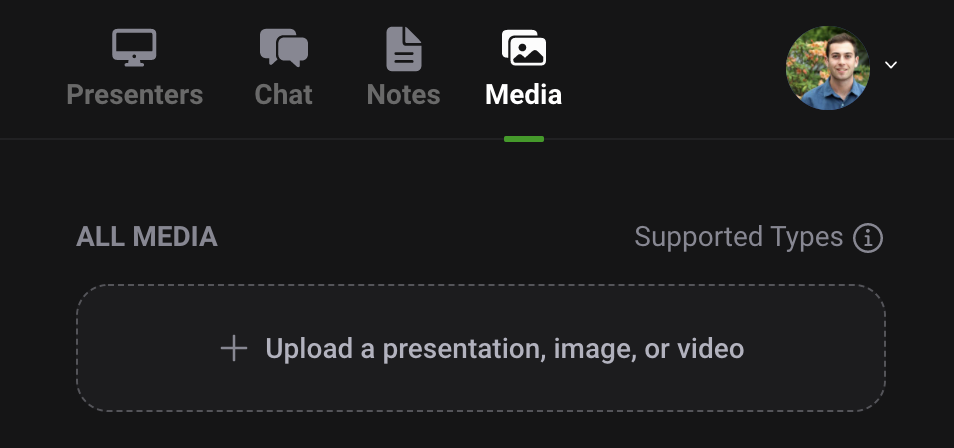 Once there, you'll see any current files already uploaded on your account, as well as the ability to upload new files.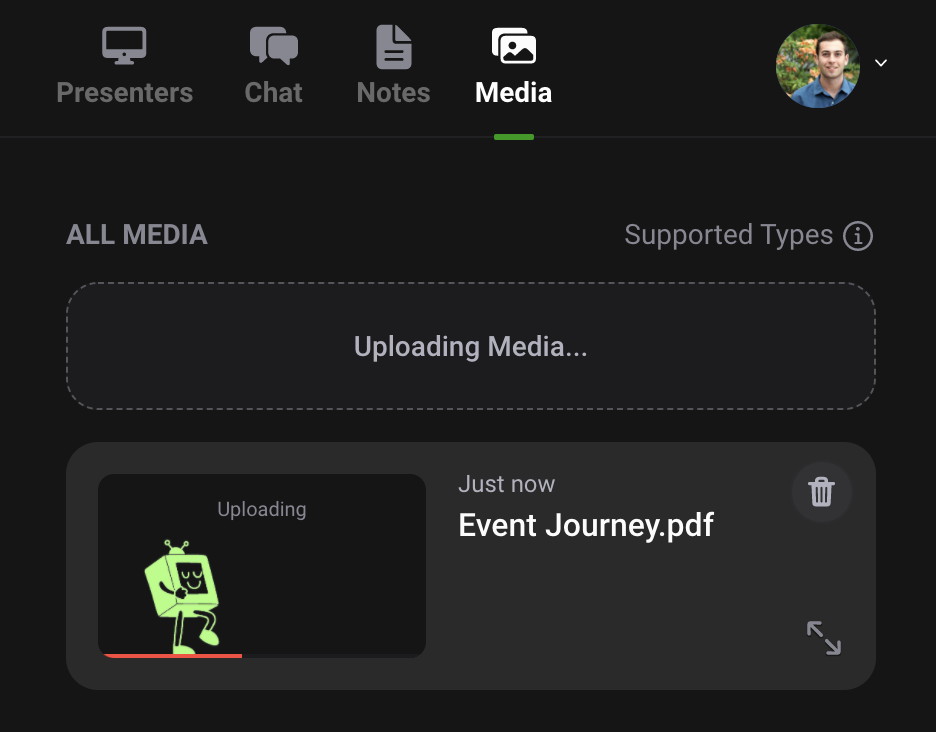 Once uploaded, a walking "Telly" graphic appears letting you know your upload is in progress. Be patient with larger files, as it can take some time. Save additional time for presentations, as all the individual slides will be broken out.
Once your upload is complete, Telly will disappear and you will see a thumbnail of the file.
Clicking on your file will prompt a modal, that will break down your presentations into individual pages.
For presentations and multi-page PDFs, you're able to browse through the various images/slides to verify your content, or delete an individual image or PDF that you do not want to present by clicking on the trash can icon. Editing presentations in the Media tab, such as deleting a slide, can be done by the user that uploaded that piece of media.
If you'd like to present multiple files at once, scroll past the last page in your file to a blank page, allowing you to upload additional photos and videos to your presentation.
To set images and video files in a different order, click and drag the three dots on the left of the image/video thumbnail to the desired placement in your presentation. You can also rename the media file to reflect the content that exists within it, i.e. "presentation playlist", "beginning media", etc.
Your media can also be shared amongst individual Presenters or everyone as a group. You'll see a sharing icon just to the left of the pencil icon (media naming), that will allow you to share the media with someone specific, or with everyone that's in the Greenroom. This will allow those selected to advance slides and control the media when it is displayed in the canvas, even if that presenter or person is not in the canvas with the media.

Once your presentation is ready, click the red "Ready to Share" which will add your files to the "Feeds" tab for the producer to feature.
Media can be shown live just as any presenter would. You can combine media into different shots and layouts the same way. When hosting a slideshow or presentation within the feeds area, you also have the ability to click forwards or backwards within the slide deck, to reach a particular slide to present, by using the arrow buttons shown on the feed thumbnail.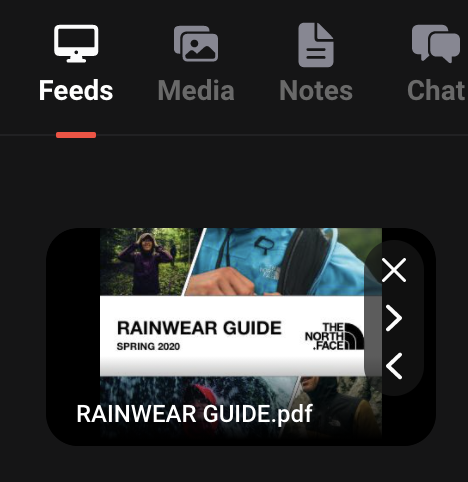 Once your presentation is taken live, you'll have the ability to click through your slides as it comes time, which can be done with the arrow buttons below the canvas or the arrow keys on your keyboard.