The Producer Dashboard is your central hub for using Greenroom. In this article, we'll outline the basics of navigating the Producer Dashboard, walkthrough channels, and give a brief overview of how to copy a Greenroom.
Navigating to the Producer Dashboard
Once you've been able to successfully login to Greenroom as a Producer, you will land on your Producer Dashboard (shown below).
If you are logged into Custom Destination, your Producer Dashboard will include a + Create Show button in the upper right hand corner.
If you are logged into Streams (or Events Legacy), your Producer Dashboard will look the same as Custom Destination, but will not include a "+ Create Show" button. Greenrooms will populate in the Streams Greenroom Producer Dashboard by creating events through the Streams platform.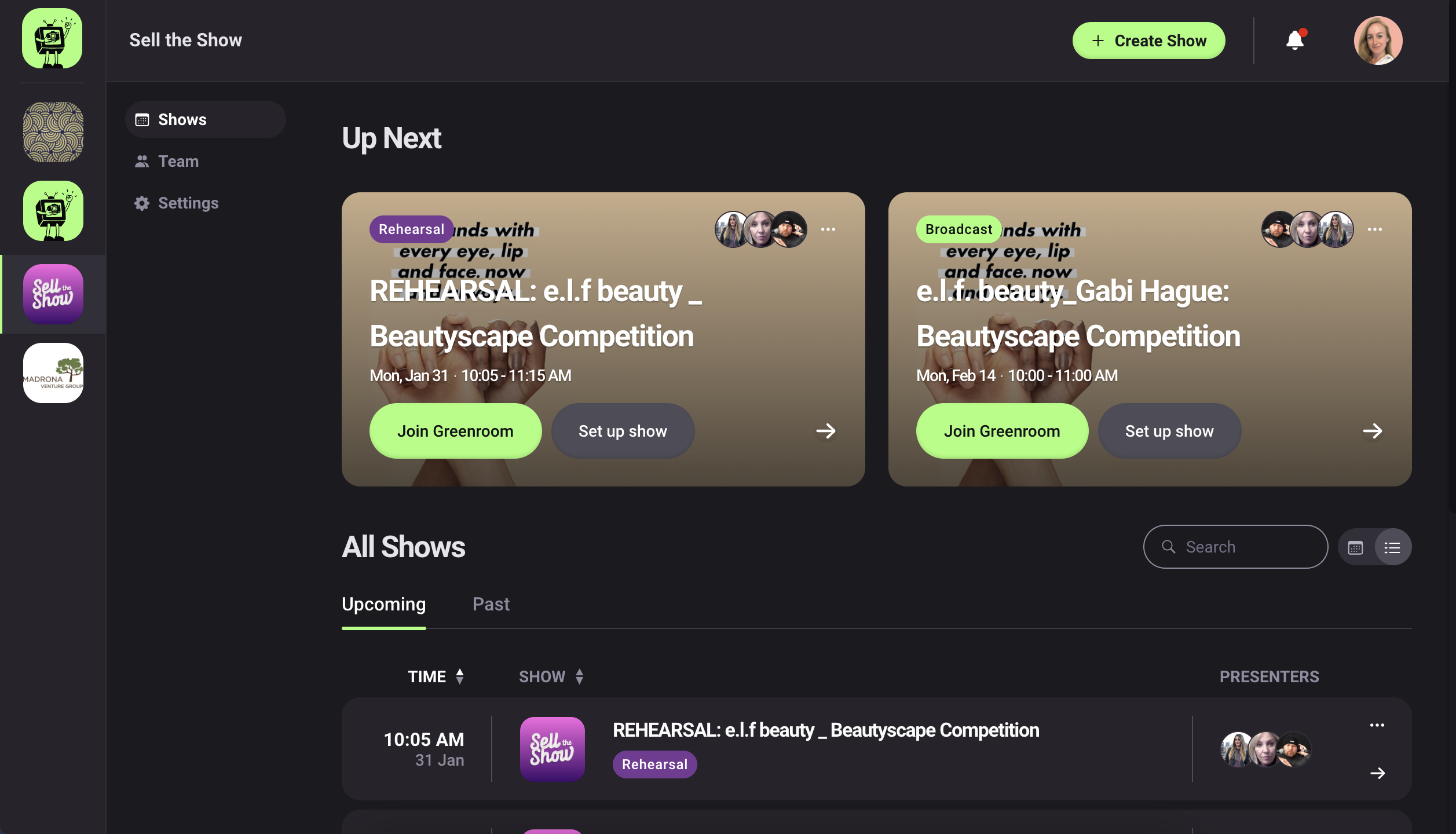 Producer Dashboard: Channels
In your Producer Dashboard, on the left-hand side of your screen, you'll see all of the channels to which you have access. If you only have access to one channel, you'll also see the thumbnail for that channel on the left-hand side of your screen.
Within a specific channel, you have access to a variety of controls. You'll also see three tabs on the left-hand side of your screen. These tabs are:
Shows: This tab displays on the right hand side of the screen "All Shows" and includes both Upcoming and Past.
Teams: This tab shows the list of teammates that have access to this channel as Producers.
Settings: This tab only exists in the Custom Destination Greenroom Producer Homepage, and is where you can add/edit a Channel icon as well as a Channel title. Note that the Streams Greenroom Producer Homepage doesn't have a settings tab option, so you would need to set the logo via the admin settings of Streams.
Shows
In the Producer Dashboard, the Shows tab is where Producers will spend more of their time. This tab features the next two shows that are coming up at the top of the screen.
They feature the options to "Join Greenroom" or "Set up show."
Join Greenroom: Selecting this option will place the Producer directly into Greenroom
Set up show: Selecting this option will take the Producer to a page where they can review the shows info and settings.
Info
From Info, a Producer can:
Preview the show's Showboard
Join Greenroom
Invite Presenters & Viewers
Add Sessions to the schedule. (Learn more about Sessions in the article Adjusting Greenroom Settings). Sessions include:

Broadcast
Tech Check
Rehearsal
Recording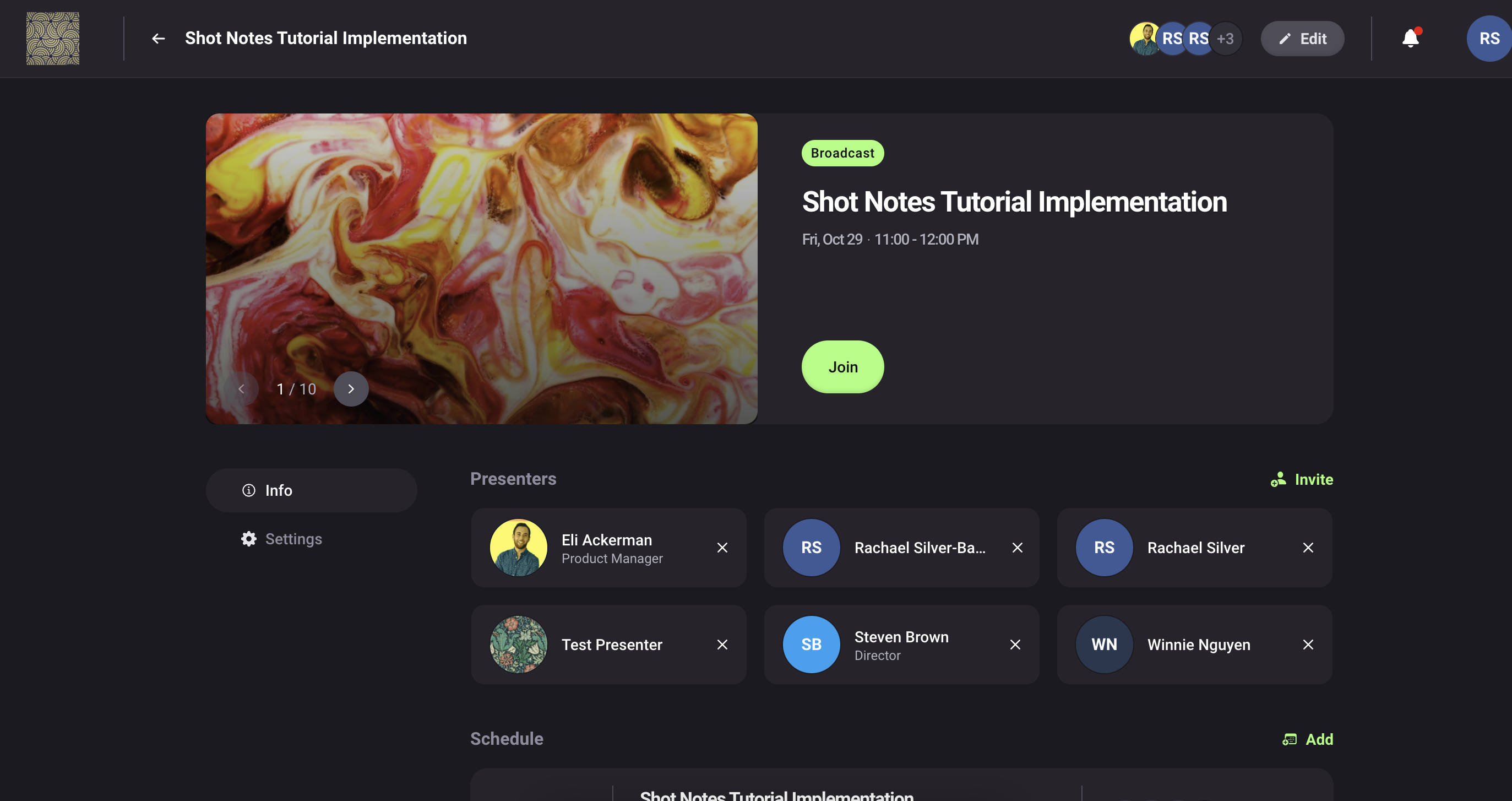 Settings
From Settings, a Producer can:
Preview the Showboard
Join Greenroom
Set Streaming Destination
Add Streaming Destination
Select Advanced Settings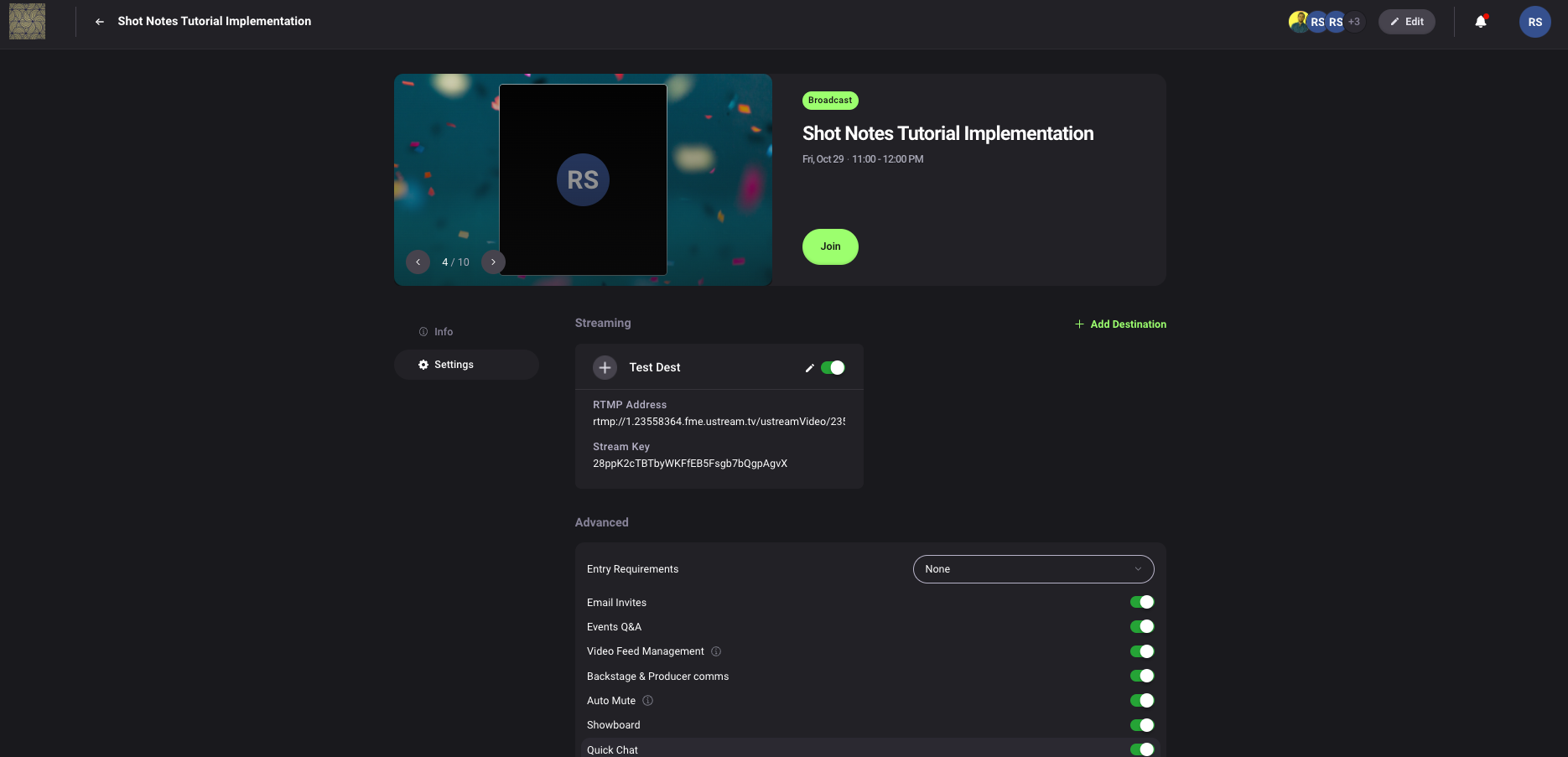 Producer Dashboard: Copying A Greenroom
From the Producer Dashboard, a Producer may copy the contents of one Greenroom to another newly created Greenroom.
Under Shows, the Producer will see a list of cards of Upcoming and Past Greenrooms. By clicking the ellipsis more options menu, a Producer will be able to see the options of being able to Edit, Copy or Delete a Greenroom. For a more in-depth understanding of this feature, head to our article Copying a Greenroom.