After being invited in to Greenroom as a Presenter, there are a few steps you should expect to follow to get full access. In this article, we'll show you the steps to sign in to Greenroom.
Finding Your Channel
First, you'll want to find your channel. Upon entering Greenroom, you will see a list of different broadcasts (as shown in the image below) that will be occurring within the event you're participating in. Select the event you need to access; if you aren't sure, contact your Producer for further instructions.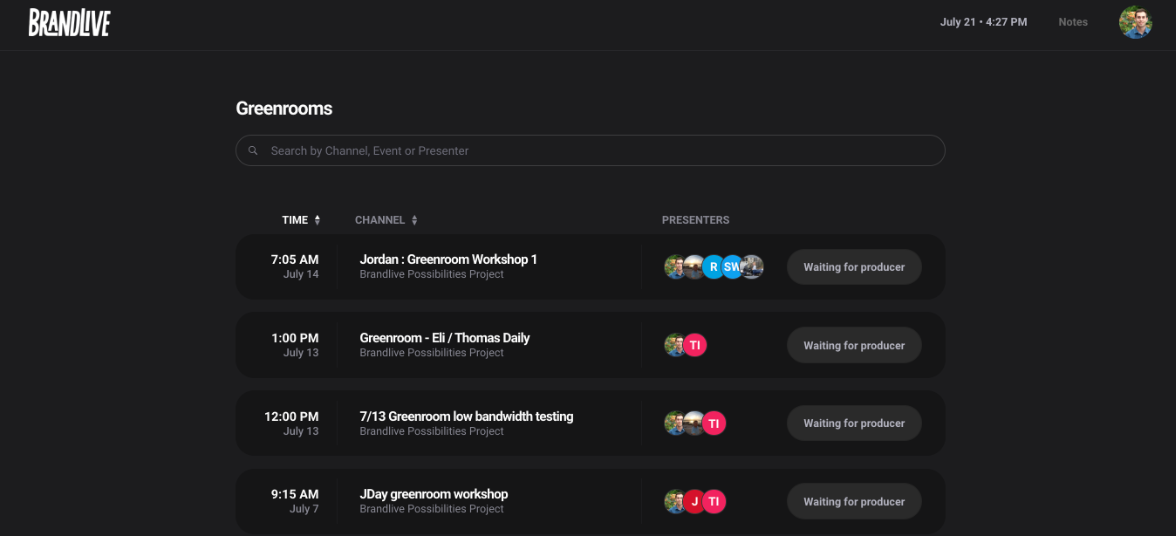 Entering Your Greenroom
Once you've found your channel, then you'll enter your Greenroom.
Starting at the top of the channel, you'll see the name of the chann
el, as well as a countdown until the event goes live.
Continuing right, the next bubble
contains the session timer once things begin.
The number next to the small eye indicates how many active participants are watching your particular Greenroom.
The large window on the left of the screen (that says "Brandlive") will be the live feed. On the right, you'll see 3 separate tabs to toggle, alongside your personal account bubble.
Presenter Tab
The Presenter tab will show all the Presenters currently within the Greenroom, as well as the Producer. When the Producer selects your preview window, it will be highlighted in red, letting you know you're about to go live.