The Brandlive platform offers a robust suite of features designed to create opportunities for attendees to engage with your content, your brand, and their fellow audience members.
Attendees talk about your content through the attendee chat or direct messaging, react in real time through live reactions, ask questions, or respond to surveys and quizzes.
Use in-platform announcements to help keep attendees on track or host Breakout & Fireside sessions to allow attendees to connect in small groups or join presenters live on stage.
Attendees can also view documents & files, go to similar sessions, learn more about related speakers and products, or view the Directory to connect with other attendees.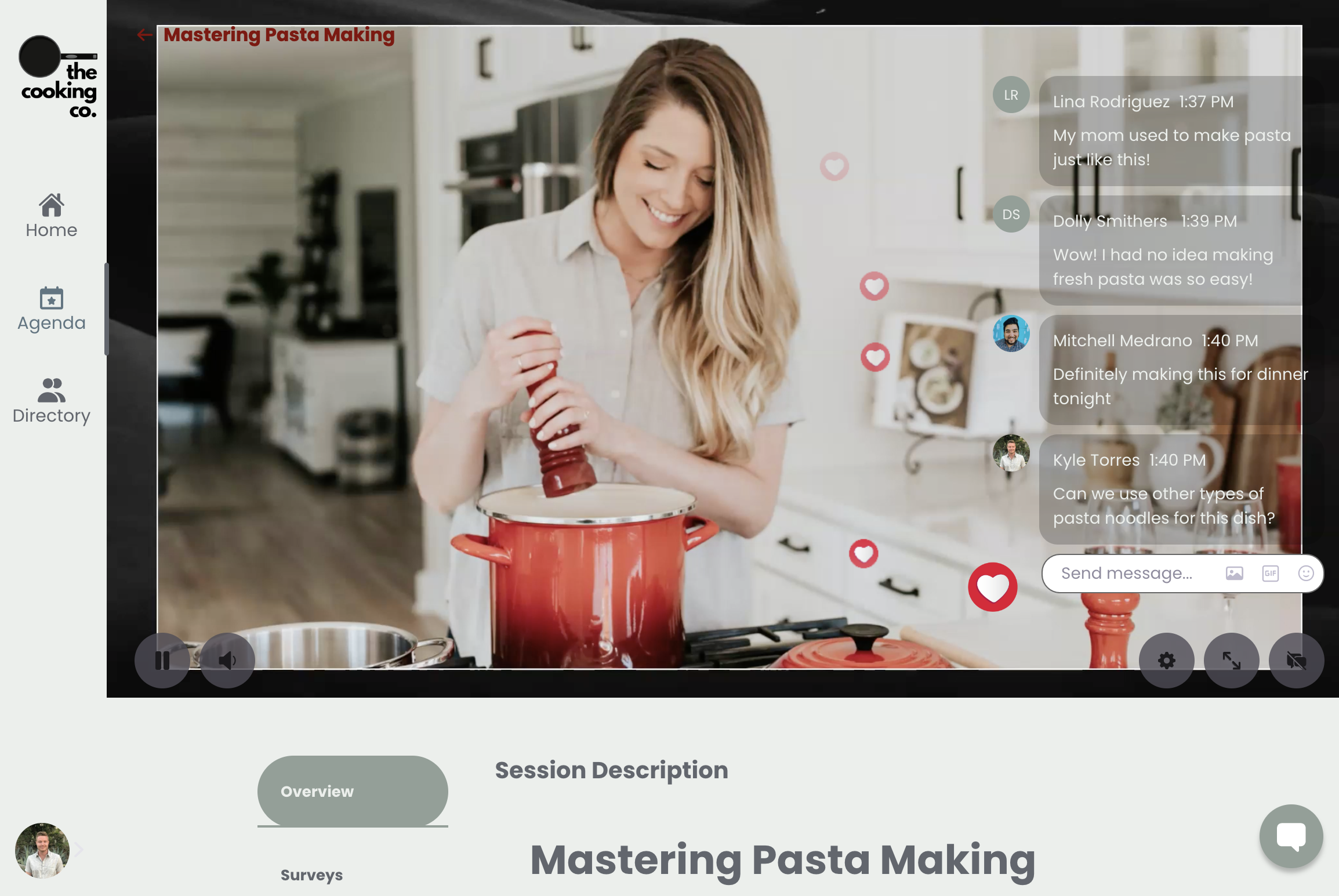 Live Engagement Features
We've made it easy to boost audience engagement with interactive features that allow attendees to participate directly in your content.
Session pages offer an attendee chat box for audience members to share their thoughts, talk with each other, and provide real time feedback that can be sent by a moderator directly to a presenter in Greenroom. Attendees can also submit questions in the Questions module to support live and asynchronous Q&A or react with custom emojis displayed to all audience members.
Build out surveys for audience members to engage with your content on a personal level by sharing opinions or let attendees to test their knowledge with quizzes.
Display product cards for attendees to easily learn more about your offerings or share documents and files for attendees to take with them.
Share information about your speakers with pictures, bios, and social links or link to other sessions on your agenda.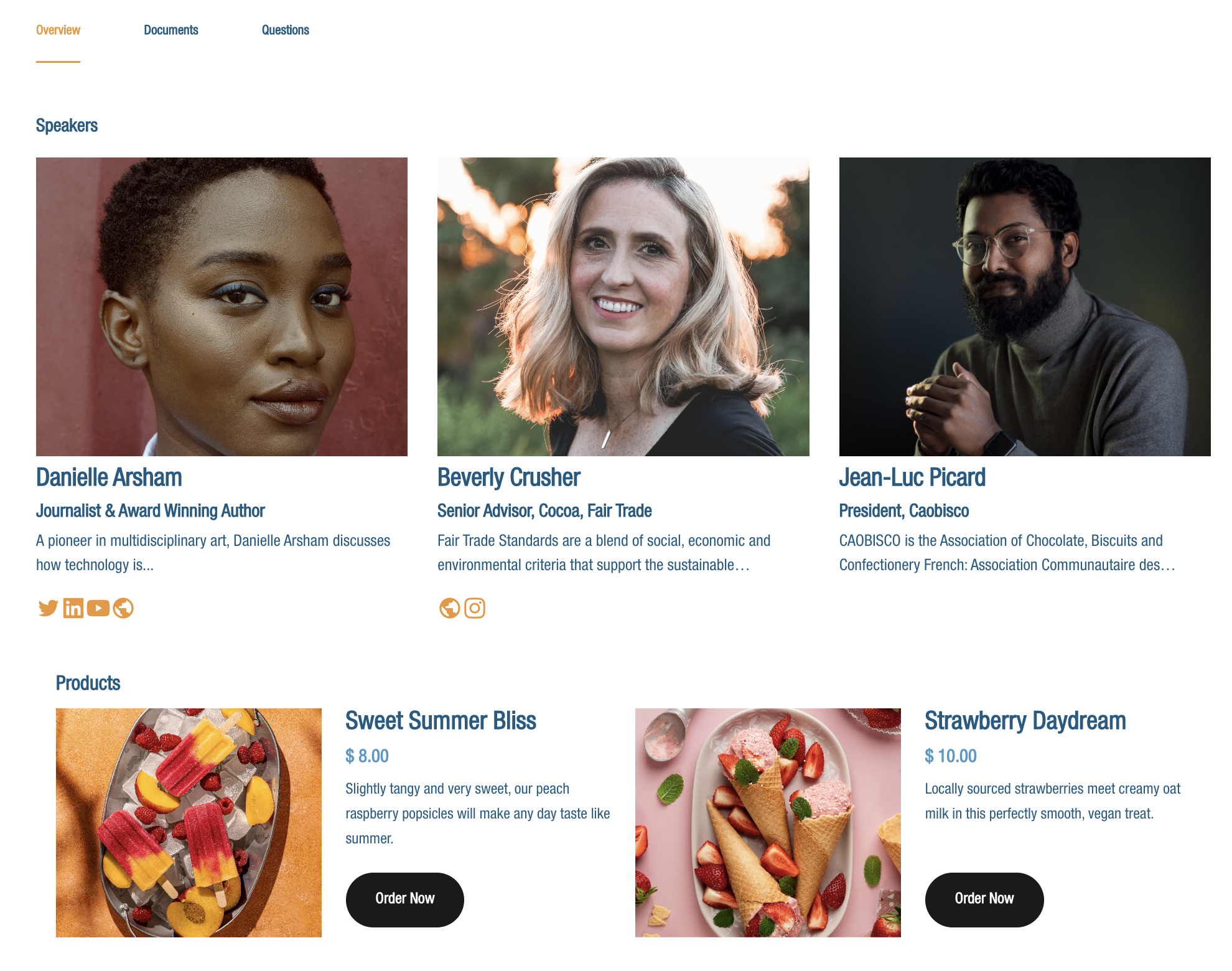 In-Platform Communications
Stay in constant contact with your attendees through Invitation and Reminder emails before your event to increase live attendance or send a Replay Available email to encourage those to may have missed your event to watch your content on-demand.
Send In-Platform Announcements to your page to help attendees navigate content, get to sessions, or access resources with clickable buttons.
When a session ends, send a User Engagement Survey to the page for attendees to share their thoughts.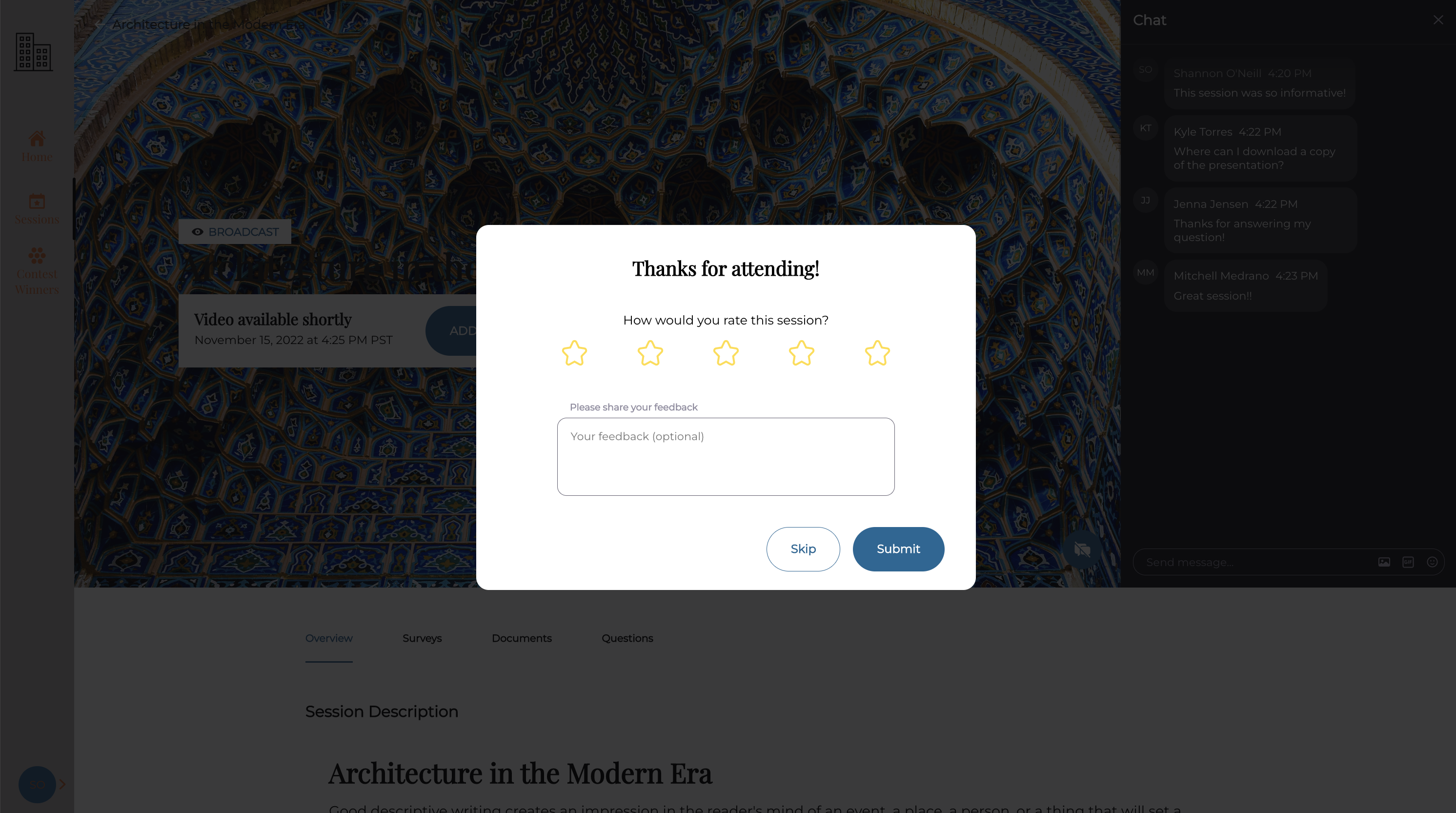 Session Types
The Brandlive platform offers four different session types to engage attendees with live, on-demand, fireside, and broadcast sessions.
Broadcast Sessions
Broadcast sessions contain content that is live, pre-recorded, or a mix of both with the key differentiator being a scheduled date and time for the content to play.
On-Demand Sessions
On-Demand sessions allow attendees to view content on their own at any time. Content can be pre-recorded or previously live content.
Breakout Sessions
Breakout sessions allow participants to connect in small or large group formats with options to turn their camera and microphones on. Choose from native in-platform breakouts or add a Zoom link.
Fireside Sessions
Fireside sessions create a virtual stage that allows attendees to interact with presenters directly by raising their hand to join on camera.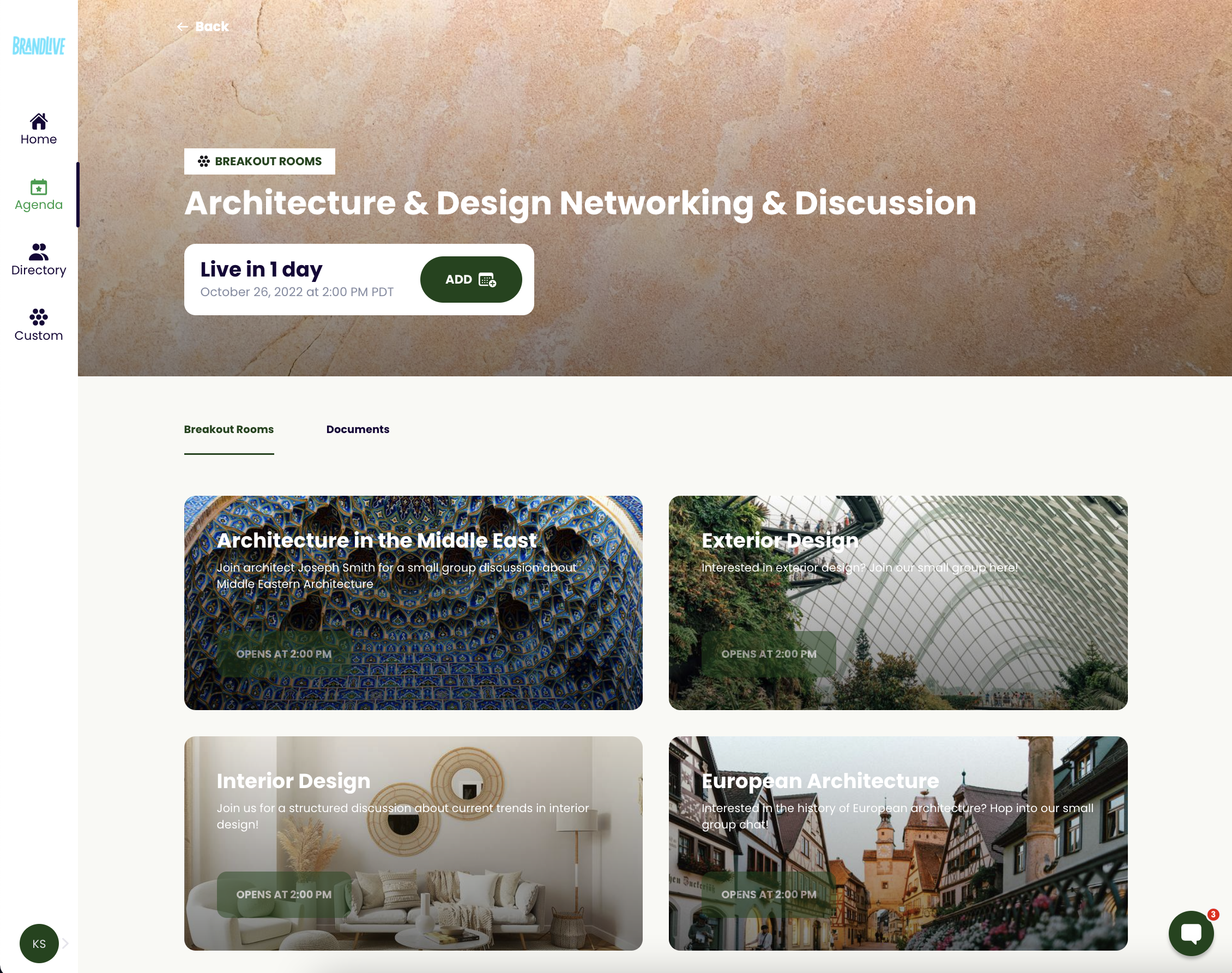 Social Features
Brandlive's social features allow attendees to create profiles, browse a directory, and message attendees directly or in preset group chats.
Attendees can use Attendee Profiles to upload a profile image, update their information, or answer supplemental questions.
Profiles can be displayed in an Attendee Directory for other event attendees to browse and connect with each other.
Turn on Direct Messaging to allow attendees to chat with each other directory or in groups created by the Admin.

Related Articles