Secure your content and customize the event experience for every audience group.
Use our robust gating options to tailor your event for each attendee while keeping your sensitive content secure. Audience Lists allow you to segment attendees by track or session to display only the content you choose for each group while passcodes ensure only your desired guests can attend.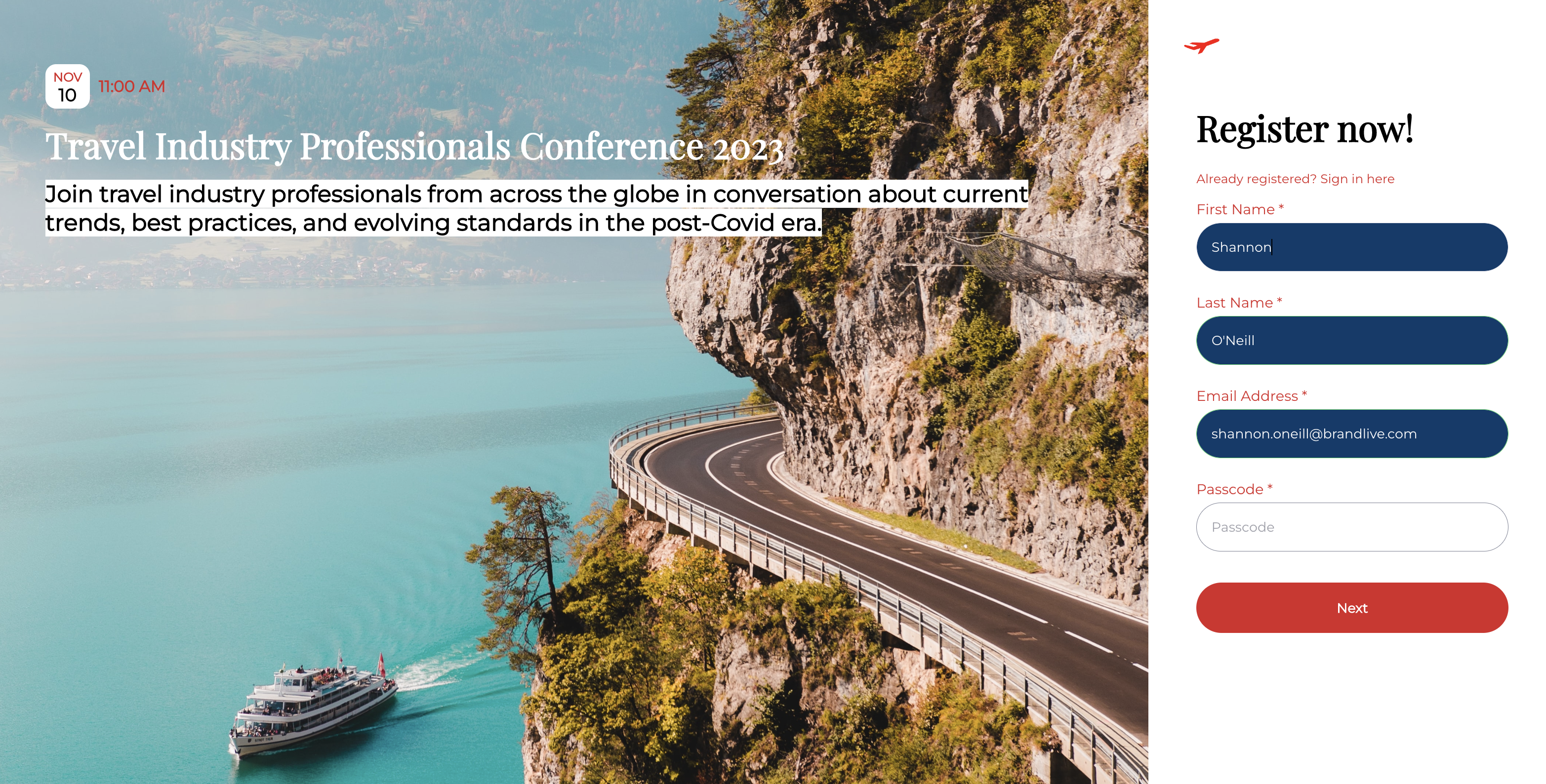 Types of Gating
Brandlive offers gating options for all event types. Read on to learn more about each one!
Shared Passcodes: Utilize one passcode for all attendees. Be sure to send your passcode out to attendees in their invitation email to ensure they can register.
Individual Passcodes: Upload unique passcodes for each attendee and select which sessions your attendees will be able to access. Admins can fully or partially gate content, allowing attendees to optionally enter a passcode.
Audience Lists: Create VIP content, segment attendee groups, and tailor the audience experience by uploading Audience Lists to define which content each group will have access to.
Domain Gating: Block or allow attendees from registering with email address domains. Learn more about domain gating in our article here.
Accessing Gating Options
To access the registration gating menu, navigate to the Registration page of your event in Sitebuilder and open the Settings tab at the top of the page menu.
Then, select "Event availability":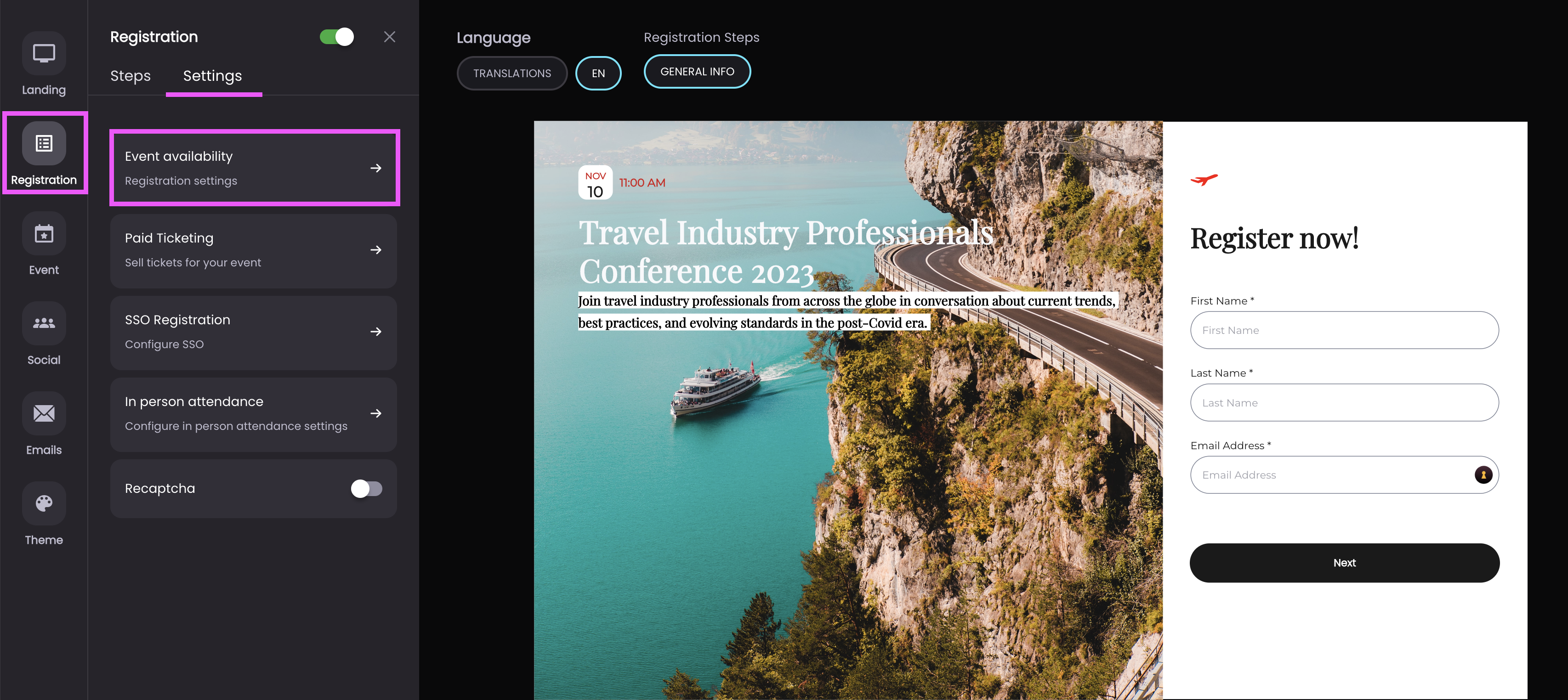 Next, toggle on "Registration gating":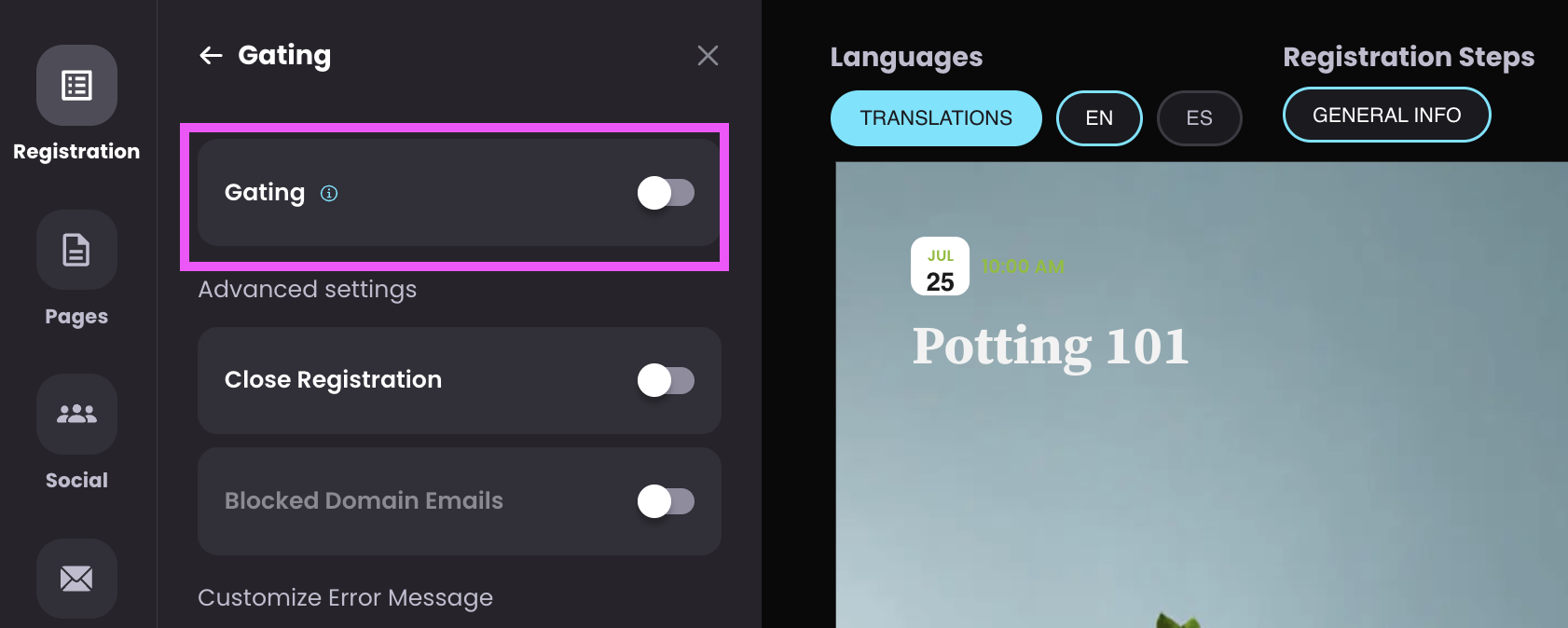 A modal will open to select your gating options from the dropdown menu. Then, follow the steps below for the gating option you wish to use.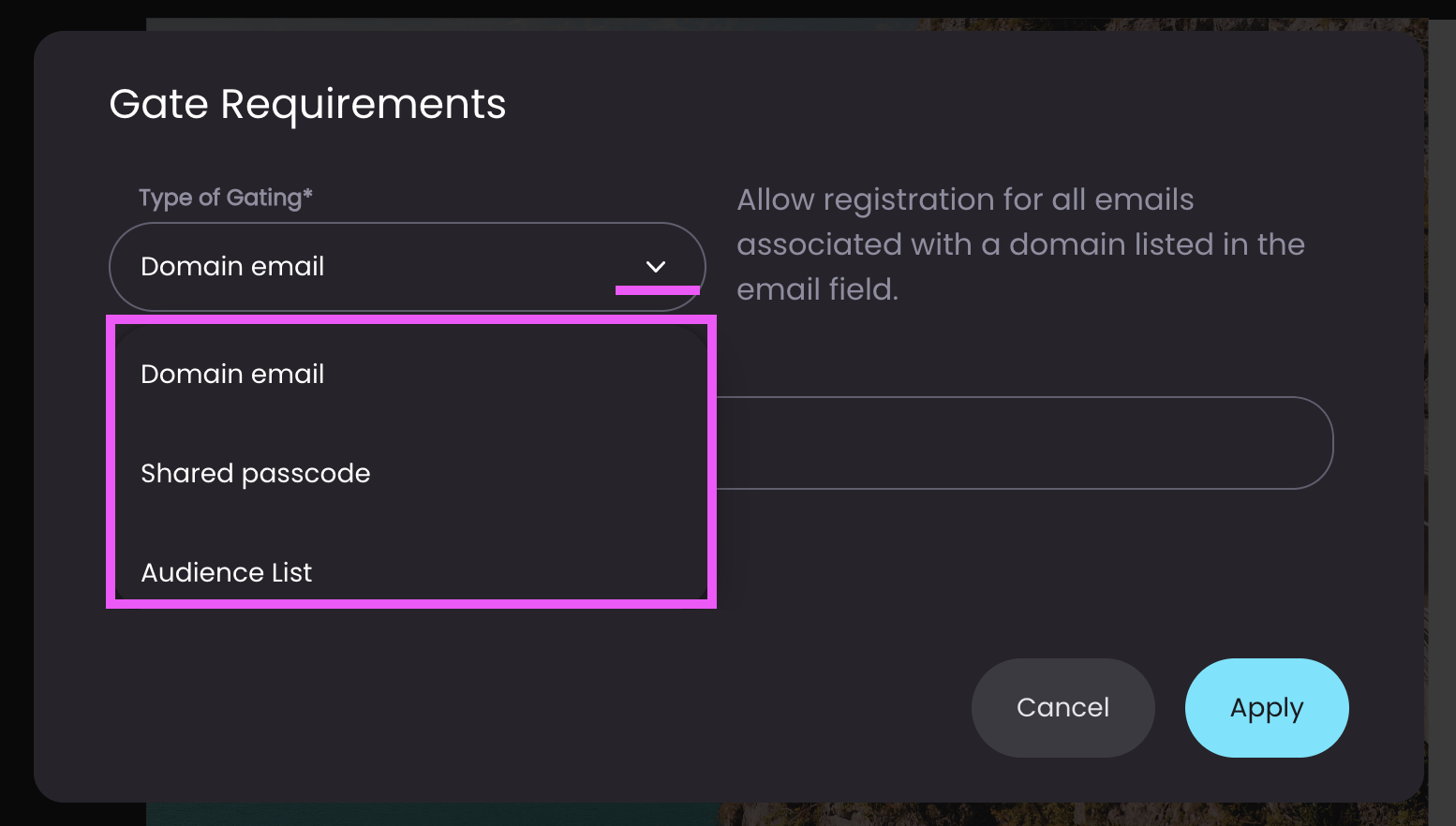 Creating Shared Passcodes
To create a passcode that will be shared by all attendees, select "Shared Passcode" from the gating menu.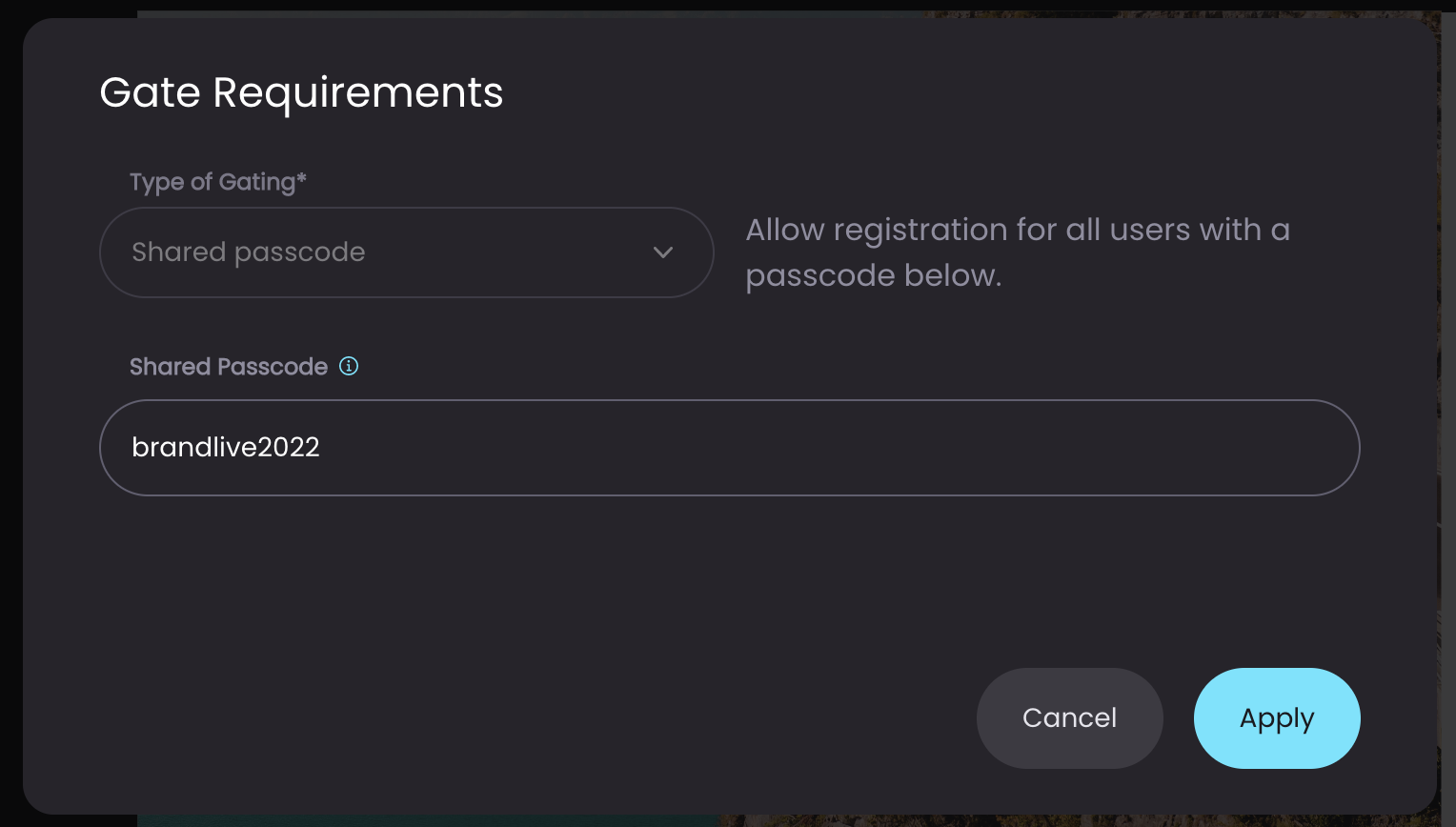 Then, simply enter your desired passcode.
Apply the changes and publish your page.
Creating Individual Passcodes & Audience Lists
To create individual passcodes or gating by audience groups, select "Audience List" from the dropdown menu.
A modal will appear to being making your selections.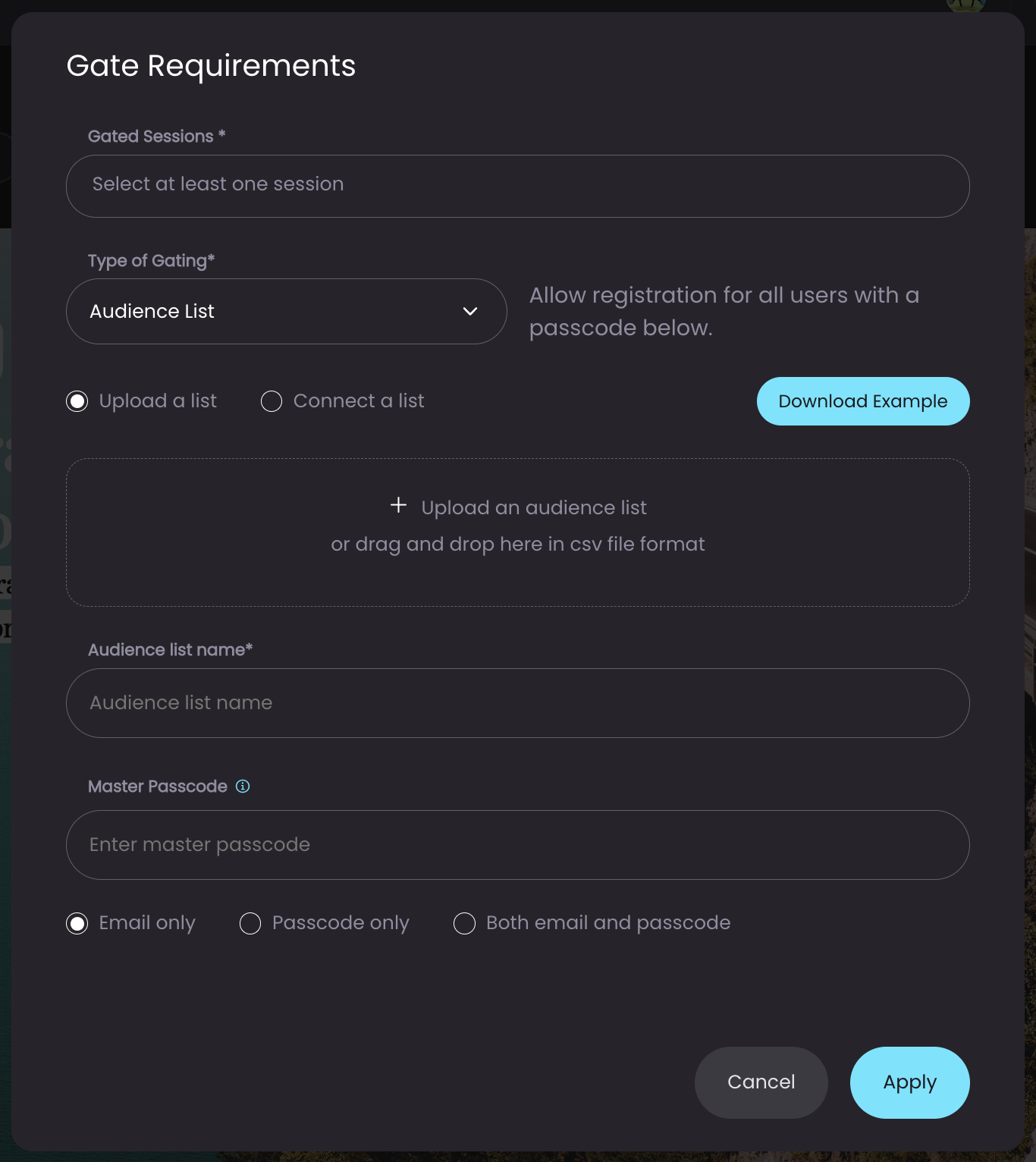 First, use the Gated Sessions field dropdown menu to select which sessions will be available for this Audience List.
You can select all sessions, a few sessions, or select a track. Attendees on the Audience List you are uploading will only have access to the sessions you select.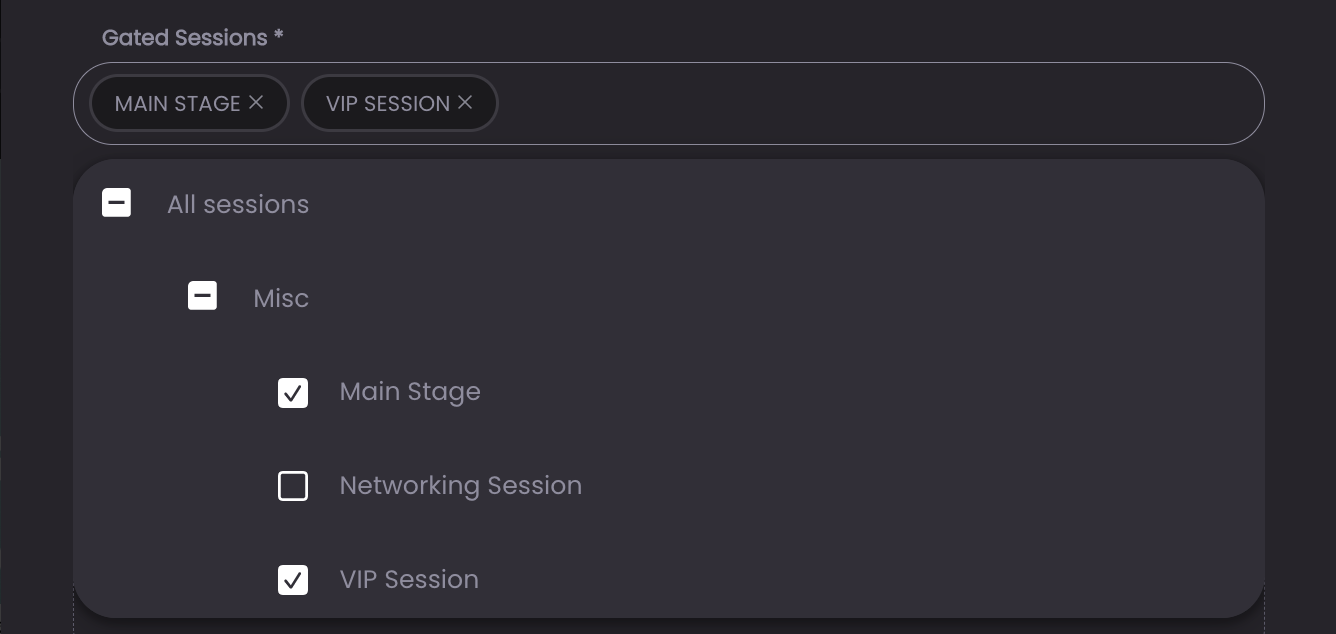 Next, upload your Audience List or select "Connect a list" to use a previously uploaded list.
You can download the example file to begin creating your Audience List.
Note: Email only passcode lists will require only one column of data. Events gated by email and passcode will require two columns. Email must be the first column for all Audience Lists.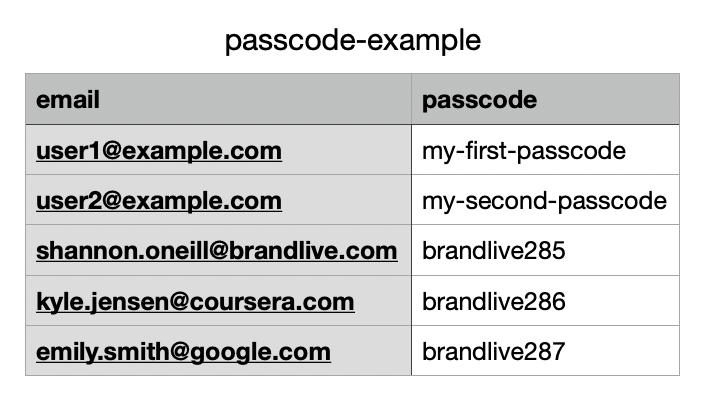 Once you have formatted your Audience List in .csv format and uploaded, you will need to name the new list.

Next, you can optionally enter a master passcode. A master passcode allows admins and anyone you share the master passcode with to enter the event without being on an Audience List.
Lastly, choose to gate the Audience List by email only, passcode only, or both email and passcode.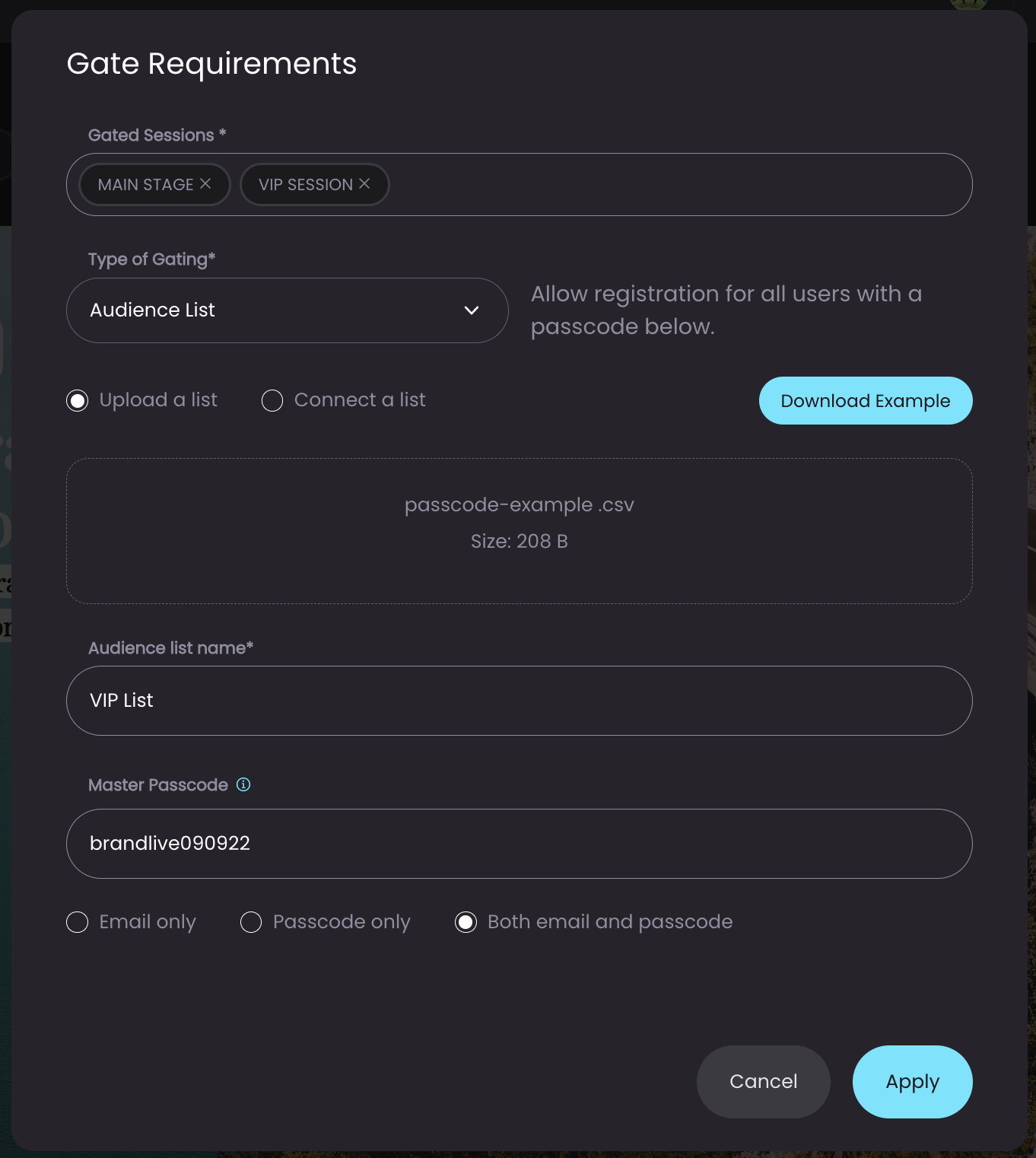 Once you have made your selections, click "Apply" and publish your page.
Your Audience List will now appear under the Registration gating menu. From here, you can add additional Audience Lists or edit an existing one by selecting the three dots.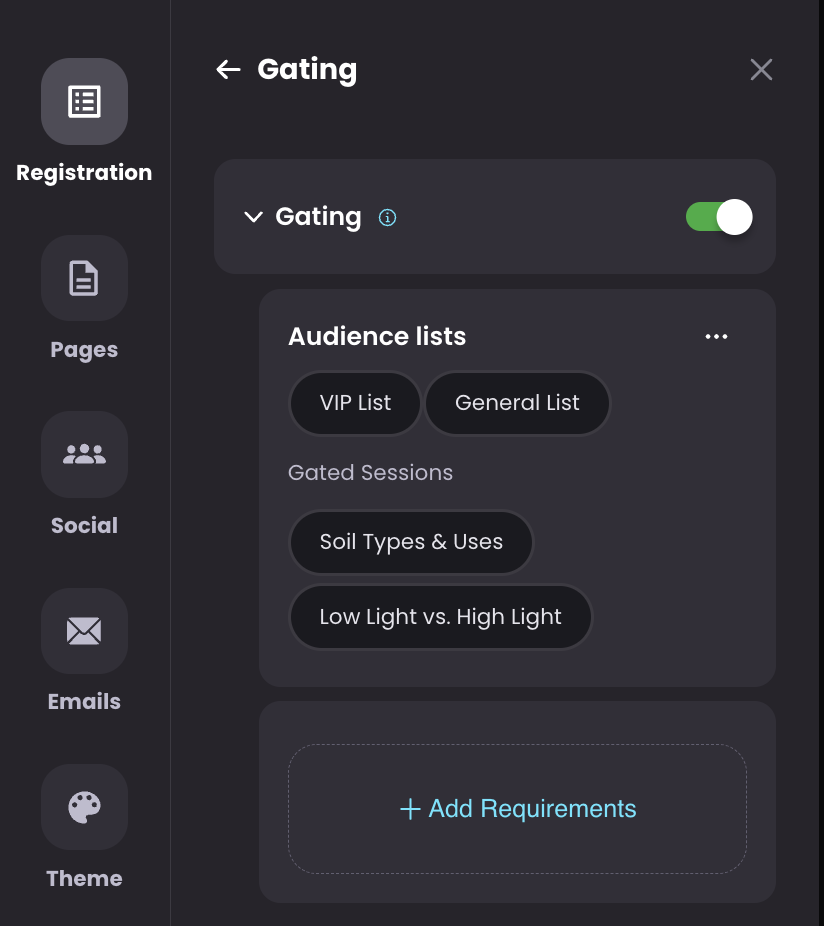 If you choose to partially gate content, meaning only some attendees will be included on an Audience List, attendees who are not on an Audience List or do not enter a passcode will only be able to access your publicly available content.
Managing Audience Lists
Audience Lists can be managed from the Registration menu in the section above or through the People tab in the Brandlive Admin dashboard.
If you are editing your event, exit the Sitebuilder and navigate to the People tab on the lefthand menu of your Brandlive Admin dashboard.
Then, select "Audience Lists" from the tabs at the top of the page: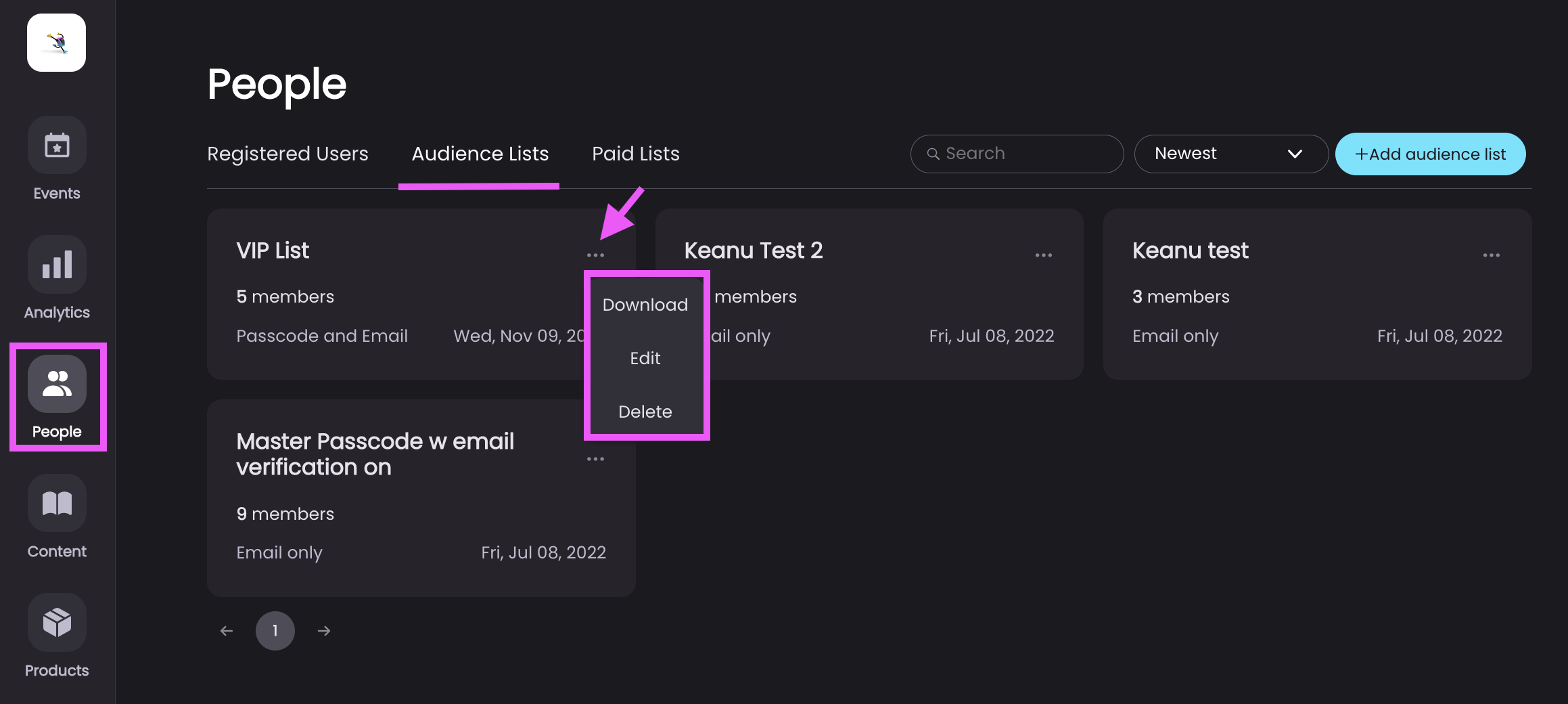 From here, select the three dots in the upper righthand corner of your list. You can download a copy of the list, delete the list, or edit it.
Click edit to view your list.

Once you've opened your list, you can:
Change your master passcode by selecting the gear icon
Delete individuals from the list
Add individuals or upload a .csv file to the list
Attendee Experience
Audience List: Email Only
Attendees who register for an event gated by email only will register as usual. When they submit the form, the system will check their email address against the Audience List.
If the attendee's email address is on the Audience List, they will be admitted into the event.
If the attendee is not on the List, they will receive a rejected email message. The message can be fully customized. See how-to information in the next section.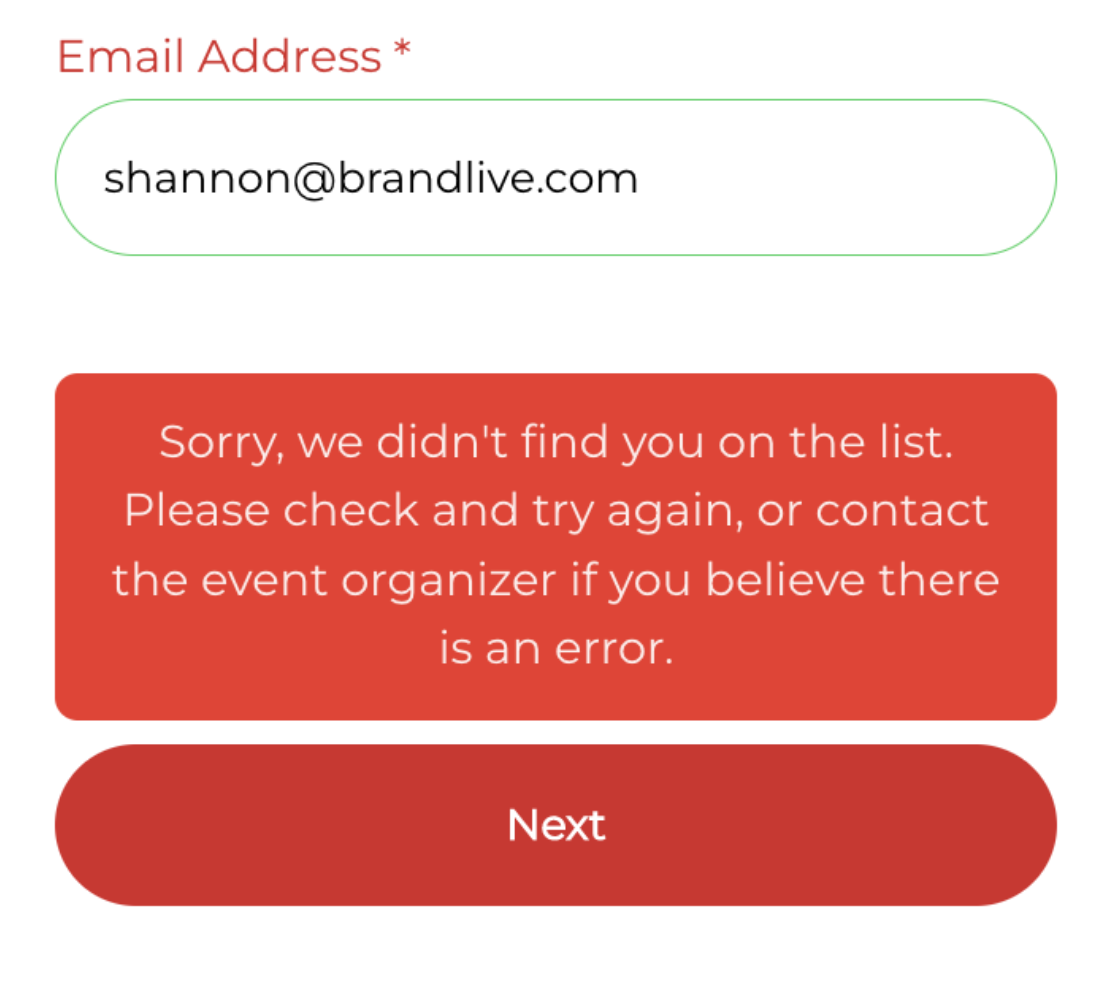 Audience List: Passcode Only + Email & Passcode
Attendees who register for an event gated by passcode only or email & passcode will register as usual with the addition of a Passcode field: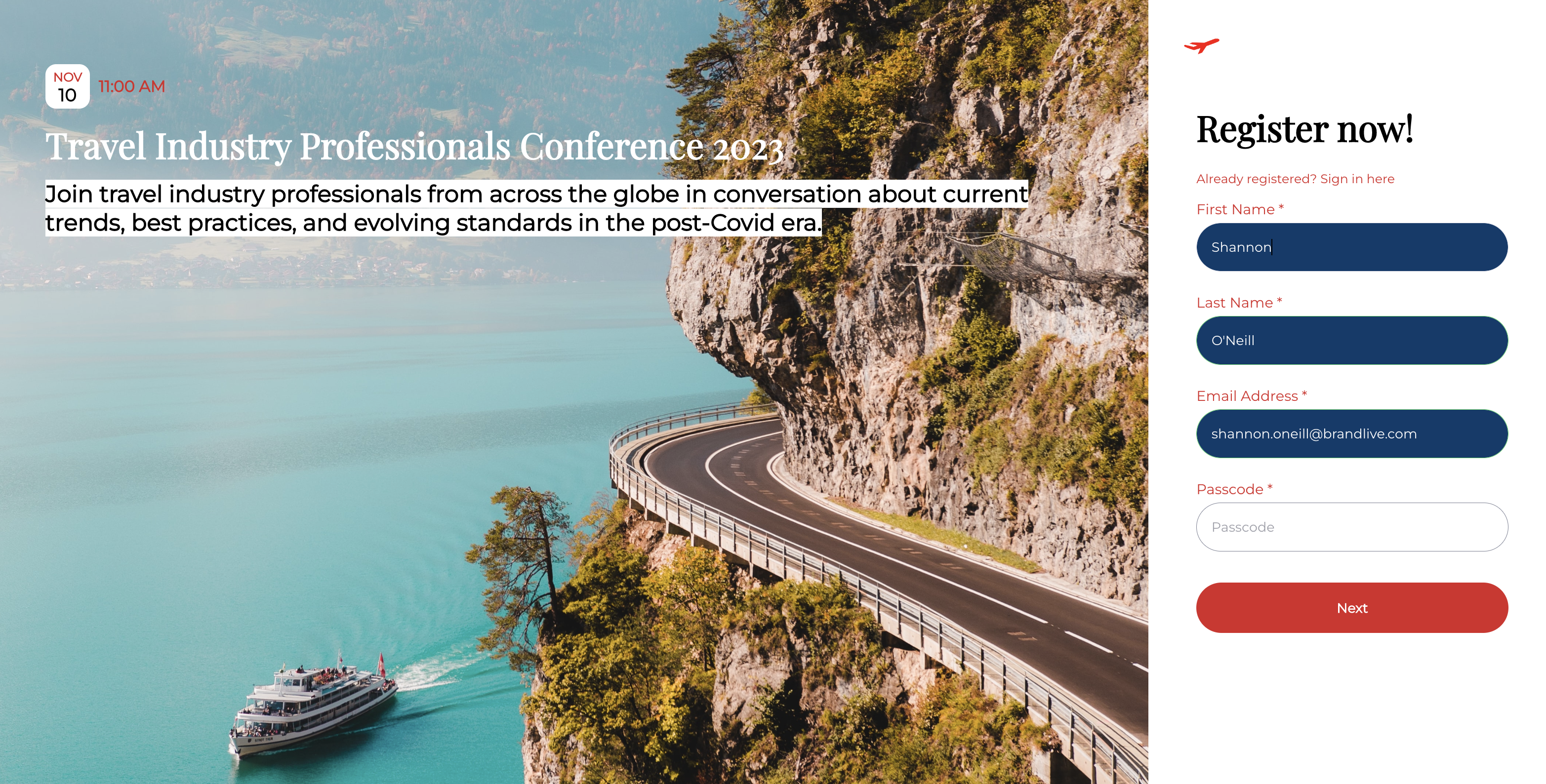 Attendees will enter their shared or individual passcode to enter the event. If the passcode matches the Audience List, they will be admitted into the event.
If the passcode does not match, the attendee will receive a rejected passcode message. The message can be fully customized. See how-to information in the next section.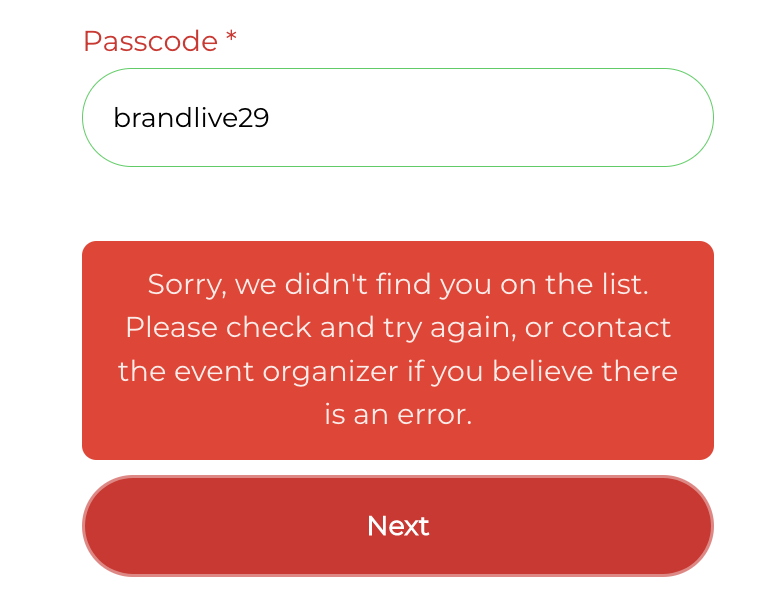 Customizing the Passcode Field Label & Message
To customize the passcode field label and message, first ensure that you have enabled your passcode or Audience List.
Then, open the Event availability tab on your Registration page under Settings (See Accessing Gating Options section above).
Scroll down to Passcode Label and Rejected Passcode Message.
Select the pencil icons to edit.
When finished, publish your page to apply the changes.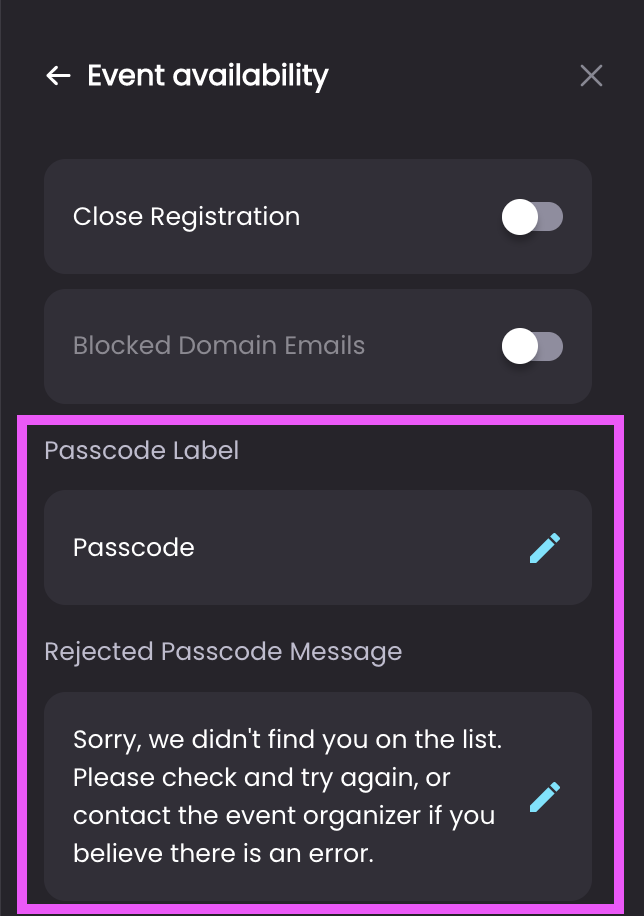 Related Articles